Poundland is selling pre-wrapped secret Santa pressies so you don't have to do the work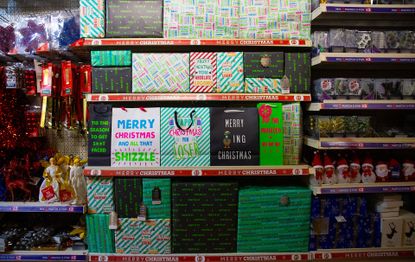 GoodTo newsletter
Sign up to the GoodTo Newsletter. You can unsubscribe at any time. For more information about how to do this, and how we hold your data, please see our privacy policy
Thank you for signing up to . You will receive a verification email shortly.
There was a problem. Please refresh the page and try again.
For most people secret Santa presents are nothing more than a nuisance.
They're the ones that you always forget to buy because absolutely nothing comes to mind for that random co-worker who you've only spoken to once and somehow you've managed to draw in the office secret Santa.
So you leave it until the end of your Christmas (opens in new tab) shopping list and then end up panic buying a Boots bath and shower gift set the day before the work's do.
But now budget store Poundland has come up with the way to avoid all the pressures of the secretive (and stressful) gift exchange.
They have introduced a range of secret Santa packages that even come pre-wrapped so you don't have to do any of the work.
Fair warning though – these gifts may be a little NSFW.
Named Banta, the range comes with a selection of risque presents including male and female part bottle openers, 'banta' mugs and rude Christmas cards.
So while you may just get a selfie clip or a stress ball that would be suitable for even your grandma's gift exchange, you could also end up with a Back, Sack and Cracker Scratcher that is definitely not what you want to show up to work with.
'Turns out the nation are big banta fans so we're removing the pressure of choosing a Secret Santa gift and replacing it with LOLs,' said Richard Brewin, senior banta buyer at Poundland.
'Let's face it, no one ever knows what to get the colleague you never talk to (sorry Debbie) so why spend the time? Leave the decision to us - whether they adore it or are totally offended, we're looking forward to giving everyone a laugh or making them choke on their cocktail sausage at this year's office party – you're welcome.'
The best part of the gifts? You can get them for only £1 each, giving you the perfect way to save a few pennies at Christmas.
The presents are currently only available to buy from their East London store, but may be extended very soon.