What it's really like when your child is diagnosed with cancer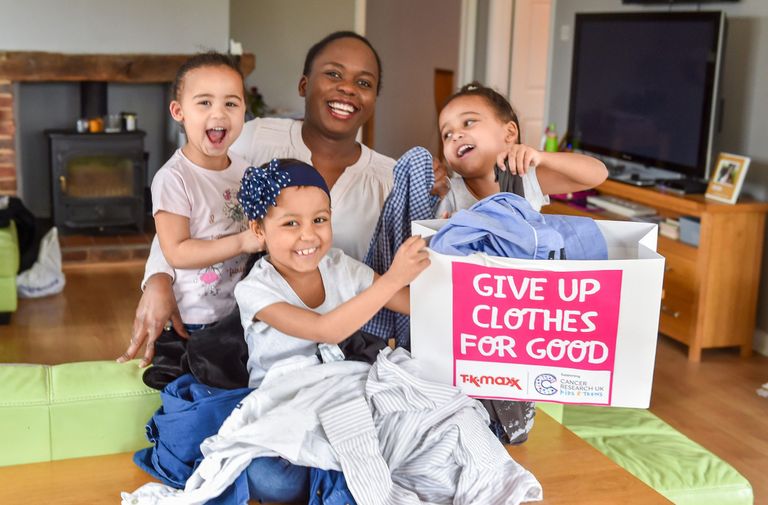 (Image credit: Cancer Research UK)
Pippa, from East Grinstead in West Sussex, was diagnosed with cancer when she was just five-years-old. Her mum Laura told GoodtoKnow how it felt to be told her child had leukaemia...
My daughter Pippa was diagnosed with cancer in May last year. It all started when she complained of pain in her groins and the pelvic area and it got to a point when she couldn't even walk or sit up without pain.
At first the doctors thought it was osteomyelitis, an infection in her bones, and they gave her antibiotics. Pippa finally started to improve until she could sit up and walk again, and she was finally discharged from St George's hospital after six weeks.
A few days later, we got a phone call saying her blood test came back with abnormal cells. The doctor said she couldn't confirm what it was until a haematologist looked at the cells, but from that moment on I knew it was cancer.
I started to worry about how far it had spread, because I remembered her not walking, not sitting up. All I could think is that it had spread to her bones. I had a whole night of all these questions and no answers until the next morning. It was the longest night of my entire life.
The next day we found out it was leukaemia - a month before Pippa's sixth birthday.
Being told that Pippa had cancer came as a big shock to me, but somehow it was also a relief. We spent so much time in the hospital waiting for a conclusive diagnosis that getting an answer, however dreadful it was, it was almost closure for me.
I thought that now we can start treating whatever it is and we won't be coming back with similar symptoms. It was more painful for me to be watching her in so much pain with no answers. At least with the cancer diagnosis, you know you have leukaemia but you got something to hold on to, something to be angry about.
The cancer they'd found, Acute lymphoblastic leukaemia (ALL), can be found in different forms, and luckily the doctors told us Pippa had the best you could ask for, if you were to ask for cancer - which was quite an odd sentence to hear.
They told us that if the infections you can quite easily pick up when you're getting cancer treatment didn't kill her, then leukaemia wouldn't. She also wouldn't need a transplant and she has a low risk of relapse. We went from devastating shock to 'okay, we have something to look forward to, we have an end in sight'.
The treatment for this type of cancer involves different types of chemo and lasts two years and 4 months - we still have 10 months left. We finish in July next year.
The most difficult thing as a mother was to look at my daughter going through cancer and feeling so helpless. I had controlled everything else until now, even her conception as she's an IVF baby.
But when she became ill, I couldn't control it any more. It was out of my hands. Watching her go through the treatment and not being able to help her at all, I felt hopeless.
When Pippa started losing her hair, we decided to cut it all off. When her two sisters, who are twins and were only around three-years-old at the time, saw me cutting her hair, they said: 'Mummy, can we cut our hair too?'
I asked, 'Why do you want to cut your hair?' and they said, 'If Pippa is having her hair coming out we want to be the same as Pippa and we want her hair short as well.'
That really threw me because I didn't realise they had taken in everything I told them - that Pippa is really poorly and that she would be going to hospital a lot and that mummy would be with her most of the time. It was the sweetest moment. I know siblings have a connection but I've never seen a connection like that.
I've had to be strong through this and there have only been a couple of times that I've broken down, when I've been on my own. I've been cautious of keeping my children away from all this, and they think 'mummy is strong', 'mummy is helping everyone get through this'.
But now I realise they need to know that mummy also can be sad sometimes. When I'm having a sad moment, we will sit down together and talk about why mummy is sad. I'll be very honest and we'll talk about things like 'Pippa is having chemo this week and I'm quite anxious on how she's going to react this time'. So they understand rather than thinking mummy is superwoman, and doesn't really cry. I do it all the time, but they never see it.
The biggest surprise in all of this is how Pippa reacted, she's such an amazing girl. When she started chemo, she would ask immediately after the session: 'Can we make it to school before lunch'?
I'd tell her 'No, you need to go home and rest' but she would say 'no, it's chicken curry for lunch and I can't miss curry'.
She kept up with school and any chance she gets she wants to be at school, because she has her friends who didn't want to lose (HER?). I asked her 'do you want mummy to teach you at home, you don't have to go to school', and she said 'no mummy, I love school and I want to be part of everything'.
Even when she lost her hair, I thought she wouldn't want to go back but she went with a scarf and she wasn't really fazed by it. A couple of times she told me 'I look different to the other kids' but other than that she's been really comfortable.
https://youtu.be/st2o4GE48IY
Pippa and Laura are supporting Cancer Research UK Kids & Teens, in partnership with TK Maxx, during Childhood Cancer Awareness Month this September. Find out about children's cancers how to support our research to help find new, better and kinder treatments for children and young people with cancer at cruk.org/kidsandteens
After going through all this, Pippa wants to become a cancer doctor when she grows up. When they were explaining the diagnosis to her, the doctors described all the cells and she asked at the end: 'If you're talking about the plasma being yellow, the red blood cells being red, what colour are the leukaemia cells?'
The doctor replied saying no one had ever asked that question before, and I think that's when her interest came in.
After that moment, she said to me 'Mummy I want to be a doctor he didn't explain everything to me, I had to ask. I want to explain to people before they ask.'
When we did the awareness video for Cancer Research, she had had chemo only three days before. She could have been at home relaxing and sleeping, but she said: 'Mummy no, we have to go. I know I feel rubbish but I want to help people so let's go and film this so people can know what cancer really is.'
As told to Mariana Cerqueira.
Mariana is a lifestyle writer who has written for Goodto.com and My Imperfect Life. She joined the Goodto.com team as an intern after completing her journalism MA at City University. After six months spent writing about food, celebrity news, and family trends, Mariana left to write for Healthy Food magazine - but returned in 2017, to join the Future team once again. In her spare time, you'll find Mariana in the kitchen cooking for her friends.