Mum shares clever hack for getting sand off your toes
Say bye to sore, sandy toes!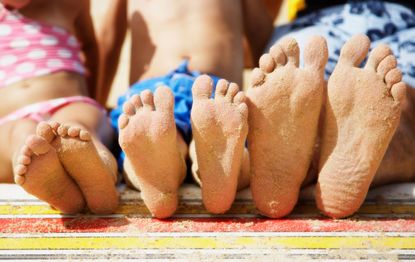 One mum's genius trick for removing sand from your toes at the beach has gone viral and we can see why!
Using one simple item that you've probably already got in your bathroom, you can remove all the sand from your toes and leave your feet feeling soft and fresh.
Because let's be honest, is there anything more frustrating than trying to get your shoes back on with tiny grains of sand still causing you irritation? And how many tears have you had from the kids because their feet are sore from all the rubbing?
Well thanks to the Facebook page Mummies in the Know you never have to face that scenario again - just pack some talcum powder!
Yes, that's right – the white powder you use to dry off after bathing is the perfect antidote to sandy toes.
The post explains: '🏖BEACH DAY TIP🏖 If you hate that feeling of sand on you skin after a day on the beach. Just sprinkle some talc/baby powder on any sandy area and it just brushes off, leaving your skin feeling super soft. Honestly it's a god send. 👌'.
https://www.facebook.com/mummiesintheknow/photos/a.981037431918112.1073741828.711033095585215/1858202410868272/?type=3&theater
The post has received lots of shares and fellow parents cannot believe how simple yet effective the trick is.
One person said: 'Who knew!!! Thanks Hun! No more moaning in sandy shoes in St Ives xxx'.
Another wrote: 'Worked a treat last yr with my boys ..... very useful tip 😉'.
A third person joked: 'I need this let alone kids 😂 xx'.
Celebrity mum-of-three and former Apprentice contestant Luisa Zissman also posted about the trick recently on her Instagram story.
Another mum recently shared her clever trick for keeping the paddling pool clean and another mum shared her top on how to stop your toddler messing up your bathroom...
Do you have any other clever tricks and tips that fellow parents should know about?
We'd love to hear your hacks so head over to our Facebook page to share them and you might be featured on-site!
Jessica currently works as a Senior Food Writer at Future. She writes food and drink-related news stories and features, curates product pages, tests, and reviews equipment, and also develops recipes that she styles on food shoots. An enthusiastic, self-taught cook Jess adores eating out and sharing great food and drink with friends and family. She has completed the Level 1 Associate course at the Academy of Cheese and is continually building on her knowledge of beers, wines, and spirits.