Mum shares genius hack for keeping your paddling pool clean
You've probably ready got what you need to try it for yourself...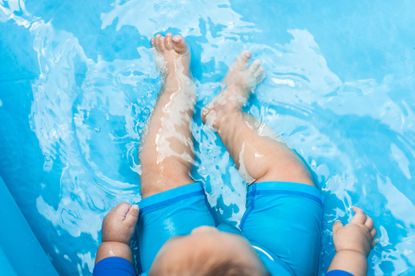 (Image credit: Getty)
We've found this clever hack for keeping your paddling pool clean - and the best part is you've probably already got everything you need to try it out.
Summer is definitely on the horizon so it's time to get your outdoor toys sorted. But choosing the best paddling pool is only part of the story - the big question is how on earth do you keep it clean?
If you've been struggling to keep your babies and children cool, you've probably had the paddling pool out for weeks already. And with the little ones running in and out of the pool, it can be tricky to keep the water clean. So once they're all tucked up in bed and you've scooped out all the debris with a net, how do you keep the bugs and leaves out overnight - or when the pool isn't in use?
One mum has suggested a genius hack using just a fitted bed sheet!
No need to fork out for expensive pool covers that you may never use again. All you need to do is grab a fitted sheet from your bed linen box and pop it over the pool when it's not in use.
Parent blogger Deborah Hitchins shared the trick on the Facebook page 'Family Days. Tried and Tested' and the post has proved incredibly popular.
It has been shared over 11,000 times and has 2,300 Facebook reactions. Some people said they had been doing this for years and were a little disappointed they weren't as creative as they once thought.
One person said: 'Did this first time around 42 years ago in 1976.'
Another added: 'Omg I said this today thinking I was a genius, seems someone already thought of it 🙄🤦'
Others couldn't believe how simple it was and said they would be trying it out immediately.
It's easier to fit the sheet to the pool if you've got some help as trying to get it on without landing in the pool yourself can be a little tricky.
This hack is obviously perfectly suited to rectangular shaped pools and it might be worth using bigger sheets to prevent it from popping off.

Related features:
Jessica currently works as a Senior Food Writer at Future. She writes food and drink-related news stories and features, curates product pages, tests, and reviews equipment, and also develops recipes that she styles on food shoots. An enthusiastic, self-taught cook Jess adores eating out and sharing great food and drink with friends and family. She has completed the Level 1 Associate course at the Academy of Cheese and is continually building on her knowledge of beers, wines, and spirits.