'Hyperemesis robbed me of my baby' One mum's devastating experience of Hyperemesis Gravidarum
Mum-of-two Laura opens up about her devastating journey through three pregnancies with Hyperemesis Gravidarum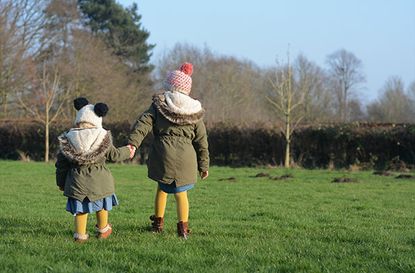 Laura from Little Ladies Big World (opens in new tab) was selected as one of our BISS December winners and in her guest blog explains her journey through her devastating experience of Hyperemesis...
For most people, the choice of whether to have children or not isn't a difficult one. Of course the if's and when's and all that surrounds starting a family is rarely ever simple, but the actual thought on whether you see yourself having children at all is usually a known. A given maybe, at least it was for me.
I grew up knowing that one day I wanted to be a mum, I wanted the 2.4 children, except in my mind it was two parents and four children. Yes, the 18-year-old me thought four children was my story.
I remember the tentative conversations as a 21 year old on dates with my future husband when the subject inevitably arose, relieved that this person whom I saw my future with shared the desire for a family too (although for now the four children future was laughed off as perhaps a step too far).
I remember the very real talks as a 24-year-old newly-wed, walking hand-in-hand on a tranquil Maldivian beach that concluded in grown up decisions like we will plan when we move house. As easy as that.
We did not know then what we know now.
I remember the 'we won't do this again' conversations of 25-year-old expectant parents on a hospital bed, being fed by a drip unable to keep even water down. I vividly remember the 'I can never do this again', said through tear-stained eyes as I battled through the Hyperemesis Gravidarum.
What followed was the 'we can do this again' 27-year-old parents of the most amazing two year old you could ever wish to meet, blinded by the sheer love for this tiny person and the need to give her a sibling, a playmate. 'We have done this before, we can do this again'.
Then on to the 'we really want to do this' conversation of 28-year-old parents on another hospital bed, this time faced with the decision that isn't really a decision at all. Choosing between my life and the life of our unborn baby. Then, the devastating 'it's impossible to carry on isn't it?' question.
What followed was the questions of 29-year-old parents of one, still desperately wanting to be parents of two in the midst of such desperate grief. 'Can we ever have another child?' The thoughts of having to go through it again but the pain of not doing feeling so much greater.
How could we not? I was so scared, I was scared when I found out we were pregnant and scared that I didn't feel sick, until six weeks. I went through it all again but not to the extent of the second and with hindsight, I coped.
The 'this is it. We did it' conversations of relieved new parents of two. This really was it.
I don't want it to define me, I need it not to define me but it has defined our family.
Hyperemesis robbed me of many things and choice is one of them. I didn't choose to end my second pregnancy, not really - there simply wasn't a choice. Because given the actual choice in life, I might have chosen to have those four children after all.
Laura was selected as a BISS guest blogger after entering our December linky. For your chance to write for GoodtoKnow, check out our Because I Said So platform.
Trusted, informative, and empathetic – GoodTo is the ultimate online destination for mums. Established in 2007, our 15-year-strong archive of content includes more than 18,000 articles, 1,500 how-to videos, and 7,000 recipes.