Mum's important warning to other parents after son's rash leaves him 'unable to walk'
The mum recalled how she had to carry her son home from school as he was in so much pain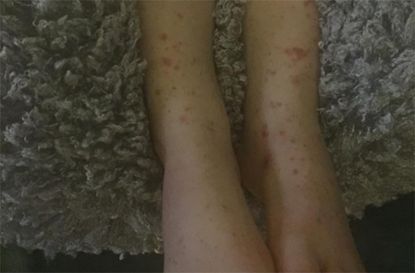 GoodTo newsletter
Sign up to the GoodTo Newsletter. You can unsubscribe at any time. For more information about how to do this, and how we hold your data, please see our privacy policy
Thank you for signing up to . You will receive a verification email shortly.
There was a problem. Please refresh the page and try again.
A mum has shared her scary experience after her son's rash (opens in new tab) that left him unable to walk was misdiagnosed.
Sian Rachael Ball from Reading, Berkshire, posted a picture of her son's rash on Facebook as a warning for other parents.
She explained that she was initially told the rash was likely to be a skin infection but it turned out to be much more serious.
Sian wrote on Facebook: 'Took him to the doctors only to be told they didn't know what it was, probably just a skin infection, They gave him antibiotics and was told he could go back to school.
'Next day at school he has come out crying and had to be carried all the way home because he couldn't walk! School forced him to sit down even when he said he was in pain!'
She continued: 'Took [him] straight to the hospital and been diagnosed with Henoch-Schönlein purpura (HPS) he will now have to have his kidneys tested for the next 12 months as it's in the same category as meningitis!'
Sian explained that she had worked in several nurseries and schools and had never heard of the condition.
Finishing the post, Sian said that she thinks there needs to be more awareness about the condition: 'Feel like this should be known to parents just as much as meningitis!
'Now have a very poorly son that has many doctors appointments to attend and off school of up to 6 weeks. But luckily we got a second opinion!'
According to the NHS, HSP is a condition that causes small blood vessels to become inflamed. It is not known what causes these vessels to become inflamed, but it can be triggered by a viral or bacterial infection.
HSP can occur at any ages but is most common in children aged two to 10-years-old and is more common in boys than girls. It is not contagious.
The NHS recommend booking an urgent appointment at your GP if 'you or your child have a rash that doesn't fade when a glass is pressed against it (glass test) – but you don't feel unwell'.
If you do the glass test and feel very unwell, you should call 999 as it could be a sign of meningitis (opens in new tab).
Other parents were quick to thank Sian for sharing the warning, with her post receiving 20,000 reactions on Facebook and 114,182 shares.
One wrote: 'Thank you for sharing. Hope your little boy gets well soon', while another said: 'My daughter had the same… It's frightening. My thoughts are with you'.