Mum's breast milk soap 'cures' her baby's eczema
Well this is certainly different…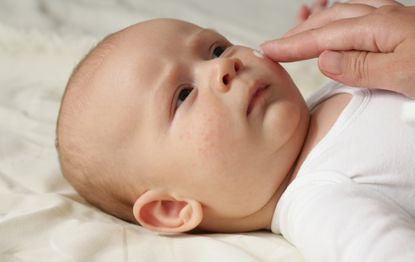 (Image credit: Getty Images)
It's estimated that as many as one in five children in the UK suffer with eczema.
The condition that often leaves sufferers with dry, itchy and inflamed skin is treated using a number of methods from wearing pyjama-like 'wet wraps' to applying emollients.
Now a mum from has offered up her own unusual cure, taking to Twitter to reveal that her homemade breast milk soap helped clear her baby of skin complaint.
Explaining more, Joy Evans wrote under the snap of her DIY cure: 'Last month I made breast milk soap hoping it'd help baby's eczema. Wish I had before photos, it's totally cleared!
'No steroid cream, moisturisers, expensive products, just switched to this and his skin is completely clear.'
In an Instagram post from earlier this year breastfeeding advocate Joy, who lives in Scotland, also celebrated breastfeeding her youngest regularly, writing:
'Almost 18 months old and still feeding regularly,' along with the hashtags #normalizebreastfeeding and #breastfeedwithoutfear.
Joy is not alone in praising the virtues of breast milk soap.
London mum Emily Payson established Booboo's Soap, and produces breast milk soap bars to order.
What started out as a hobby soon turned into a burgeoning enterprise for the registered nurse and mum-of-two.
The winning cold-pressed recipe mixes eight ounces of unused breast milk – sent in by mothers themselves - with natural oils such as coconut oil, Shea butter and sweet almond oil.
On the benefits of breast milk soap, the now site reads:
'Breast milk soap moisturizes and softens skin, helps control natural oils, aids in reducing redness and rashes and helps to treat acne.'
But not everyone has been convinced.
'We had lots of people interested and a lot mixed feelings. Some of it has been about teaching how breast milk is natural and good for our skin,' Emily added.
Have you used any alternative treatments to help with your baby's eczema? Or used breast milk to treat any conditions in your family? Join the conversation on our Facebook page.
Freelance Lifestyle Writer
Miriam Habtesellasie is a freelance lifestyle writer who has contributed content to GoodTo, Woman&Home, Women and Idealhome.co.uk. Miriam is based in London and is a fan of everything interiors, she admits to being spoilt for choice living in the capital. From stunning architecture right the way through to eye-catching department store window displays, she believes there's always an angle to be found that can translate to our abodes.