'I feel really guilty' Nadia Sawalha opens up about not protecting her children enough from the Internet
What do you think about Nadia's mum guilt?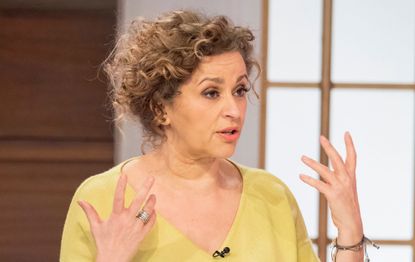 GoodTo newsletter
Sign up to the GoodTo Newsletter. You can unsubscribe at any time. For more information about how to do this, and how we hold your data, please see our privacy policy
Thank you for signing up to . You will receive a verification email shortly.
There was a problem. Please refresh the page and try again.
Nadia Sawalha has revealed that she feels incredibly guilty for not protecting and preparing her children more from the horrors that can be found on the Internet.
Regular Loose Women panellist Nadia often opens up about her parenting approach and is always honest if she feels like she could approached things differently.
Like many parents there are occasions where on reflection, Nadia feels like she could have done more to help her children.
One particular event swas the topic of her latest YouTube video discussion. Nadia explained that her oldest daughter Maddie, watched something incredibly frightening on the Internet and Nadia feels like she could have done more to protect her from this.
Nadia is very close to her daughters
She admitted: 'In a way I've neglected my children when it comes to the whole online world. There has been so many things that have happened that when I put them all together I really realise how much has gone on, and how many awful things that have happened. And really I feel really responsible for that.'
The mum-of-two explained: 'My kids have been through so much when they are upstairs in their bedrooms [on their phones] and I haven't even known half of it.'
Recalling one particular example Nadia said: 'For instance, Maddie told me when she was at school, this boy just clicked his phone and showed her a beheading. I mean imagine that. You see a beheading, you get no counselling or anything after that. If someone had come back from war and seen that they would get counselling. There is so much going on in the online world that we just don't know about. I mean, I feel really guilty.'
Nadia also referenced but didn't go into detail about the occasion her daughter Maddie was flashed at online by three men when she was aged just nine-years-old.
Like many parents Nadia is still trying to navigate the online world and admits she is doing her best to protect her daughters Maddie and Kiki.
The video was partly to promote Nadia and Kaye Adam's new book Parent Alert, which aims to help parents keep their children safe online.
Fellow parents reassured the mum-of-two in the comments section and thanked her for being so honest.
One person said: 'This kind of honesty is needed from more parents. Appreciate it. We all feel guilt..morning, noon and night. We do need to give ourselves a break. Either we are too fussy or too carefree...can't win!'
Another wrote: 'It's ok my dear, mistakes happen, and don't forget that you are a fantastic mother.'
A third added: 'Don't beat yourself up Nadia, like you said, you're the first generation of parents to deal with this... Meaning you have to learn from mistakes and teach yourself on the go.'
Do you worry that you are not protecting your children from the Internet? Do you feel like you should or could do more? Join the conversation over on our Facebook page to let us know your thoughts!