Newborn baby essentials checklist: The products you actually need
Expecting a baby is incredibly exciting, but there are lots of things to organise too.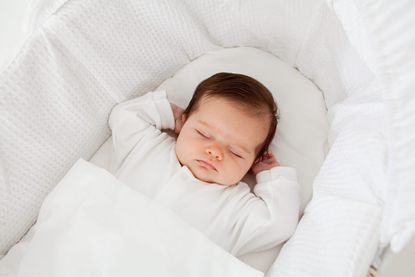 (Image credit: Getty Images/Image Source)
Expecting a baby is incredibly exciting, but there are lots of things to organise too. Take the stress out of shopping with our checklist of newborn baby essentails.
From pushchairs and Moses baskets to the best baby monitors and clothing, if you're bewildered by all the baby paraphernalia out there, relax… You don't need it all. There are, however, some key items you'll want to stock up on and consider buying.
In the weeks running up to a due date, expectant parents are usually dashing around trying to get everything ordered and sorted for their new arrival. To help you along with the process, we've rounded up some of the essential baby products you'll need to be armed with. We are not talking about all the fancy extras, just the key items you'll need for day-to-day life with a baby.
So there's no need to spend hours researching online, we've rounded up the things you will need to save you time and to take the stress out of shopping. Read on for our advice on how to choose these newborn baby essentials.
Newborn baby essentials - your checklist at a glance
Optional extras - Baby bouncer - Travel cot - Baby thermometer - Baby gym
Pram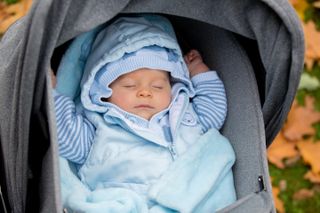 A pram, buggy or pushchair is likely to be one of your most pricey buys and there are lots of factors to consider before buying. Until the age of six months, babies need to lie flat in a pram or pushchair. This is important for the healthy development of the spine and hips. Lying flat also helps keep a baby's airways open, reducing the risk of suffocation.
A travel system is a popular choice with many new parents because it comes with a carrycot so your baby can lie flat. Once it's outgrown, you can store the carrycot and move your baby into the pushchair seat. Travel systems also come with a detachable infant carrier car seat, which makes it easy to move your baby between the pushchair and the car without unbuckling your little one from the car seat. However, note that babies should not sit in car seats for long periods of time – never use them for sleeping outside of the car.
The downside of a travel system is that they tend to be pretty heavy. The car seat they come with can't be used once your baby is around a year old. After investing in a travel system for a newborn, lots of parents end up buying a lighter, more compact stroller once their baby is a toddler and has outgrown the infant car seat.
Think ahead to how practical your choice of pram will be in a year's time. It's hard to believe, but those first 12 months will fly by and you won't want to be left with a monster of a pram that's impractical for life with a growing tot. Think, too, about where you live and what sort of terrain you'll be pushing your pram over. If you're a city slicker who's always meeting friends for coffee or nipping to the shops, you'll want something highly manoeuvrable and designed to glide over shiny shop floors and uneven pavements. On the other hand, if you live in the countryside and spend lots of time exploring the great outdoors, you'll need a pushchair with robust, all-terrain wheels that can cope with muddy paths and rural walks.
Mastering the art of opening and folding your pushchair (or attaching the carrycot or car seat to the chassis) is a vital skill – so check reviews to see how other parents have got on with those features. Joining Amazon Baby Wish List is a good idea, too, because you can easily see what other parents think of an item you are considering buying. And don't forget the rain cover – we're in the UK, after all.
Car seat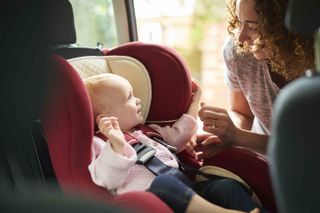 Buying a car seat for a baby or child is a real minefield so it's important to take the time to understand the different types of car seat that are available. By law, all babies, toddlers and children must travel in a suitable child restraint.
Car seats are divided into different categories, known as groups, according to their maximum weight and / or height limits. Working out which seat your baby needs and which will suit your lifestyle best therefore depends on your child's height and weight – not their age.
The first car seat you need for a newborn will either be a Group 0, Group 0+ or iSize seat. These are shaped like a bucket to keep your baby lying in a reclined position that supports spine and lung development. They also have a handle which can be used for carrying the seat but is actually designed to act as a roll bar in the event of an impact.
Our recommendation is to go for an iSize seat. These seats are rearward facing, which offers more protection in a collision than a forward-facing seat, and are suitable from the day your baby is born until she is at least 15 months old. i-Size seats meet or exceed the very latest car seat safety regulations.
Other types of seat can be used from birth until your baby is four or six years old, but they're designed to be left in situ in the car rather than carried outside of the car or attached to a pushchair. They're called combination seats and can be used rearward-facing initially and later moved into a forward-facing position. It can be tempting to choose one of these because they seem to represent good value for money given how long they can be used for. However it's safest to keep your baby in a rearward-facing car seat for as long as possible – some seats even allow this up to age four.
Some travel systems also include an infant car seat, but you'll definitely need one straight away if you're planning to bring your baby home from hospital in a car or taxi. Whichever you choose, it must be suitable for your child's weight (rather than age), be rear-facing (which offers better protection in a collision) and must meet safety standards ECE R44.03.
If you'd like to find out more about car seat safety rules and regulations, read our car seat safety guide.
Cots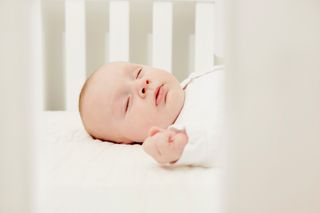 A cot should last at least two years, and many can convert to a toddler bed when your baby is ready to move on from a cot. Make sure the mattress fits well, and always settle your baby with his or her feet at the foot of the cot, so he or she can't wriggle under the blankets.
For the first six months, your baby should sleep in the same room as you, in a separate sleeping space such as a cot, Moses basket or bedside crib. Cots come in many shapes, sizes and designs. Make sure you measure the space where you plan to keep your cot correctly before you buy. If you don't have a lot of space in your room for a cot, consider buying a Moses basket or a bedside crib instead. These are considerably smaller than cots and can be placed immediately beside your bed for easy feeding during the night.
Baby mattress and bedding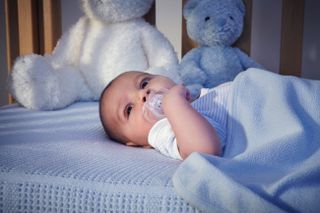 There are some rules to follow when it comes to buying a mattress for your little one. It needs to be the right size and fit into your chosen cot or crib well with no more than a 4cm gap between the mattress and cot. It needs to be at least 10cm thick too and needs to be firm so it doesn't sag or mould to your baby's shape.
All mattresses should conform to the BSS (British Safety Standards) and be marked somewhere with this number: BS 1877-10:1997.
When it comes to cot bedding, keep in mind that you need to buy the right size bedding for the cot mattress. For babies under a year old, it's best to use a fitted flat sheet and a cellular blanket or a specially designed baby sleeping bag instead of blankets – don't use duvets, quilts or pillows.
Baby monitor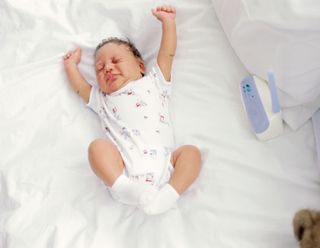 It's reassuring to know that wherever you are in the house, you'll catch the first squeak once sleep time is over. Monitors are a great way to make sure you can keep an eye on your baby without having to stay in the same rooms as them. Monitors can range from battery operated ones that just relay sound to video monitors and cameras that live stream from the room. Costs vary but it's important to get one most appropriate to you and your needs.
A baby monitor has two parts: the 'baby unit' or transmitter with in-built microphone and / camera, and a second hand-held 'parent unit'. You place the baby unit near your baby's cot, and it transmits sound (and footage, if you choose a video monitor) to the parent unit, which you keep near you when your baby is sleeping. Some can even be carried around with you from room to room.
If you live in a small house or flat and think you'll hear your baby stirring at night or during nap time, you might feel that you can do without a baby monitor. Actually, lots of mums like the peace of mind a monitor brings – it's very reassuring to watch your baby sleeping peacefully while you enjoy a hot cup of tea or your favourite TV show!
Think, too, about where you'll place the baby unit to get the best possible coverage of your baby, whilst also ensuring it's safely out of your baby's reach. Some baby units are designed to be wall-mounted in your baby's room, while others require dedicated shelf space close to the cot.
The other advantage of a baby monitor is that you won't need to creep into your baby's room at night or during naps to check on them – risking waking your little one. You'll see or hear your baby stirring via the parent unit the moment they wake. A video monitor is especially useful once your baby starts sleeping in her own room at night, as you can check on her easily without getting out of bed. Make sure you choose one with good night-vision features, as some monitors offer better picture quality during the day rather than at night.
Instead of a parent unit, some video monitors display the footage from the baby unit straight to an app on your smartphone or laptop. These are ideal if you're a gadget fan and use your phone a lot. This type of monitor often has the option for you to take pictures or video of your baby, which can even be shared with friends and family – a lovely feature if the grandparents aren't getting to see your baby as much as they might like.
Some video monitors also have movement sensors. This is usually a pad which you place underneath your baby's mattress. It sounds an alarm if no movement is detected from your baby after a certain period of time. Many mums love the extra reassurance of a movement sensor while others feel it makes them more anxious. If you choose one, be prepared for the occasional false alarm. And remember that you'll still need to check on your baby regularly.
Most video monitors have a range of at least 200 metres, so you can rest assured that you'll hear your baby via the monitor if you're on a different floor during her nap. If there are several floors, long corridors or thick walls between your baby's room and wherever you're likely to be when she's sleeping, make sure you choose a monitor with sufficient range.
Finally, don't get sucked into spending more on a monitor with lots of extra features that you might not use. These can seem impressive but the more functionality your monitor has, the more likely you are to spend nap time fiddling with your monitor instead of relaxing while you can!
Moses basket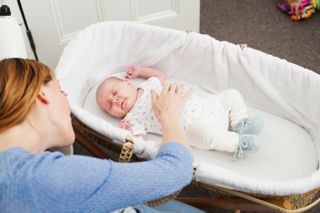 A Moses basket is not always essential, especially if you do not have space but some parents prefer them to a cot for the first few months as you can easily transport them around the house or place them close to your bed. Moses baskets should be placed on a flat surface on the floor or you can buy a stand to go with it if you wish to place it at eye level by the bed.
The big advantage of a Moses basket is that they're much smaller than cots, so ideal if you're short on space in your room. The downside is that your baby will outgrow it quite quickly and probably well before six months. If you don't want to put your baby straight into a cot and can afford it, a bedside cot is a good choice. It's a higher-tech version of a Moses basket as it's designed to be attached to your bed, allowing you to co-sleep safely with your baby.
Carrier or sling