Paddy McGuinness admits he's surprised his marriage has survived while raising autistic twins
The father-of-three gave an emotional TV interview...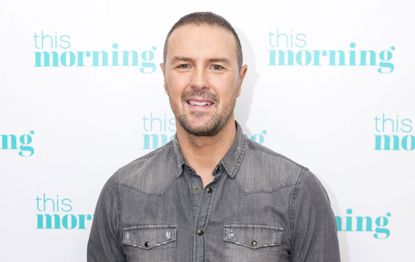 Father-of-three Paddy McGuinness has revealed 'it's a wonder' he and his wife Christine are still together as raising children, let alone their autistic twins, can have a huge impact on a relationship.
Earlier this year Paddy and Christine urged parents with autistic children to book a family holiday despite how daunting it might feel at first.
The couple have always been open about how their four-year-old twins Penelope and Leo diagnosis 'turned [their] world upside down' and often receive praise for doing so. The couple's two-year-old daughter Felicity is also showing signs of autism too.
Now Paddy has given an emotional television interview where he admits the situation has taken it's toll on their relationship, as he and Christine can't do 'normal things as a couple'.
Speaking on John Bishop: In Conversation With... the 44-year-old got tears in his eyes as he admitted he was surprised his marriage had survived this far.
Paddy said: 'It's very, very, very, very difficult, you know any parent with children with any kind of special needs is very difficult. Some days it's a wonder how we're still together, me and Christine, because you can't sort of do the normal things that you would as a couple.'
The couple has since announced the end of their 11-year marriage (opens in new tab).
The Take Me Out host admitted that it's too difficult to find an appropriate babysitter and that you can't always rely on family to step in when you're in need of some alone time with your partner.
He said: 'I can count on one hand the amount of times we've been on a night out together, because you can't just have a babysitter. You can't just say "I'll drop 'em off at me relatives to look after" 'cos it's not like that.'
Paddy gushed about his wife and said that she really kept the family together when he was battling with depression and threw himself into his work.
He told John: 'I think women with children are better than men. This is only my opinion. Might be 'cos me Mum brought me up. I think maternally, they just take to being a parent quicker than men. And when the kids were born, I had that strange working-class mentality of these kids are here now, I've gotta provide for 'em.'
John Bishop: In Conversation With... airs on Thursdays at 10pm on the W channel. Other guests in the line up include Will Young, Brendan Cole and comedian Katherine Ryan.
Jessica currently works as a Senior Food Writer at Future. She writes food and drink-related news stories and features, curates product pages, tests, and reviews equipment, and also develops recipes that she styles on food shoots. An enthusiastic, self-taught cook Jess adores eating out and sharing great food and drink with friends and family. She has completed the Level 1 Associate course at the Academy of Cheese and is continually building on her knowledge of beers, wines, and spirits.