How I explain my depression to my three-year-old daughter
'When she's old enough to understand the word depression, I will use it'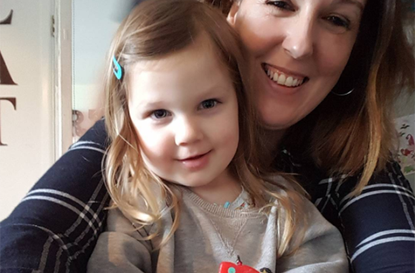 A recent study from the Maternal Mental Health Network showed that in the UK today, over 81% of new mothers are parenting with a mental health problem.
This number isn't just down to postnatal depression (opens in new tab), which up to 10% of women can experience in the first year after giving birth.
Many new mothers also suffer from existing mental health issues, including anxiety (opens in new tab), OCD and eating disorders, and learning to reconcile long-term health problems with the stresses (opens in new tab) of being a new parent can be extremely difficult.
We spoke to Jayne Hardy, founder of The Blurt Foundation (opens in new tab), who's battled through depression (opens in new tab) and anxiety for nearly 20 years, but now enjoys a healthy and happy family unit with her husband and three-year-old daughter Peggy.
Here, she opens up about her ongoing battle with her mental health and how she's raising her daughter to prioritise hers...
I first decided that I wanted children at 25, which is when I got married - but I was suffering really, really badly with depression at that point.
I was diagnosed at 22, but in hindsight, it was something I had struggled with in my late teens. In the society of the time, we didn't talk about depression as much then as we do now - we didn't have social media or ways to share our experiences - and so the only people I had to relate to were my friends and family, and none of them spoke about depression either. I didn't really understand what it was; I knew it was a mental illness, but I didn't understand how common it was or how debilitating it could be.
I felt like I couldn't even look after myself, so there was no way I was going to be able to look after another human being. I just didn't feel fit to be a parent.
It took me seven years until I was actually brave enough to even try for a baby. I'd worked on myself: I'd had CBT [cognitive behavioural therapy], I'd spoken to other people who had had children when they were suffering with mental health issues, and by then I felt like it was something I could do - it just took me seven years to get there. When I was pregnant (opens in new tab) I thought it was fantastic and was so relieved, but it was a really horrible, long journey to get to that point.
When I was expecting, it became less about me and more about Peggy, and I continued to do a lot of work on myself, because I didn't want to pass on any negative tendencies. There's a lot that you can beat yourself up about, being a parent, but you learn from making mistakes, but when she arrived, I felt almost like I'd been set free - like I'd had this brand new baby, and I finally could be myself.
I've struggled with things like lack of sleep, because sleep is something that helps me to manage my depression. For the first few weeks [after giving birth] you can't really eat anything either, because bubbs is always needing something the minute you sit down! It hasn't been easy, and it's definitely something that I've got to factor in to lots of my decisions, but my partner and I tag team as parents together. If I feel like depression is really getting me down, then I'll have a day or two to myself to try and catch up on my sleep, to eat well, and take back control.
Anxiety is something I still struggle with - yesterday, for instance, I drove in the car on my own for the first time since November. Depression can usually take effect quite slowly, and you don't realise you've got it until you've had it for quite a while, whereas anxiety can just come out of nowhere. Once you've experienced an anxiety attack, you fear the attack itself, and that affects your life – being afraid of certain situations can hold you back from certain things, and I don't want to not be able to drive my daughter places. I've had some CBT, and read some books about mindset, which really helped me to feel like I'm in charge of my brain, rather than having it overpower me.
I'm very aware that I might not be spending so much time with my child, but I'd rather she got the best of me – if I have to take myself away so I can take care of myself to be a good parent, then that's what I should do. Of course there is guilt, but there's guilt about everything; being a working a mum, the guilt is rife!
We do very much try to talk about self care [with our daughter] all the time; so if she's had a really busy morning, we'll read some books, take some time, and very much make sure that there are some quiet spaces in her life. She's three so she's into everything, and she'll just be non-stop from the minute she gets up to the minute she goes to bed. But we're trying to teach her that stopping is important, and that peace and quiet is necessary, and just trying to teach her that there are different tempos to life.
We're not talking about our mind health yet, but if I do have to take that time out, we just say that "mummy's feeling a bit poorly", just as we would if she had tonsillitis or something. When she's old enough to understand the word depression, and what it means in its entirety, I will use the word. 'I have depression, it's something I struggle with' should be normal to say. But for now we're just laying down important foundations for her to understand that you can be unwell in your mind, as much as you can physically.
Becoming a parent has, for the most part, been liberating. I've learnt that beating yourself up about things you can't control is the worst thing that you can do - and that was the best thing I could have learnt, because being a parent there's so much you could do that about. I just do the best I can with what I know.
I do feel sad, that depression took motherhood from me for so long, when I'm enjoying it so much, but I'm so lucky that I've got to experience it now.
Trusted, informative, and empathetic – GoodTo is the ultimate online destination for mums. Established in 2007, our 15-year-strong archive of content includes more than 18,000 articles, 1,500 how-to videos, and 7,000 recipes.