Pink confirms that she and husband Carey Hart are raising their children to be gender neutral
The couple are ensuring that their two children grow up in a 'label-less household'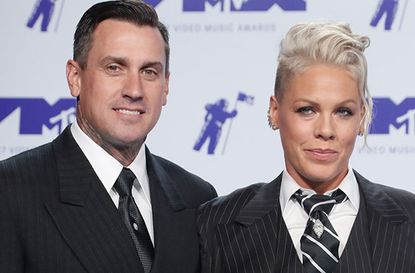 GoodTo newsletter
Sign up to the GoodTo Newsletter. You can unsubscribe at any time. For more information about how to do this, and how we hold your data, please see our privacy policy
Thank you for signing up to . You will receive a verification email shortly.
There was a problem. Please refresh the page and try again.
Pink, the award winning American singer, has revealed in a recent interview that she and her husband Carey Hart are raising their children to be gender neutral in a 'label-less household'.
The What About Us songstress spoke to The People magazine about raising her two children Willow, six, and Jameson, 11 months to be open-minded and not confined by gender stereotypes.
'We are a very label-less household,' the 38-year-old mum of two said.
'Last week Willow told me she is going to marry an African woman. I was like: "Great, can you teach me how to make African food?"'
'And she's like: "Sure mama, and we are going to live with you while our house is getting ready".'
Pink was praised earlier this year for giving an inspiring speech at MTV Video Music Awards aimed at her daughter Willow.
In her powerful and emotive acceptance speech, the proud mum about spoke about embracing androgyny and her reaction to hearing her daughter heartbreakingly call herself ugly.
Willow apparently said to her mother that she felt she looked like 'a boy with long hair' to which Pink's response was: 'When people make fun of me... do you see me growing my hair? "No, mama." Do you see me changing my body? "No mama." Do you see me selling out arenas all over the world? "Yes, mama."'
She concluded her empowering message by saying, 'So, baby girl, we don't change. We take the gravel and the shell and we make a pearl.'
Pink has also been labelled a 'role model' and 'inspiration' (opens in new tab) for sharing intimate details of her approach to motherhood and its challenges.
The singer has remained candid about her life since giving birth to her second child earlier this year, and has spoken openly about breastfeeding, exhaustion and juggling parenting with a career.