Eating probiotic yoghurt during pregnancy can reduce the risk of pre-eclampsia by 20 per cent according to new study
A new study has suggested that eating probiotic yoghurt during pregnancy can reduce the risk of women suffering pre-eclampsia and premature births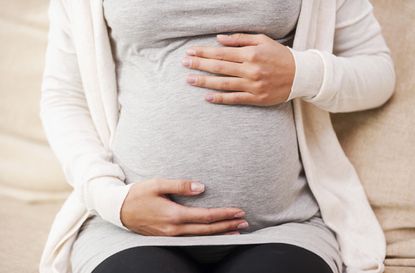 Pregnant women are less likely to suffer from pre-eclampsia (opens in new tab) in their pregnancies if they eat probiotic yoghurt, new research has suggested.
The NHS describe probiotics as 'live ['good'] bacteria and yeasts [that are] thought to help restore the natural balance of bacteria in your gut'.
According to Live Science, Swedish study 'The Norwegian Mother and Child Cohort Study', published in the BMJ Open journal has used the data collected from about 70,000 pregnant women in Norway to draw these conclusions between probiotic products and a lowered risk of pre-eclampsia.
During the study, the women were required to complete questionnaires about their health and lifestyle during the 15th and 30th weeks of pregnancy, followed by information about their diets at 22 weeks.
The researchers found that only 23 per cent of women said that they drank probiotic milk before becoming pregnant and only 38 per cent drank the stuff up to their 13th week of pregnancy. In addition, 32 per cent of women continued to drink it between 13 and 30 weeks.
The results confirmed that those who were drinking on average about one and a half cups per day reduced their risk of pre-eclampsia by 20 per cent.
Dr Mahsa Nordqvist, a lead researcher on the study, said: 'Consuming probiotics late in pregnancy can lower the risk of pre-eclampsia by reducing symptoms, such as high blood pressure and protein in the urine, which tend to occur in the third trimester.'
The researchers also concluded that by drinking the milk during early pregnancy, the women reduced their risk of a premature delivery by 21 per cent, as opposed to those mums-to be who didn't drink any.
'Preterm delivery can often be related to infection, which leads to inflammation in the body', said Dr Nordqvist.
'The results suggest that if the body's inflammatory response can be lowered at an early stage of pregnancy, this may lower the risk of giving birth too early', she added.
While the study particularly measured the amounts of probiotic milk drank by the pregnant women, Dr Nordqvist notes that 'products such as kefir, milk containing the bacteria Lactobacillus acidophilus and yoghurts with added probiotics [could] be considered comparable to the milks described in the study'.
So if drinking probiotic milk doesn't sound so appealing then it's definitely worth trying yoghurt as a good alternative. Even yoghurt drinks such as Actimel, which contain the probiotic bacteria, or Activia yoghurts are a good way to start.
Dr Susanne Bathgate, a maternal-fetal specialist at The George Washington University School of Medicine and Health Sciences in Washington, D.C. told Live Science that 'doctors currently recommend that pregnant women at a high risk of pre-eclampsia [should] take a low dose of aspirin daily in their second trimester, which is thought to help reduce inflammation'.
So after the finding that both pre-eclampsia and premature deliveries are believed to be linked to inflammation, 'reducing [it] might change pregnancy outcomes', said Dr Bathgate.
'But more research is needed before doctors can make recommendations that pregnant women [should] drink probiotic milk to help prevent complications.'