Week by week pregnancy guide: 17 weeks pregnant
Everything you need to know...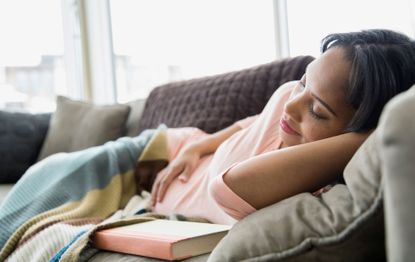 GoodTo newsletter
Sign up to the GoodTo Newsletter. You can unsubscribe at any time. For more information about how to do this, and how we hold your data, please see our privacy policy
Thank you for signing up to . You will receive a verification email shortly.
There was a problem. Please refresh the page and try again.
You're now 17 weeks pregnant but what should you expect? Read week 17 of our week by week pregnancy guide to find out everything you need to know...
Welcome to your pregnancy week by week (opens in new tab) guide for your 17th week!
At 17 weeks pregnant your baby has been growing for a while, and they'll be doing a lot of wriggling around now. If you want to know what else is happening during your 17th week, read on...
17 weeks pregnant: Symptoms
Your uterus can now be felt above your belly button and you may notice a thin dark line appearing between your belly button and pubic bone. This is called the linea nigra (opens in new tab) (black line in Latin). About two thirds of mums-to-be will experience this and it is likely to be more noticeable if you've got darker skin.
This strange line is all part of the hyper pigmentation brought about by pregnancy hormones. These same hormones can cause a darkening of your nipples and, for some women a darkening of the skin across their nose and cheeks.
This is known as the butterfly mask of pregnancy, or, to give it its official term, chloasma. If you do experience this then always make sure you use a high factor sun cream otherwise it is likely to darken further.
It's possible you could start experiencing some itching during your pregnancy which is caused by the increased bloody supply to your skin or because of the stretching of your skin. Wear loose fitting clothing, avoid synthetic fibres and keep your skin moisturised to try and combat it.
17 weeks pregnant: Fetal development
Your baby is 13cm long and weighs 140 grams. Fat is beginning to grow and their lungs are starting to exhale amniotic fluid. Their legs are now longer than their arms and they're wriggling around all the time doing acrobatics in your womb. Babies this age have even been seen via ultrasound playing with their umbilical cords.
Research also suggests that at 17 weeks your baby is already taking language lessons! While they can't understand words, they're already becoming attuned to vocal rhythms and patterns. Amazingly, this information allows them to tell the difference between languages from birth. Studies have shown that a two-day-old infant shows a preference for his mother's native tongue, even when spoken by unfamiliar voices.
17 weeks pregnant: The changes you should make
You could have the Quadruple Test this week and some women will have an amniocentesis this week, too.
Now that your energy levels have recovered, why not enrol in an antenatal exercise class? Exercising safely during pregnancy will keep you healthy and active as well as helping to prepare you for labour. There are plenty of exercise classes available which are tailored for specifically for pregnancy ranging from yoga to aqua-natal classes. The NCT runs 'Relax, Stretch and Breathe Classes' and 'Yoga for Pregnancy Classes'. To find your nearest class go to nct.org.uk (opens in new tab).
If you fancy a holiday abroad, go now. After 28 weeks most airlines will ask you for a doctor's letter before travelling. After 34 weeks many will refuse to let you fly.
It may seem hard to believe, but if your partner has been complaining of similar pregnancy symptoms, he might not be exaggerating. Some expectant dads do suffer from sympathetic pregnancy symptoms (opens in new tab). There's even a special word for the condition known as 'couvade'.
In fact one study, conducted at St. George's Hospital, found that the majority men questioned displayed a variety of pregnancy-associated symptoms like mood swings and morning sickness, with stomach cramps being the most commonly reported.