Chemical pregnancy: What is it and why does it happen?
A chemical pregnancy is a very early miscarriage. Nobody is to blame, and in most cases, they are totally out of the expectant mother's control.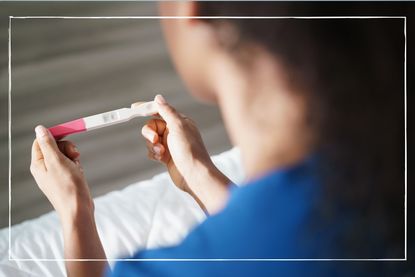 (Image credit: Alamy/Future)
Chemical pregnancy is a pregnancy that does not progress beyond 5 weeks since your last period. You may be able to detect chemical pregnancy with a home pregnancy test or a blood test, but the pregnancy does not progress.
When you're try (opens in new tab)ing to conceive, nothing is more wonderful than seeing a positive pregnancy test (opens in new tab). However, this joy can sometimes give way to anxiety if you then receive a negative result a few days later.
Mr. Narendra Pisal (opens in new tab), Consultant Gynaecologist at HCA healthcare, told us: "Modern pregnancy tests are now so super sensitive, we are seeing detection of pregnancies that before we wouldn't have known about. Some of these pregnancies show a positive on a home pregnancy test only for a few days. If this happens to you, you will probably just then have a bleed just like your normal period, perhaps a little later than expected."
What is a chemical pregnancy?
A chemical pregnancy is a miscarriage (opens in new tab) that occurs in very early pregnancy. This type of miscarriage is called a chemical pregnancy because levels of the hormone human chorionic gonadotropin (hCG) are initially elevated enough to produce a positive result on a pregnancy test. However, the chemical levels drop again before a doctor can see the gestational sac on an ultrasound.
Also known as biochemical, a chemical pregnancy does not develop past around 5 weeks of pregnancy - and no embryo develops within the uterus. Once your HCG level quickly drops, your cycle then begins again with day 1; the first day of your menstrual period.
Whilst some women may never know they were pregnant, since they may wait for their period to be significantly late to test, others track ovulation (opens in new tab) and test days before their period is due.
Getting a positive pregnancy test, followed by your period, can be very distressing especially if you were actively trying to conceive. Dealing with the emotions of this early pregnancy loss (miscarriage) can feel overwhelming.
How do you know if you've had a chemical pregnancy?
The clearest sign of a chemical pregnancy is a positive pregnancy test result that is followed by a negative one.
Because chemical pregnancies occur so soon after implantation takes place, many women show very few symptoms, if any at all. If women do experience symptoms after a positive pregnancy test, they are likely to be similar to normal period pains and could include:
mild spotting a week before an expected period
abdominal cramping, which is normally mild
vaginal bleeding that occurs close to the time of an expected period or shortly afterward.
This kind of early-stage miscarriage usually doesn't require medical intervention. However, women who experience one are encouraged to follow up with tests to ensure that their hCG levels return to normal.
You should also confirm that you do not have an ectopic pregnancy (opens in new tab). Dr Hannan Al-Lamee, clinical research fellow at the Hewitt Fertility Centre (opens in new tab) explains, "If the pregnancy test is positive and there is no evidence of a pregnancy within the uterus on the ultrasound, this could also indicate an ectopic pregnancy. This can be dangerous and should be excluded."
Detecting chemical pregnancy before your period
While many women wait until they have "missed" their period (or it is late), others are eager to test as early as possible. They might take an early detection pregnancy test and see an early positive (faint lines). Some women do multiple tests over days to view the "progression" of the line (darkening), especially when their first test lines were faint.
In a chemical pregnancy, pregnancy test results will be inconsistent and get fainter over a few days, instead of darker. In a pregnancy that is developing as expected, research has established that you would expect a doubling of the HCG every 48 hours, which results in a stronger (darker) line as it progresses. The apparent "fading" of a line on your tests can be one of the first signs of a chemical pregnancy but does not always indicate chemical pregnancy.
The strength of the positive line on a pregnancy test can rely on several other factors, including:
The dilution of your urine (how much fluid you've taken in)
What time of day you do the test (first morning urine, after a long period of sleep, usually has the highest concentration of HCG, the pregnancy hormone)
the sensitivity of the test (tests from different manufacturers differ greatly).
The age and storage conditions the tests have been kept in ("out-of-date" tests and those that have been stored incorrectly are inaccurate (opens in new tab))
Careful following of the instructions, as brands differ (make sure you always read the information in the pack)
Chemical pregnancy causes
Though no one specific cause for chemical pregnancy has been found, there are a number of theories about why it may happen. Studies suggest (opens in new tab) that only about 30% of all pregnancies result in the birth of a baby and chemical pregnancies are the earliest losses of a pregnancy.
Studies specifically looking at biochemical pregnancies (opens in new tab) have concluded that "there are no definite predictive factors".
However, when examining early pregnancy loss, various studies have indicated that it could result from one or more of the following issues:
Chromosomal abnormalities. These are the leading cause of early pregnancy loss. Irregularities in chromosomal arrangements may prevent the foetus from developing.
Uterine abnormalities. The presence of irregularities in the uterine lining can prevent the embryo from implanting in the uterus.
Insufficient hormone levels. The body needs higher levels of a particular hormone, such as progesterone, to support the development of the foetus.
Low body mass index (BMI). Underweight women are more likely to have an early miscarriage.
Advanced maternal age. Women of 35 years or older may find it harder to get and stay pregnant.
Damaged sperm
Dr. Narendra Pisal, Consultant Gynaecologist at HCA Healthcare said "the formation of the human embryo and then implantation within the womb is such a complex process, it's a surprise as many pregnancies go ahead as they do. We really don't know for sure the exact reasons why they happen. Normally we wouldn't investigate unless it happened many times."
When to expect a period after chemical pregnancy?
As a chemical pregnancy occurs in the first 4-5 weeks since your last period, your period may be a little later than you would expect, by a few days. For some who get a positive test before their period is due, it may not even be late. Periods are not always predictable and ovulation can be later than expected, even for those who carefully track their cycle.
Your next period is unlikely to be affected and neither are your chances of a successful conception and pregnancy at your next cycle.
How common is a chemical pregnancy?
The full extent of how many pregnancies are "chemical" is not known but is thought to be common. Some studies (opens in new tab) suggest around 25-50 percent of pregnancy losses are before 5 weeks (chemical pregnancy).
Other studies (opens in new tab) by Obstetrics & Gynecology Science say between "8and 33 percent of all pregnancies" and "18–22 percent of in vitro fertilization (IVF) pregnancies"
One common theme with chemical pregnancies, according to Dr. Jeffrey Sternberg, founder of The Fertility Institutes (opens in new tab), is that 'many women fail to notice a chemical pregnancy, or tend to blame it on their menstrual cycle.'
This is due to how early they can occur. While miscarriages can occur at any time during pregnancy, a chemical pregnancy always occurs shortly after implantation. This could be within just days of getting a positive pregnancy result.
Can you prevent a chemical pregnancy?
As the causes of a chemical pregnancy are not yet confirmed by science, there is currently no known way of preventing a chemical pregnancy.
However, if you have experienced chemical pregnancy many times, speak to your doctor. They may refer you for tests and potentially recommend that you are prescribed a hormone called progesterone when you see a pregnancy test turn positive.
Progesterone is produced naturally by the body during pregnancy but can be prescribed to help support pregnancies in those who have experienced recurrent miscarriage. National Institute of Clinical Excellence (NICE UK) guidance now suggests those who have suffered one previous miscarriage are prescribed the drug once a pregnancy has been confirmed via a scan.
There is also evidence (opens in new tab) that the use of low-dose aspirin can prevent miscarriages. A trial involving 1,227 women who had experienced 1-2 miscarriages indicated that aspirin use before conception and during pregnancy can lead to better pregnancy outcomes.
However, there is not a lot of research into these drugs for preventing chemical pregnancy, specifically. The guidelines to recommend the prescription of progesterone for those who have suffered a miscarriage only apply to those whose pregnancies have been confirmed via scan. Unfortunately, this is too late for chemical pregnancies, which by definition occur before pregnancy scans could show anything in the uterus.
Conceiving after a chemical pregnancy
Having a chemical pregnancy does not mean that you cannot carry a baby to term in the future. You have the same chances of conceiving after chemical pregnancy as anyone else: a chemical pregnancy does not usually indicate any potential reproductive problems.
Expert consultant gynaecologist from HCA Healthcare, Mr Narendra Pisal, says that a chemical pregnancy, "doesn't cause any serious or significant impact on your hormones or your uterus. So you will be able to try again to conceive in the next cycle, if you are ready to."
Whilst a chemical pregnancy can feel like an immense loss, it still demonstrates that your eggs can be fertilised and the uterus can initiate implantation. As long as you feel emotionally ready, there is no medical reason to delay trying to conceive again.
In fact, a study from the National Institutes of Health (opens in new tab) recommends trying again within three months. Their research demonstrated that women who tried to get pregnant within three months of a miscarriage had 17 percent more chance to conceive and have a live birth than those who waited.
Where to find support
Trying to conceive after a positive pregnancy test did not result in a viable pregnancy might feel quite challenging. A chemical pregnancy is an early miscarriage. For some couples, it can feel devastating, especially if it's the first positive pregnancy test you have ever seen.
According to a study from Imperial College London published in the American Journal of Obstetrics and Gynaecology) (opens in new tab), nearly a third of women (29%) suffered post-traumatic stress following a miscarriage, early pregnancy loss or ectopic pregnancy (opens in new tab).
There may even be a mixture of feelings, depending on your circumstances - and that's always understandable. Whatever your response to what's happened, your feelings are valid.
There are many online groups and chemical pregnancy forums where you can share your experiences and find support:
Eating a healthy, balanced diet
Eating iron-rich food (opens in new tab)
Avoiding smoking and excessive amounts of alcohol
Proper and regular exercise
Stress management
Monitoring weight and keeping it within healthy limits
Regular sleep and relaxation