We earn a commission for products purchased through some links in this article.
Pregnant Kate Middleton is going to be attending a
St. Patrick's Day Parade on March 17th, and the event is something that before last year, she hasn't done since the last time she was pregnant!
The Duchess of Cambridge is finally slowing down her work commitments before taking a step back from the limelight to go on maternity leave ahead of the birth of her third child with Prince William in April. Although her exact due date for the royal baby is not known, the pregnant Duchess is rumoured to be due around St.George's Day, which is now only weeks away.
Before taking a step back from the limelight to focus on her family and prepare for the birth of her third baby, a heavily pregnant Kate Middleton will definitely be attending at least a couple more events on behalf of the royal family.
Her next official engagement is the annual St. Patrick's Day Parade at Cavalry Barracks, and although Kate used to attend every year after her wedding to Prince William, the Duchess skipped the event in 2016 to 'focus on her family'.
[twitter] https://twitter.com/KensingtonRoyal/status/972122951322669056[/twitter] It was thought she wanted to spend as much time as possible with her two children before she jetted off on a one-week official visit to India and Bhutan with Prince William, but without Prince George and Princess Charlotte who stayed at home with Kate's mother Carole and her family.
This means that before Kate's appearance again at the annual parade in 2017, the last time that the Duchess handed out sprigs of shamrocks to the Irish Guards on St.Patrick's Day was back in 2015 – when she was pregnant with Princess Charlotte.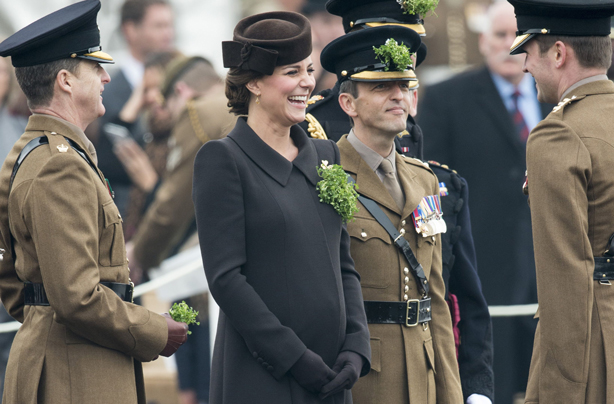 Pregnant Kate Middleton, the Duchess of Cambridge, at the St Patrick's Day Parade at Aldershot Barracks, Hampshire in 2015
This year, just as she was back in 2015, Kate Middleton will be eight months pregnant again when she accompanies Prince William to the event on Saturday 17th March.
We wonder if the heavily pregnant Duchess will recycle her maternity style, and wear the same brown Catherine Walker coat again as she did in 2015 to cover her growing bump?