Prince William and Kate CONFIRM the due date of the third royal baby
It's a spring baby!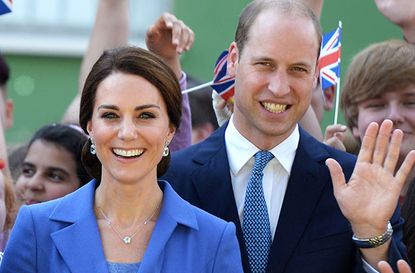 The due date for Prince William and Kate's third baby (opens in new tab) has finally been confirmed!
The news of Kate's due date was revealed officially by the Kensington Palace Twitter account, who wrote: 'The Duke and Duchess of Cambridge are delighted to confirm they are expecting a baby in April 2018.'
Earlier today, it was announced that the royal couple will undertake an official visit to Norway and Sweden at the request of the FCO in early 2018, leading many to wonder how pregnant Kate would be during the visit.
Now that the date of their third child's arrival has been confirmed to be in the spring, it's likely that Kate will be in her second trimester when the pair make the trip.
Since the announcement of the third royal pregnancy back in September, speculation has been rife about how far along the duchess is, so royal watchers will be delighted to have an official month in mind.
If Kate is overdue, this could mean that the couple's new son or daughter will have a birthday very close to big sister Princess Charlotte (opens in new tab), who arrived on 2nd May 2015. Prince George's celebrations, however, will remain safe from sibling rivalry, as he was born later in the summer, on 22nd July.
Fans of the adorable family have been quick to send their messages of congratulations after the due date reveal, with one exclaiming: 'Congratulations! April is a good month!'
'Woot it'd be cool if it was on April 29th, their wedding anniversary. :),' another pointed out.
William and Kate tied the knot on April 29th 2011, but there's also another royal occasion that the due date of their third child could clash with - the Queen's birthday.
William's grandmother marks her birthday publicly in June, but was actually welcomed by her parents on 21st April 1926 - so perhaps another grandchild could be her gift for 2017!