Prince George and Princess Charlotte meet their new royal baby brother
They were seen arriving with their dad Prince William at the hospital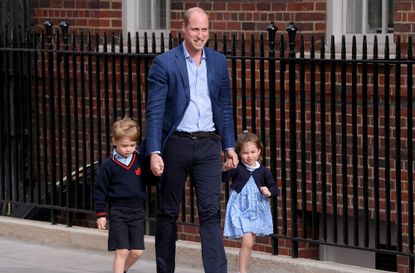 Prince George and Princess Charlotte have been introduced to their new little brother for the first time this afternoon.
Prince William - who became a father-of-three today - arrived hand-in-hand with his children to the Lindo Wing at St. Mary's Hospital, Paddington and Prince George, four, and Princess Charlotte, two, appeared excited and eager to meet their new baby brother (opens in new tab).
A shy looking Prince George, still in his school uniform, climbed out of the car with the help from Prince William, before the pair went to help Princess Charlotte out of her car seat.
Princess Charlotte, dressed in a cute blue summer dress with a smart blue cardigan, sweetly waved at the crowds waiting outside the Lindo Wing as she made her way into the hospital holding hands with Prince William.
After meeting their new baby brother, Prince George and Princess Charlotte left the hospital via a private door to return to their home, Kensington Palace.
The announcement of the as yet unnamed baby was revealed on Kensington Palace's Twitter page earlier today.
'Her Royal Highness The Duchess of Cambridge was safely delivered of a son at 1101hrs,' the statement said. 'The baby weighs 8lbs 7oz. The Duke of Cambridge was present for the birth.'
The new Prince's weight of 8lb 7oz means he is the heaviest child Kate has given birth to and the biggest royal male for more than century.
Princess Charlotte weighed 8lb 3oz, while Prince George weighed 8lb 6oz making him at the time the heaviest future king to be born in recent history.
Prince George Princess Charlotte are meeting their new baby brother for the first time today
Kensington Palace have announced that The Duchess of Cambridge will be leaving St. Mary's Hospital later today to join Prince George and Princess Charlotte back at home.
'The Duke and Duchess of Cambridge and their son will travel home to Kensington Palace' the Palace tweeted, just under 30 minutes after Prince George and Princess Charlotte arrived at the hospital to meet their new sibling for the first time.
A Freelance Writer and Content Editor, Jenni has been working on the women's lifestyle team at TI-Media on and off for over three years. She writes about your favourite celebrities and TV shows so you never miss an update. Jenni also writes beauty news and features - so for all of your skincare and make-up needs, drop her a line.