Prince Harry and Meghan open up about the royal proposal and their plans for starting a family
Prince Harry and Meghan Markle open up about the surprise royal proposal, and what their family plans are for the 'near future'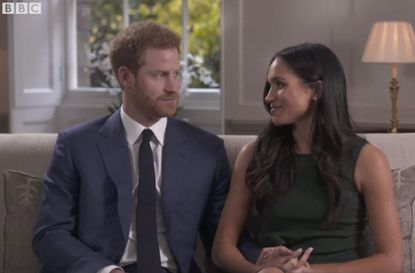 Prince Harry and his new fiancée Meghan Markle (opens in new tab) gave their first ever interview together today, following an official engagement photocall (opens in new tab). For the special TV interview, also the couple's first since announcing the news of their engagement, Meghan and Harry were said to have personally chosen BBC Radio 4 presenter Mishal Husain to be the one to interview them.
Broadcast on BBC News at 6pm, Prince Harry and Meghan Markle looked happy, relaxed and excited whilst chatting about their future from their new home, a cottage in the grounds of Kensington Palace. Over the course of the 21 minute interview, the couple spoke of their relationship, how they met, and their plans for a family 'in the near future' together.
Revealing details of Prince Harry's 'very sweet' proposal, Meghan described how the Prince surprised her one night, getting down on one knee while the couple were enjoying 'a cosy night in' at home in their cottage in London.
'It was just a cosy night, we were roasting chicken' Meghan explained to Mishal. 'It was just an amazing surprise...it was so sweet, so romantic...he got down on one knee.' Meghan also revealed endearingly that she was so keen to accept the Prince's proposal that she interrupted his proposal saying 'can I say yes now?!' before he had finished his pre-prepared speech for her.
The couple described how they met, explaining that their very first dates were in London, after they were set up on a blind date by a mutual friend.
Prince Harry said he 'had never heard' of his wife-to-be before they met for a drink on their very first date. Meghan also said that she knew little about Prince Harry too, having grown up in America.
Prince Harry said it was 'hugely refreshing' to meet someone with no preconceptions about him.
After hitting it off in Harry's home city, the pair managed to spend time completely alone in Botswana 'camping under the stars'. 'It was fantastic, it was absolutely amazing' Prince Harry reminisced.
Meghan said their relationship was, at times, 'not the easiest' because of her hectic schedule as an actress and Prince Harry's commitments as a member of the royal family. However, Meghan is now leaving her career as an actress behind in order to adopt her new role as part of the royal family.
The former 'Suits' star said that she was looking forward to getting stuck in to work with the royal family, and being a force for good with her husband, Prince Harry. 'We're a fantastic team, we know we are' Harry said.
The couple also revealed, that as well as having their sights set on promoting good causes and positive change throughout the UK and the Commonwealth, they are also planning on starting a family together 'in the near future'.
'Of course' Prince Harry replied when asked if the couple would like children. 'One step at a time' he added, before confirming, 'we'll start a family in the near future.'
Until then, the couple will be busy planning their wedding, due to take place in the Spring of 2018, and enjoying spending time together now that they live in the same city for the first time.
Prince Harry said that the couple love 'cosy nights in, in front of the television, cooking together', with Meghan adding that they also enjoy 'long country walks' where they can 'just talk.'