We earn a commission for products purchased through some links in this article.
It'll be a sleepless night in the Cambridge household on the 24th December this year, as Prince William has revealed Prince George's excitement for Christmas.
Although it's still early for Princess Charlotte, George is just at the right age to start getting excited about the magical time.
Speaking ahead of their first festive celebrations as a family of four, Prince William revealed that he and Kate probably won't get any sleep as George has figured out what Christmas is all about.
Speaking to The Big Issue magazine, William said the two-year-old toddler 'will be bouncing around like a rabbit' on Christmas Eve 'because he's suddenly worked out what Christmas is all about'.
The Duke of Cambridge added: 'If I get any sleep on Christmas Eve it'll be good!'
This Christmas will be particularly special for the Duke and Duchess of Cambridge as it's the first time their daughter, Princess Charlotte, will celebrate the holidays.
We just can't get enough of looking at these pictures of Princess Charlotte!
The 33 year old said he's excited for his daughter's first Christmas, saying: 'So that will be two children, one who suddenly appreciates Christmas, which could be quite challenging. But I'm looking forward to it'
The father-of-two also said how different the festive period is now that he has a family of his own, and shared details of their plans for the big day.
The young family will start their celebrations by going to church as usual, after which they will return home to exchange gifts.
'We'll watch George try to tackle his presents as he tries to unwrap them', he said. 'It's a very different experience at Christmas, having a family of your own.'
According to the Daily Mail, one of the presents under the tree for Prince George from grandmother Carole Middleton will be a hot water bottle. But not just any hot water bottle – a £33 worm-shaped bed buddy in stylish cashmere, by Yuyu.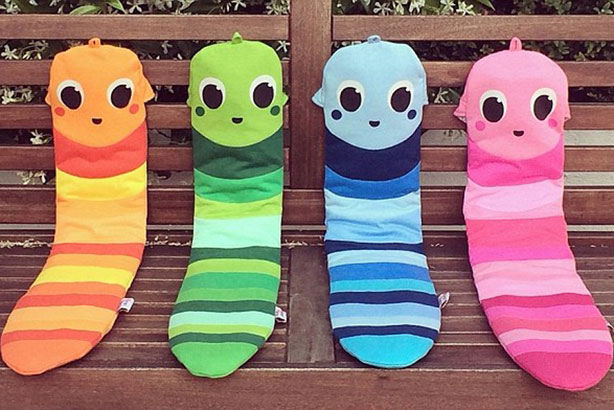 What Carole Middleton will potentially gift George and Charlotte – Yuyu hot water bottles
Unlike previous years, it is thought that William and Kate will not be joining the Queen and other members of the royal family at Sandringham House but will host the Middleton family at Anmer Hall instead.
The Royal also shared his hopes for a white Christmas, as 'we haven't had one in many years'.
The Duke and Duchess of Cambridge attending the Christmas Day church service in Sandringham last year
Prince William was interviewed by Sophia Kichou, who became homeless at the age of 18 after her mother's death. Sophia first met William in 2011 while staying at a homeless hostel with the Centrepoint charity, of which The Duke of Cambridge is a patron.
After hearing about her ambition of becoming a journalist, William promised to give her an interview if she made her dreams come true.
'He is obviously a prince who keeps his promise. He said he would give me an interview and he did', the young journalist said.
Both Prince William and Prince Harry are passionate about helping the homeless, carrying on their mother's work with the charity. Diana often took them on late-night missions to meet homeless people on the streets of London from a very young age, which showed them a very different reality from their own.
'I think it goes back to when my mother first took the [patron's] role when I was a small boy. I was very struck by the people I met and what they were struggling with sleeping rough, sofa surfing, not having basic comforts a lot of us take for granted,' said William.
'That really struck me at a young age, bearing in mind the gulf for me, growing up in a palace and seeing the other end of the spectrum. That was powerful to see at a young age. In today's Western world, with all the advancements and privileges we have, the fact some people don't have a bed or a roof over their head is quite ridiculous.'