'I've struggled at times' Prince William opens up about the challenges of parenthood
The Duke of Cambridge was appearing on a talk show in Vietnam when he opened up about the pressures of becoming a parent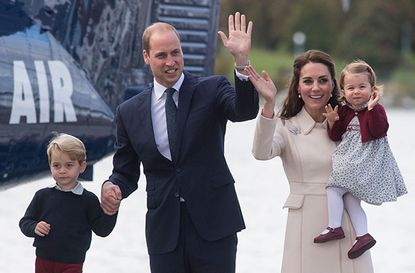 Prince William has opened up about the challenges of parenthood and his hopes for his children during a talk show appearance in Vietnam.
The prince admitted that he found materialism 'quite tricky', noting that people can live with 'an enormous amount of stuff that they don't necessarily need' while chatting with the host, during his first official visit to the country.
He added that he wants children George, three, and Charlotte, one, to grown up with 'simple aspirations', and with a kind and simple outlook on life.
'I would like George and Charlotte to grow up being a little bit more simple in their approach and their outlook,' he said during his appearance on Talk Vietnam.
Prince William also added that he hoped his children would grow up 'treating others as they would like to be treated themselves'.
It seems that, like many of us, William struggled with aspects of becoming a parent, and credited wife Kate with giving him strength during such a period of change.
'I'm very lucky in the support I have from Catherine, she's an amazing mother and a fantastic wife', he explained.
'But I've struggled at times. The alteration from being a single independent man to going into marriage and then having children is life-changing.'
He went on to admit that parenthood had come with 'wonderful highs and wonderful lows' before opening up about Prince George and Princess Charlotte.
'George is a right little rascal sometimes, he keeps me on my toes but he's a sweet boy', he admitted.
'And Charlotte, bearing in mind I haven't had a sister, so having a daughter is a very different dynamic.
'I adore my children very much and I've learnt a lot about myself and about family just from having my own children.'
Speaking to host Tran Thuy Duong, William added that he worries most about the future. 'When you have something or someone in your life to give the future to I think it focuses the mind more about what you're giving them and are you happy that you've done all you can to leave it in a good state.'