Pumpkin face paint
Our pumpkin face paint is perfect for little faces who don't require too much spook!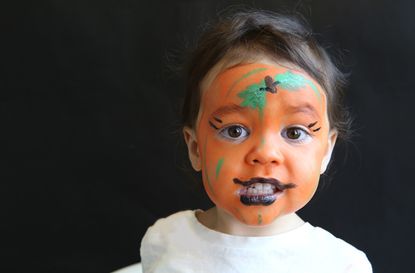 A pumpkin face paint is so easy to recreate at home, and is one of our favourite Halloween face paint ideas for younger kids!
And the good news is, we've got two pumpkin face paint designs for you to choose from! Our simple design, above, is great for beginners, or if you fancy more of challenge, try out our Jack O'Lantern face paint below.
Your little one will love glowing just like a little pumpkin, plus it's the perfect design to introduce them to the tradition of Halloween.
There are just a few things to remember before you get started...
How to create the pumpkin face paint
Before you start...
Gather your materials on a flat surface


Lay down some newspaper or a wipe-clean cloth in case of any spills


Always do a patch test of the paint on your child's skin, if no reaction occurs within an hour, the paint should be safe to use


Remove gently with warm water and a damp cloth - no need to rub!
You will need
Face paint in orange, green and brown 1 x face paint sponges 1 x medium paint brush 1 x thin paint brush Green glitter
Step 1
Lightly sponge white paint around the temples. When dry, mix together blue and white until you have a pale, icy blue, then lightly sponge on top of the white
Step 2
Add white snowflake shapes to the temples with a thin brush. Add long swirls and small flicks to the outer corners of the eyes, coming down the cheeks
Step 3
Using a medium brush, paint a pale blue tiara shape along the forehead Using a thin brush, outline in dark blue
Step 4
Add white dots and shapes along the eyebrows and on the peak of the tiara, and a pink dot to the centre. Finally, add a little glitter all over
How to create the Jack O'Lantern pumpkin face paint
Fancy trying something a little more intricate? This design may look a little tricky but it really is surprisingly easy - just follow our east 5-step guide.
You will need
Water-based face paint in orange, yellow, black and white Face painting sponges 1 thick, no.3 round paintbrush
Step 1
Using a clean face painting sponge, apply an orange base coat across the right half of your child's face, in a jagged geometric shape. During this step ask your child to close their eyes to avoid getting any face paint in them.
Step 2
Use a clean face painting sponge to stipple on yellow over the orange base coat to add texture and dimension.
Step 3
Outline the orange with black paint using a no.3 round paintbrush. Also outline the eye and suggest the teeth. Then paint the grooves and cracks around the edges of the pumpkin face using the same brush and colour.
Step 4
Ask your child to close their eyes and fill in the eye with more black paint using a clean face painting sponge. Then using a no. 3 round paintbrush loaded with black, clean up the edges of the eye and fill in the nose and mouth.
Step 5
Add white highlights around the pumpkin's features and cracks using a clean no. 3 round paintbrush.
This face painting idea is from 'Extreme Face Painting: 50 Friendly & Fiendish Demos' by IMPACT Books, RRP £16.99.