'It confuses my heart' Mum blogger talks honestly about the popular term 'Rainbow baby'
'I couldn't accept anything around her as being dark and chaotic'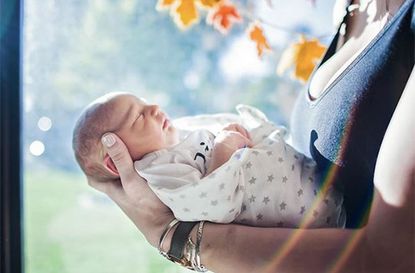 When blogger Teresa Begalka tragically lost her daughter Sylvia Paloma at 40 weeks gestation, nothing could console her, especially not referring to her next pregnancy as the popular term 'rainbow baby'.
A rainbow baby (opens in new tab) is a popular term used for a baby that is born following a miscarriage, stillbirth, neonatal death or infant loss (opens in new tab).
The reason for it is that, in the real world, a beautiful and bright rainbow follows a storm and gives hope of things getting better. With the theory being that the rainbow is more appreciated having just experienced the storm in comparison.
Here Teresa shares her experience of loss and the real reason she just isn't on board with the term rainbow baby...
On August 12th, 2016 my daughter, Sylvia Paloma, was born with dark curly hair, my chin, her dad's toes and no heartbeat.
The day before, during a regularly scheduled appointment, we found out that at 40 weeks and 2 days gestation, she had unexpectedly passed away, our world not only came crashing down it came to a complete stop.
Navigating life without her physically here felt like an impossible mountain. Our arms were empty, our hearts were broken and the future seemed bleak.
The guilt I have felt, the dark thoughts, the waves of overwhelming grief... Losing a child is unimaginably difficult.
I felt like I had failed not only as a mother but as a woman in my inability to bring Sylvia alive into this world.
I felt like I hadn't completed my one important job which brought on the near-obsessive desire to get pregnant again. It was confusing, complicated and terrifying.
Five months after her death we found ourselves fearfully boarding the roller coaster of pregnancy after loss.
I had heard the term 'rainbow baby' before, signifying the baby born after a loss, the rainbow after a horrific storm.
It wasn't until I was pregnant that the term felt confusing to me and my heart. I felt fiercely protective of Sylvia and couldn't relate her to a storm, the darkness and the idea that it had 'passed'.
We were heartbroken by her death but I couldn't accept anything around her as being dark and chaotic.
I felt like my grieving for her related to the acceptance of my growing belly was wrong because the term was conflicting for me.
Somewhere in the pregnancy, my husband told me that his interpretation was that both Sylvia and her sibling were our rainbows.
The storm has nothing to do with them except provide something for them to shine above, together.
Last month we welcomed Leo Coronado, Sylvia's little brother.
What I have learned is that there is no one way to grieve the loss of a child; there is no user's manual and no one's experience, emotions or thoughts are the same.
Being able to connect with other parents, in person or through social media, has been instrumental in gaining a better understanding of my own grief just to have someone else say 'I get it'.
I encourage parents navigating this heartbreaking, confusing path of life after pregnancy or infant loss to reach out to others.
There are (unfortunately) so many other people that know exactly how you feel, which for whatever reason, is very comforting.
Do you agree with Teresa's thoughts on the term rainbow baby? Let us know in the comments section below.
Trusted, informative, and empathetic – GoodTo is the ultimate online destination for mums. Established in 2007, our 15-year-strong archive of content includes more than 18,000 articles, 1,500 how-to videos, and 7,000 recipes.