Rainbow baby names: Beautiful name ideas for your rainbow baby
Symbolic baby name ideas for your rainbow baby.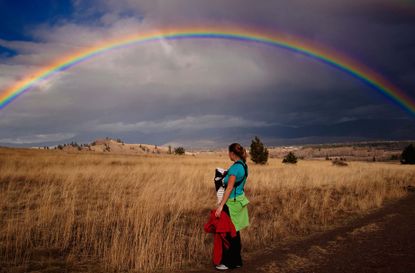 (Image credit: Alamy Stock Photo)
Looking for an inspirational rainbow baby name? Here are a few of our favourites for both boys and girls including meanings for each of them too.
The birth of a child after suffering a miscarriage (opens in new tab) or stillbirth (opens in new tab) is a beautiful but understandably emotional time. The gift of having another child, after losing a sibling before them, is commonly known as having a 'rainbow baby'.
The idea stems from a rainbow being a symbol of hope, and a sign of something beautiful after the storm that the grief of losing a little one brings.
If you find thinking of your next baby as a rainbow comforting, and you want something a little different to the most popular baby names for 2017 (opens in new tab), it could be special to give them a name with a deeper meaning - referencing the miracle that is their birth.
We've put together a list of baby names (opens in new tab) for your rainbow baby, all representing a different aspect of the joy you will feel at holding them close while remembering the little angel that you've lost.
Some rainbow baby names reference the hope you feel at welcoming your baby, while others symbolise the beautiful colours a rainbow shines.
Rainbow baby names for girls
Allegra - joyful
Amitola - Native American for rainbow
Amy - beloved
Angela - angelic
Beatrice - bringer of joy
Cerys - love
Celia - heavenly
Felicity - happiness
Florence - flourishing
Grace - grace from God
Helena - bright light
Iris - a Greek rainbow goddess
Joy - feeling joyous
Lucinda - light
Nadia - hopeful
Nina - priceless
Phoebe - bright and shining
Raphaela - gift from God
Rose - french for pink
Victoria - to be victorious
Vita - life
Violet - a purple colour
Rainbow baby names for boys
Anthony - priceless
Benedict - blessing
Beau - pronounced 'bow' like rain-bow
Cadeau - gift
Enfys - Welsh for rainbow
Felix - fortune
Grant - as in to be 'grant'ed another life
Hari - bright colour
Indigo - a deep blue colour
Luca - bringer of light
Phoenix - rising bird
Raine - like 'rain'-bow
Tate - colour
Theodore - gift
Let us know if you use any of these rainbow baby names, or if you can think of some ideas that we haven't got in the comment box below!
Trusted, informative, and empathetic – GoodTo is the ultimate online destination for mums. Established in 2007, our 15-year-strong archive of content includes more than 18,000 articles, 1,500 how-to videos, and 7,000 recipes.