'Is it a bad choice?' Mum questions unusual baby name after family call it 'odd' and 'strange'
'Several people have commented'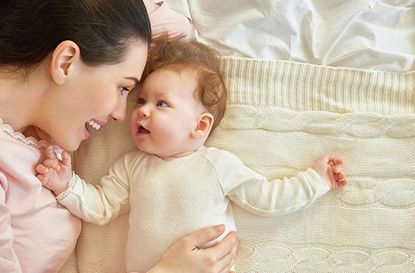 Goodto Newsletter
Parenting advice, hot topics, best buys and family finance tips delivered straight to your inbox.
Thank you for signing up to GoodTo. You will receive a verification email shortly.
There was a problem. Please refresh the page and try again.
An expectant mother's forum post has gone viral after she began questioning her baby name choice because of the comments of friends and family.
The woman, known only as Jocelyn, sent a message to popular baby naming site Nameberry, asking fellow users for their opinion on the name she'd chosen for her first child.
'I'm due in November with our first child - a boy!' she wrote.
'We have picked the name Riggins Blaine. Blaine is his father's middle name.'
'Since we've announced the name, several people have commented that Riggins is an "odd" and "strange" name.'
'It is making me second guess our choice. I know I shouldn't care what others think, but I'm curious about whether this is a bad choice for a name?'
Nameberry's Senior Editor Abby, known as the site's resident 'Name Sage', was first to offer her advice.
'You've done all the hard work, and found the right name for your son. But when you joyfully share it with the world, they respond with a dismissive, "Meh." Or worse. The bad news? It happens all the time,' she replied.
'Riggins is a very unusual name. A mere 44 boys were named Riggins in the US last year. It just plain takes time to warm up to new names. We have to get used to saying and hearing them, and to thinking of Riggins as a given name.'
'But Riggins is on the right side of unusual, and here's why it works: We like unusual R surnames. Think of Ryder and Ryland. That 's' ending is heard in rising names like Miles and Brooks. It sounds like other fresh name possibilities, including two names just inside the current US Top 1000: Ridge and Briggs.'
'Of course, it's possible – and perfectly fine – if you want to consider other names between now and November. Just remember that any name can lead to a negative reaction, and your best response is a smile, and a reminder that you love the name – and you know they'll love your child when he arrives.'
The site then opened the question up to comments, and that's when the debate really began.
Some users expressed their support for the unique name, with one writing, 'Love it! More importantly, you love it. It's your child, so don't let the naysayers have any say!'
Another added, 'If it's what you like then use it. My sister called her 5th child Wulfram and everyone had difficulty pronouncing it at first and it was such an unusual name and she didn't encounter any positive feedback. But after about half a year of calling my nephew by his name, I've grown to absolutely adore it and couldn't imagine him with a different name.'
However, others were less sure about the choice. One explained, 'Honestly, my first impression of Riggins was, "Sounds like a British butler." Not that it is weird, just that it has that old fashioned English surname feel. A bit posh. Don't worry if people like it or not.'
A second said, 'I think your kid would maybe get made fun of at school with a name like Riggins… And I would find it difficult knowing that they'd have so many people commenting on their name being so unusual. Some people don't mind that but one of my friends is called Winifred, and she's super super shy and people ALWAYS comment on how unusual her name is and she hates it. It makes her really self conscious. Also Riggins reminds me of the word rigged, as in to cheat in a game!'
[apester]579efc2fe019af631b63cda0[/apester]
Parenting advice, hot topics, best buys and family finance tips delivered straight to your inbox.
Trusted, informative, and empathetic – GoodTo is the ultimate online destination for mums. Established in 2007, our 15-year-strong archive of content includes more than 18,000 articles, 1,500 how-to videos, and 7,000 recipes.