'Super mama!' Sam Faiers praised by fans for sharing honest breastfeeding photo
The former TOWIE star gave birth recently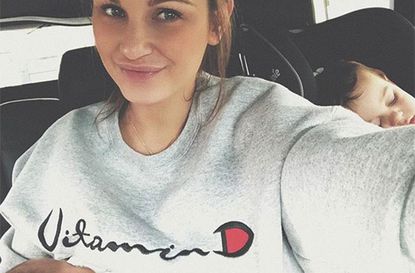 New mum Sam Faiers has won praise from fans by taking to Instagram to share a candid snap of breastfeeding her newborn daughter.
The mum-of two announced the arrival of her second child (opens in new tab), a baby girl, on 13th November with an adorable black and white family snap.
While the latest addition's name is yet to be announced (opens in new tab), there's been plenty of speculation from fans that it might be Poppy, as the little one was born on Remembrance Day.
When her first child, Paul, arrived back in December 2015, Sam became a fierce advocate for breastfeeding, even going as far as to feed her son live on ITV's This Morning (opens in new tab).
In January this year Sam was quoted as saying that 'it's what our boobs are made for (opens in new tab)'.
'I just think breastfeeding is so normal. Millions and millions of mums do it, it's the most natural thing you can do as a woman,' she explained at the time. And it seems that with her second child, she feels the same, after sharing a shot of herself dressed casually in a 'Vitamin D' jumper in the backseat of a car feeding her baby daughter with her 1.9 million Instagram followers.
The photo was captioned with: 'Pulling over to breastfeed, squished in between two car seats Thank God Paul was asleep. #gettingthehangofit #2under2 #mumslife'
After seeing the picture, fans were quick to send messages of support to Sam: 'Oh the joys of parenthood lol well done you x', one wrote.
'2 under 2... it's an absolute killer. U look like u have it all under wraps x' commended another, while a third fan wrote encouragingly: 'Great to see you trying to normalise breastfeeding once again. Go girl!!'
Another added: 'Been there done that @samanthafaiers 100% worth breastfeeding 🙌🏼 congratulations'.
This fan simply commented: 'Super mama!' with another follower adding: 'Thank you for #normalisingbreastfeeding xx'
What do you think? Have you had to stop and do this with your little ones? Let us know in the comments box below.