We earn a commission for products purchased through some links in this article.
Image: Facebook/Shaunna Broadway
A mother has spoken out after her five and seven-year-old sons experienced horrific second and third degree sunburns on a trip to the waterpark with their daycare.
Shaunna Broadway, from Vinita, Oklahoma, dropped her children off that morning, and returned at 5pm to find both boys in severe pain, and her eldest, Conner, in tears.
'That day they were going to Splash Pad, a local water park,' Broadway told BuzzFeed Life.
'I got off work at 5 p.m. and went to pick them up, and they were clearly burned. [The employees] were actually making fun of my older son, because both boys got sunburns but he was being a "baby" and crying about it,' she said.
Staff at the daycare told Shaunna that they didn't have sunscreen with them, but the children had been told to keep their clothes on – a request that Conner and his younger brother Trey didn't comply with.
'It was common sense that they shouldn't have been out in the sun all day, even if they wore their clothes,' she said. 'The heat index was 118 degrees in Vinita that day. The news was telling us not to be outside.'
Understandably concerned, Shaunna called the local hospital, but was told nothing could be done until the burns had blistered. In the meantime, she was advised to go to the pharmacy and get pain medication and Silvadene cream, which is used to with other treatments to help prevent and treat wound infections in serious burns.
The incident took place on a Friday, and by early Saturday morning, the boys' skin had already begun to blister.
WARNING: GRAPHIC IMAGES
Facebook/Amanda Harvey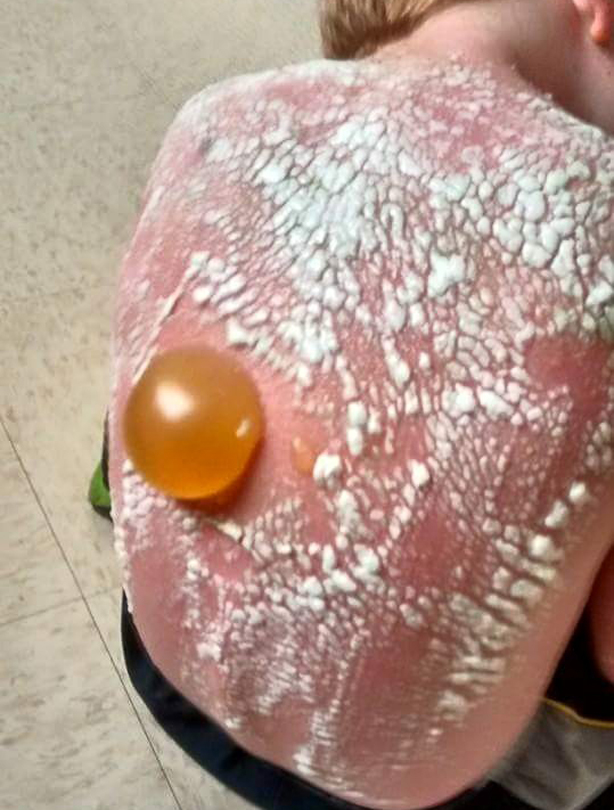 Facebook/Amanda Harvey
These images, which were posted by Shaunna's aunt Amanda, have since been shared almost 2,000 times by outraged friends and parents.
'The white stuff is Silvadene cream,' Shaunna explained. 'What you can't see is that there are a bunch of tiny blisters forming on his skin underneath the cream, which is why it looks like that.'
The boys were taken to hospital, where the blisters were lanced and more cream and pain medicine were given, but with her children continuing to scream and cry in pain, Shaunna took them to another medical centre for another opinion.
'My oldest one's chest started hurting and he said he was having trouble breathing,' she said. 'Apparently the swelling and pain on his back was so bad that he was having pressure on his chest.'
Both boys were diagnosed with second-degree burns, but Shaunna's eldest, who is a redhead with fairer skin, had suffered third-degree burns as well.

The children's grandfather, Wayne Broadway, told Daily Mail Online that the burnt skin had been removed from the boys and that they were now being treated with wraps, which are changed regularly. However, 'skin grafts have been discussed as a possibility if the condition of the burns does not improve'.
Shaunna filed a police report on the Sunday, saying she just wants the daycare to take responsibility for their actions. 'Right's right, and wrong's wrong, and there's no excuse for this,' she said.
'I'm a single parent, and I do all I can. I work Monday through Friday, and they have to go to daycare.'
'They're getting better but it's definitely taking time and it's been really hard seeing them in so much pain and not sleeping. It's a lot for a mom right now.'
Local police say that whilst they have confirmed that no other children were burned on the day, they are investigating the criminal element of neglect with the Oklahoma Department of Human Services.
Officer Bobby Floyd told Buzzfeed, 'We're looking at videos from the courthouse to see how long kids were left outside, and exhausting all resources to see what happened and hopefully get justice for these boys.'