Do YOU love your dog more than your partner? The 13 telltale signs revealed!
Sorry, hubs.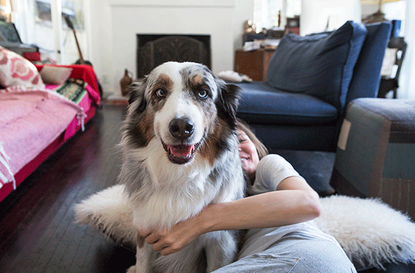 We know that our partners are supposed to be top dog of our hearts, but let's be real with each other: it's usually the pup.
If you're the proud owner of a pampered pooch, we're not here to judge. We get that your relationship with your four-legged friend is just as important as the one you have with your significant other - in fact, sometimes even more so.
After all, who else could get away with sharing your ice cream, getting fur all over the furniture or licking your face as a greeting? Not the hubby, that's for damn sure.
If you're guilty of giving your pet a little more love than your other half, we bet you'll relate to more than a few of these...
Your conversations with your dog are often the most rewarding
Which is why they're always the first one you say hello to when you get through the door.
One of them gets wayyy more treats than the other
You will never apologise for blowing the budget on Bonios.
In fact, they're much better fed in general
The last sausage is reserved for your pawsome pal, and you'll not hear another word on the matter.
You call your dog 'handsome' on a daily basis
You call your partner 'handsome' pretty much never.
And take a far greater interest in their wardrobe
A collar for every occasion, or he'll be the laughing stock of the park.
Your passenger seat is only used by people with four legs
Everyone else rides in the back where they belong.
Dog is sick? Straight to the vet. Husband sick? Man flu
They're the only member of the family with private health insurance for a reason.
You know who you'd rather sleep next to...
And it ain't 'im indoors.
...and take selfies with, come to think of it
Dogs are just more naturally photogenic, alright?
You throw a wilder celebration for the dog's birthday than your other half's
You're ridiculed for the fancy cake, but it's worth it.
And on Christmas morning, the puppy-sized pile of presents is the biggest
Well, you didn't spend hours finding the perfect squeaky toy for nothing...
If your husband tried to lick your face, you'd leave him
When it's your dog, you thank them for the kisses.
Basically, you will protect your dog from literally anything
This lady is your personal hero.
But you'll probably never protect your partner from the dog
Sorry hubs. Their bark is worse than their bite, we swear.
Trusted, informative, and empathetic – GoodTo is the ultimate online destination for mums. Established in 2007, our 15-year-strong archive of content includes more than 18,000 articles, 1,500 how-to videos, and 7,000 recipes.