Snow Queen face paint
With icy blues and sparkling snowflakes, you'll send out sparkle for miles around with our Snow Queen face paint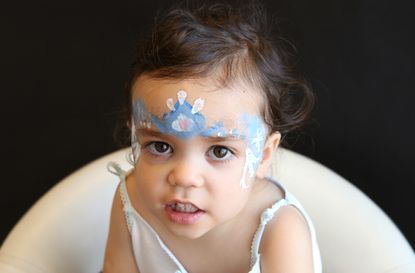 This surprisingly easy look is perfect for little ones, and cleverly, is one of the many Halloween face paint ideas which isn't too scary for younger kids.
Thanks to a particular Disney blockbuster, anything chilly and snowy this year is super popular with kids.
This pretty Snow Queen face paint, with its sparkling tiara, elegant snowflakes and snow swirls is an adorable face paint to try with your kids. We've made it quick and easy, so your little one won't have to sit still for too long.
Perfect for children's party themes (opens in new tab) and not too intricate that you can't recreate it at home!
There are just a few things to remember before you get started...
How to create the Snow Queen face paint
Before you start...
Gather your materials on a flat surface


Lay down some newspaper or a wipe-clean cloth in case of any spills


Always do a patch test of the paint on your child's skin, if no reaction occurs within an hour, the paint should be safe to use


Remove gently with warm water and a damp cloth - no need to rub!
You will need
Face paint in blue, white and pink 2 x face paint sponges 1 x medium paint brush 1 x thin paint brush Glitter gel
Step 1
Lightly sponge white paint around the temples. When dry, mix together blue and white until you have a pale, icy blue, then lightly sponge on top of the white. Add white snowflake shapes to the temples with a thin brush
Add long swirls and small flicks to the outer corners of the eyes, coming down the cheeks
Step 3
Using a medium brush, paint a pale blue tiara shape along the forehead.Using a thin brush, outline in dark blue
Step 4
Add white dots and shapes along the eyebrows and on the peak of the tiara, and a pink dot to the centre.
Finally, add a little glitter all over!
Gemma Chandler is a lifestyle writer specialising in kids' educational media across a range of topics including nature, history, science and geography across digital, print, social media and video channels. She joined Creature & Co. at 2015, shortly becoming Digital Editor of National Geographic Kids magazine.