Sophia is now the most common baby name in the world
We bet you know a few little ones with this name...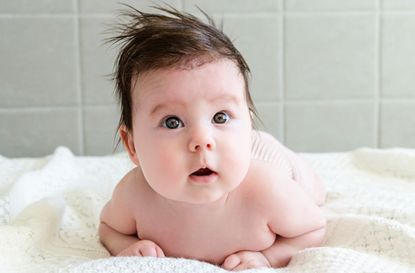 Did you know that Sophia is officially the most common baby name in the world?
The girl's name, which has Greek origins and means 'wisdom', is the favourite moniker in nine different countries, including Italy, Russia Slovakia and Mexico, and is ranked second or third in 20 others, including America.
The analysis takes into account the two different variations of the name - Sophia, and Sofia.
Laura Wattenberg, the naming expert who drew attention to the name's sudden surge in popularity, said that she was amazed at the way it had managed to transcend borders across the globe.
'It just blew me away that so many different languages and cultures would arrive at the same sound at the same time,' she said in an interview with Live Science. 'I guess that really says something about the way culture is transmitted today.'
She added that she can see why the name is so attractive to parents, but can't understand why it's only come into the forefront recently.
'I can point to qualities that would seem to make this name desirable,' she explained. 'The hard part is saying why it wasn't just as desirable a generation ago.'
Sophia is a popular choice for celebrity babies too, with model Abbey Clancy, actor Jude Law and socialite Tamara Ecclestone all chosing the name for their daughters.
[Instagram]https://instagram.com/p/8oRsVyKmyt/?taken-by=abbeyclancyofficial[/Instagram] Abbey Clancy and Peter Crouch called their first child Sophia Ruby. They also have a younger daughter named Liberty Rose
However, it seems that the popularity of the name Sophia (and Sofia) could eventually become its downfall.
More: The LEAST popular baby names (opens in new tab)
'Just the fact of tracking what the top 100 baby names are makes people competitive,' Laura states.
'Everyone is trying to avoid the number-one name, because they think that's too ordinary, so names rise and fall faster than they used to.'
Do you know lots of little ones named Sophia? Would the fact that the name is now number one around the world put you off? Leave us a comment and let us know your thoughts!