8 things you probably didn't know about Strictly Come Dancing
Including the one thing we all do in the ad breaks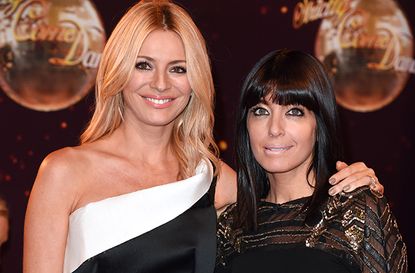 (Image credit: David Fisher/REX/Shutterstock)
Can't wait for Strictly Come Dancing 2021 (opens in new tab) to start?
Us neither - which is we've been keeping ourselves busy by seeking out every tidbit of information we can get our hands on about the 14 series that have already gone by.
We've rounded up some of the most exciting, bizarre and downright delicious little known Strictly facts for you to gorge on whilst you wait for the hotly anticipated opening credits to roll this summer when filming resumes (opens in new tab)...
Feast your eyes on these...
1. Before they're announced, the production team use code names for the contestants
In the past, they've taken inspiration from Disney films and Shakespeare characters – this year, however, they've drawn from Greek mythology. Any guesses for Aurora, Goddess of Dawn? It's none other than Charlotte Hawkins (opens in new tab)!
2. The cast gets through a staggering amount of fake tan each series
Nothing sets off a sequinned leotard and mega-watt smile quite like a luminous orange glow, and Strictly contestants embrace the fake bake as enthusiastically as they do their routines. It's been reportedly that they use as much as 57 litres per series!
3. It's a franchise which has made some serious growth
Strictly, as we know and love it, is a follow on from the original BBC Ballroom competition, Come Dancing, which ran for just shy of 50 years! Since it's relaunch in 2004, the format has been exported to over 50 countries and many of the professional dancers have taken part internationally.
4. It's not just the costumes – the judges have their own colourful backstory
Back in the 80's, Bruno Tonioli appeared the video for Elton John's 'I'm Still Standing', and Craig Revel Horwood features in a Louis Theroux documentary about struggling New York actors. Former head judge Len Goodman wanted to be footballer, but turned to ballroom after a foot injury in his youth.
5. The actual Strictly ballroom is based on the iconic Blackpool Tower ballroom
It's a famous heritage site in Blackpool, which has been hosting ballroom dances since 1894. Like many of the UK's top performing shows, though, it's actually filmed at Elstree Television Studios, just outside the M25
6. The costumes, as you'd imagine, are not cheap
For female contestants, their dresses can cost up to £2,000 to make and it's not unusual for them to be thrown together just 24 hours before the show. Once they've been worn on screen, the costumes are sold on – mainly to other dance professionals, but sometimes are auctioned off for special occasions, like school proms.
7. We all do the same thing during the ad breaks
National Grid staff have noticed that the UK's electricity use rises during Strictly's breaks when viewers boil a cup of tea!
8. At last count, there's been just shy of 6,000 perfect 10's handed out
Not including the Specials that run over Christmas and Red Nose Day, 591 perfect 10's have been dished out by the judging panel, with original judge Bruno hanging out the most (203) and, predictably, hard to please Craig handing out the least (51).