The stupidest things that have ever been said about breastfeeding
Everyone likes to have a go at sticking their oar in when it comes to breastfeeding, don't they?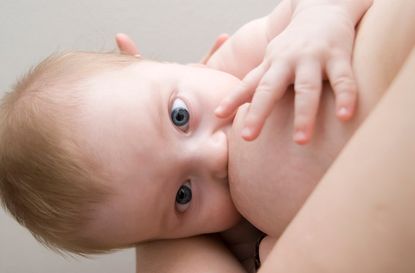 Everyone likes to have a go at sticking their oar in when it comes to breastfeeding, don't they?
If you're not doing it then there's something morally wrong with you, and if you are doing it then you're doing it wrong.
Here are some of the most mind-boggling and utterly ridiculous things we've ever heard on the subject of breastfeeding, starting with these recent stories which have hit the headlines..
1. Pumping milk in a public toilet is more suitable than a hotel room
Prepare yourself for some serious mum-power, as new mum and social worker Lynda Mazzalai Nguyen has spoken out about the way she was treated when trying to pump her milk at a hotel in San Francisco.
Her no-nonsense approach and knowledge of her rights has seen her Facebook post go viral, currently being shared nearly 19,000 times, inspiring other mums all over the world.
Lynda was attending a work seminar at the Embassy Suites Hotel when she needed to pump her breast milk for her baby. She politely asked at the reception desk if there was a private area for her to use her breast pump, at which point she met with rudeness, lies and awful customer service.
After initially being told to use a public bathroom, Lynda was pretty upset 'I told them they don't eat lunch in the bathroom, so it's gross to expect me to contaminate baby's milk in there' - but that was just the beginning of the resistance she was met with by the staff.
https://www.facebook.com/photo.php?fbid=10104379518182311&set=p.10104379518182311&type=3
Lynda accounts how she tried to come up with different solutions for where she could find a private spot, but was unhelpfully turned down every time. The option of a hotel room was out of the question, met with excuses such as '"There are no hotel rooms available. We sold out this morning". LIES. I found rooms on Expedia!' and '"No, you can't use the hotel rooms since you haven't paid for it". Uhh I paid a fee to attend the seminar which paid YOU, so YES, I am a paying customer.'
The mother of one said she was happy to use an already used room, but the hotel staff said they 'don't feel comfortable putting you in an uncleaned room'.
'So a dirty bathroom with urine and faeces is better than a room someone just checked out of?'.
Lynda escalated the issue and was finally apologised to by the General Manager, but not before she defiantly sat in the busy lobby area to pump her milk after being given no alternative.
2. It's comparable to molestation
A text message sent to a mother who was breastfeeding her son in a local McDonalds has gone viral after suggesting that breastfeeding a baby boy in particular was the equivalent of 'molestation'. The message, which was originally shared in 2014 and picked up by the Young Breastfeeding Mommas Facebook page, is doing the rounds again, with thousands of angry mums responding to the remark.
https://www.facebook.com/YoungBreastfeedingMommas/photos/a.477363712312881.94525.477267445655841/653025291413388/?type=3&theater
In the message, the writer, who is supposedly a 'friend' of the recipient, adds that she saw breastfeeding as 'very inappropriate and gross' and says that she should report the mother in question to child welfare. 'I think I lost a few IQ points just reading that', one Facebook user commented. We can't say we disagree...
3. It's 'easy'
Along with all his other commitments Jamie Oliver is now championing breastfeeding (opens in new tab). We're pleased to see him encouraging it but his throwaway comments about it being 'easy' and 'convenient' haven't gone down well with you.
As many of you pointed out, breastfeeding is actually very hard for some mothers, and simply not an option for others.
Debbi Simms commented on our Facebook (opens in new tab) page saying, 'not all women can breast feed I tried but my son just couldn't I think we only managed it a few times he was early and I wasn't allowed to stay on the ward as I had diabetes and the nursing staff wouldn't let me so he had to be bottle fed most of the time.'
Donna J Beech is firmly in the camp of do what suits you and your baby, saying 'Too be honest whatever way you feed your baby you get slatted. I bottle fed all my 4 children but got called lazy! I dont care how anyone feeds their babys just as long as you do!Breast/bottle whatever happy mum happy baby!'
4. Breastfeeding mums shouldn't bother men who want to 'read their paper in peace'
A group of mums who regularly meet for lunch with their seven-month-old babies at a family restaurant in Ripley, Derbyshire, were asked to move to the back of the restaurant, after men complained they wanted to 'read their paper in peace'.
A week after staff first told the group about the complaints, the mums returned to find they had been moved to a table far at the back of the popular eating establishment for their regular meal together.
'We were told that there are men who come in and read the paper and don't want to be disturbed by women and babies, and it was better if we were out of the way', one of the mums said.
However, some mums believe the real reason of the complaint was because some of them had been breastfeeding at the venue on previous occasions.
Outraged by the situation, one of the mums wrote to the owners of the restaurant. A representative for Brewers Fayre has since apologised on behalf of the company and said they are looking into the situation.
5. Breastfeeding mums can't take their babies to the cinema
A breastfeeding mum had to leave the cinema during a showing because her three-month-old baby was not old enough to watch the film 'Room' rated for over 15s.
According to the Daily Mail, the mum was asked to leave by staff because she had her son Isaac with her, even though she told them she had to bring him as she was feeding on demand.
During the first hour of the film, when the two were in the cinema, Isaac's mum would go to a dark entrance and feed him there, so friends suggested on Facebook that her breastfeeding might have been what made staff ask her to leave - especially because she was not refused entrance to start with.
One said: 'Emma you have to kick up on this, it's disgusting. If they'd said no straight off then fair enough but sounds like someone complained part way through due to feeding.'
Well, it's not like little Isaac was going to follow the plot...
6. Men should be allowed to grab women's nipples if they are breastfeeding in public
Another jaw-dropping thing to be said about breastfeeding came from American Republican politician, Josh Moore, who is the state representative for New Hampshire.
In a post that has since been deleted, Josh shared his thoughts on breastfeeding on his Facebook page, saying that men should be allowed to grab the nipples of breastfeeding mothers if a new law banning women exposing their breasts did not pass.
Responding to female politician Amanda Bouldin who was trying to stop the new law, Josh wrote; 'Don't give me the liberal talking points Amanda. If it's a woman's natural inclination to pull her nipple out in public and you support that, than you should have no problem with a man's inclination to stare at it and grab it. After all, it's ALL relative and natural, right?'
Hm, we can't say we're convinced...
7. 'Put your f*cking tits away'
31-year-old mum Telaine Smith, from Queensland, Australia, was expressing milk in her car in a car park when a passer-by aggressively knocked on her window. She was left in shock when a woman told her to 'Put her f*cking tits away'.
The mother-of-two, who's unable to breastfeed her baby son because he was born tongue-tied and can't latch on to the breast, has to express milk for about 30 minutes every two to three hours.
[facebook] https://www.facebook.com/photo.php?fbid=1652967594948299&set=a.1374949429416785.1073741825.100007052221188&type=3 [/facebook]
Speaking to Daily Mail Australia, she said she had felt judged before when bottle-feeding or expressing milk, but it was the first time she was faced with 'such a level of aggression'.
Her six-year-old son Dallas, who was in the back seat with his four-month-old brother Pilot, gave the rude woman an appropriate answer: 'If you don't want to see it, you don't have to look.' You go Dallas!
8. 'Breastfeeding is NOT an excuse, now here's a parking ticket'
Young mum Anna Scriven was fined £50 after she left her car in a Morrison's car park in Norwich, while she went to breastfeed her baby daughter Mollie.
The 28 year old blasted the company for showing no compassion over the circumstances, when she overstayed the time limit by an hour.
The mother-of-two said; 'I was very much a fraught mum trying to get out of the house for the day with a newborn, because I was getting a bit of cabin fever… it does take an hour to breast feed a seven-week-old sometimes. These things aren't as simple as sticking a bottle in their mouth and letting them drink for 15 minutes.'
Anna added; 'I was a genuine user of the car park… I had it in my head that the two hour time limit was to stop people using it for free all day parking.'
She argued that feeding and changing her newborn is an entirely valid reason for being late and Morrison's should reconsider their stance on the incident in the retail park.
9. 'Why do breastfeeders have to do it in coffee shops? You can smell the breast milk mixed in with your latte.'
Yes, unfortunately this really is what Katie Hopkins said in her Closer magazine column. And as if that wasn't enough, she also said, 'I loathe all breastfeeders and the Mammary Mafia in general. I can't stand this 'full-time mummy' thing - you're just unemployed.'
She also took the opportunity to take a swipe at 30-year-old Tamara Ecclestone, who recently posted the below picture of her breastfeeding her 15-month-old daughter, Sophia, in a swimming pool. 'And why do they post snaps online, like Tamara - what a donut.'
Oh Katie. Never take on a breastfeeding mum, haven't you learnt that by now? Cue the backlash...
Image: Facebook/tamaraecclestoneofficial (opens in new tab)
10. 'I understand feeding in public but could you at least cover your boob up?'
Yes, this really is what a man said when he secretly took a photo of a breastfeeding mother. Connor Kendall in a TGI Friday's restaurant in Indiana, snapped and posted a picture to Facebook. He also wrote: 'I want to know if this is appropriate or inappropriate as I'm trying to eat my Fridays, there are little kids around.'
But his attempt at publicly shaming the mum backfired when a horrified Connor found the image of her posted on a forum for new mothers, and wrote him a lengthy open letter on Facebook, which has now been shared over 70,000 times.
She wrote: 'I wanted to thank you for showing the public your ignorance and for shedding light on a topic that is near and dear to my heart. Sincerely, the AMAZING mommy you photographed nursing her beautiful child.'
You go girl!
11. 'There's a mother breastfeeding out there and we might want to ask her to cover up'
Image: Facebook/Cheese and Biscuits Cafe (opens in new tab)
Sadly, this is also another true story of one person's incredibly poor attitude towards breastfeeding. This time in Australia, a 'middle-aged gentleman' approached the owner of Cheese and Biscuits Cafe in Queensland, pointing out that there was a breastfeeding mother in the establishment and that they might 'want to ask her to cover up.'
Furious, Jessica-Anne Allen put his drink into a takeaway cup and promptly asked the man to leave. She told the Sydney Morning Herald, 'Quite frankly, that is not good enough. It should never have been an issue in the first place because it is a form of adult bullying and is actually against the law to approach a breastfeeding mother and ask her to stop or cover up.'
12. Please breastfeed outside because you might 'spurt milk all over the dresses'
Not exactly something a new mum and bride-to-be dreams of hearing on the day they try their wedding dress on, but this is just what happened to 28-year-old Josephine Fenton when she went wedding dress shopping in Manchester.
The mum-of-two had travelled from her home in Honsley, near Huddersfield, to the Jean Jackson Couture bridal shop in Manchester, to try on her dream dress that she could not find anywhere else.
After trying to call the shop ahead of her appointment to check that it would be okay to bring baby Ella along, she only managed to get through around five minutes before, and was shocked by what she heard over the phone.
'The owner's mum said I 'would spurt milk all over the dresses'. I had my loudspeaker on in the car and my fiancee James got very upset. I was just shocked. She said it completely seriously.'
Josephine decided to go along anyway, because she has set her heart on the dress, but while there she met with the same attitude again:
'She said I could not feed Ella there, and if she needed feeding I would have to do it on the street. She said it with a sort of nervous laugh afterwards.'
Jean Jackson Couture have completely denied the allegations - we can only hope that they aren't true. Otherwise, what on earth is the world coming to?
And these classic sayings that come up time
and time again...
13. Breastfeeding in public is as offensive as weeing in public.
Breastfeeding is not in the least bit unsanitary, unlike the utter garbage that's coming out of your mouth.
14. 'We welcome breastfeeding - as long as it's discreet.'
Ok, if you ask that man over there to be more discreet about his loud eating habits.
15. If you're still breastfeeding your child past 12 months, you'll never get them to wean.
Right, so I'll be packing my things to go to uni with them.
16.'Could you wear this cover-up so no one can see you breastfeeding?'
So you want me to don this blindingly obvious shroud so that the whole place is alerted to what I'm doing? Great.
17. Your boobs are too small to breastfeed.
Right... So nature just put them there to mock me?
18. If you breastfeed you can't have a life.
And how, oh wise one, does that make me different from any other mother of a new baby, breastfeeding or not? My baby is my life. Duh.
19. It seems like everyone is breastfeeding these days...
Oh, you noticed? It's only been happening since the dawn of civilisation!
How bloomin' ridiculous.
What are the stupidest things people have said to you about breastfeeding? Let us know by leaving a comment below.
Gemma Chandler is a lifestyle writer specialising in kids' educational media across a range of topics including nature, history, science and geography across digital, print, social media and video channels. She joined Creature & Co. at 2015, shortly becoming Digital Editor of National Geographic Kids magazine.