Halloween crafts for kids: How to make halloween decorations, halloween music and more
Half the fun of Halloween decorations is in the making! Get the kids involved with this fun selection of Halloween crafts.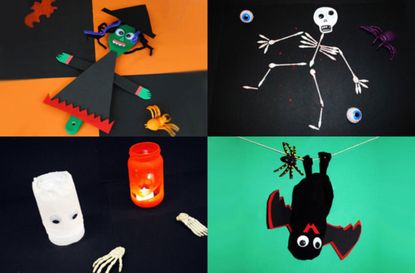 Double, double, toil and trouble! Halloween is nearly here and with it the opportunity to be really creative with some fun and scary craft activities.
Halloween crafts for kids are a great way to get in the mood for spooky season! Forget Halloween movies for kids and adults (opens in new tab) that might give them nightmares and don't worry about not being able to take them trick or treating if your local area is in lockdown.
These Halloween crafts for kids are much more fun (and cheaper!) than going to the shops to buy some and they'll be totally unique. Plus, you can do them safely and easily at home. So it doesn't matter if you need to stay at home or the bad weather is keeping you indoors.
From spooky ghosts to flickering pumpkin lanterns, witches' hats and gory gooey eyeballs - we've got plenty of Halloween craft ideas below. We've also got loads of step-by-step guides to make it easy for you to try and of these different crafts with your kids.
Make a weekend of your spooky celebrations and get cosy with crafts at home with the family...
Easy Halloween crafts for kids
Halloween plant pot spiders
Spiders don't have to be scary! These cute plant pot versions can be given their own personalities with different facial expressions. Such a quick and easy craft! See our how-to here: Halloween plant pot spiders.
Paper plate Halloween masks
You don't need to buy your Halloween masks when making your own is this easy! Just pick up some paper plates and let your imagination run wild! See our how-to here: Paper plate Halloween masks
Cotton bud skeleton
Make a whole family of earbud skeletons with a pile of scary bones. And is that blood splattered or red paint about the place? See the how-to here: Cotton bud skeleton.
How to make Halloween lanterns
Get your little monsters to make these - there's no messy pumpkin to carve, just paint, sticky tape, jam jars and toilet roll and a spooky flickering light to welcome your trick or treaters. How to make Halloween lanterns.
Spooky leaves
If you're short of cash this Halloween but want to make some fun decorations, these ghastly ghouls can be found in the park! All you need are some dried leaves, white paint and a black marker pen. Oh and a wicked imagination... How to - Spooky leaves.
Egg carton eyeballs
Are you being watched? Send a chill down your guests' spines with bloodshot eyeballs following their every move. How to make Egg carton eyeballs.
Harry the Halloween ghost
Catch something out of the corner of your
eye, but when you look there's nothing there? Well Harry our Halloween ghost might not be able to disappear, but he'll certainly give you the spooks. BOO! Harry the Halloween ghost- how to.
Lollipop spiders
A house that's crawling with spiders? Ewwwwwwww. Hang on, though - they're edible. Edible spiders. Ewwwwwwww. How to - Lollipop spiders.
Bertie the Halloween bat
Watch out for the vampire bat flapping around your head! He's come to steal your blood for his dinner. Don't be scared, though. This little fella is made out of a sock! How to - Bertie the Halloween bat.
What a wicked old witch our Wanda is. Perhaps we should've called her Spoona, as that's what she's made out of, but that's not quite as Halloweeny, is it? How to - Wanda the witch.
How to make a pumpkin bag
What are your kids going to be collecting all their treats in? This pumpkin won't be the only one smiling if you help them make their very own Halloween pumpkin bag. How to make a pumpkin bag.
Bat mobile
Everyone has a coat hanger at home so turn one of yours into a brilliant Halloween mobile - perfect for a child's bedroom or outdoor decoration. How to - Bat mobile.
Halloween face paint ideas
Get really creative with face paints this Halloween! Whether you want to perfect Frankenstein's scars or need help with Vampire's fangs, check out our brilliant step-by-step guides. Check out all of our Halloween face paint ideas here.
Halloween music for kids
When you're getting crafty, you might want to put on some spooky music to get into the Halloween spirit! Thankfully there's loads of playlists on Spotify for to choose from like Kids Halloween Party (opens in new tab), Kids Halloween Songs (opens in new tab), and Halloween Hits for Kids. (opens in new tab)
These playlists include iconic songs like the Addams family theme, Monster Mash, and Thriller. These spine tingling tunes are sure to get everyone excited for the upcoming celebrations!
Lucy Buglass is a Digital Writer for What's on TV, Goodto.com, and Woman&Home. After finishing her degree in Film Studies at Oxford Brookes University she moved to London to begin her career. She's passionate about entertainment and spends most of her free time watching Netflix series, BBC dramas, or going to the cinema to catch the latest film releases.