How to make a mini bow and arrow
All ages will love playing with these super sweet bows and arrows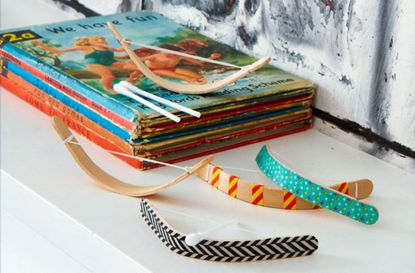 Keep little hands busy making this crafty (opens in new tab) bow and arrow project - perfect for keeping dolls and teddies protected!
Your family are sure to love this fun alternative to shop bought toys, and it'll give them hours of fun for next to nothing. Plus, you'll get the satisfaction from knowing you've made something together instead of spending more money in the toy shop on games that will probably only get played with once!
This easy step-by-step guide uses Washi tape in all its glory. It's perfect for jazzing up any craft project and we love it on these mini bows to make them a striking addition to any toy box.
You will need
Lollipop sticks
Craft knife
Bowl of water
Dental floss
Scissors
Washi tape
Cotton buds
How to make a mini bow and arrow
Step 1
Cut two small notches at each end of the lollipop stick with a craft knife. This will be the space for you to add the string to your bow.
Step 2
Soak the lollipop stick in water for an hour or so.
Step 3
Tie the floss around one end of the lollipop stick and wrap it around a few times. Gently bend the lollipop stick, then wrap and tie the floss around the other end, making sure it is taut and on the same side of the stick on both ends.
Step 4
Decorate the other side of the lollipop stick with washi tape.
Step 5
Cut one end off the cotton bud to make an arrow and you're all set to get firing!
Had a go at making these with the little ones? Don't forget to let us know how you got on for a chance to be featured on our social media pages or website. Let us know in our comments below or send us a picture on our Facebook page (opens in new tab).
Craft by: Suzie Attaway
Rosie is an experienced food and drinks journalist who has spent over a decade writing about restaurants, cookery, and foodie products. Previously Content Editor at Goodto.com and Digital Food Editor on Woman&Home, Rosie is well used to covering everything from food news through to taste tests. Now, as well as heading up the team at SquareMeal - the UK's leading guide to restaurants and bars - she also runs a wedding floristry business in Scotland called Lavender and Rose.