How to make a shoe-box toy kitchen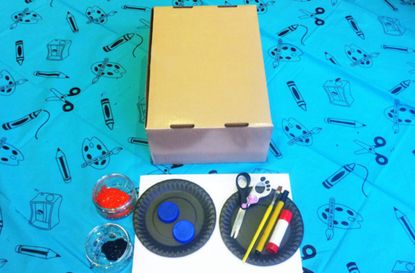 Kids love pretending to cook but toy kitchens can be expensive, so have a go at making your own. All you need is a shoe box with a folding lid, some paint and paper plates to make this colourful cooker.
You'll be surprised how easy it is to make and your kids will have so much fun painting it and playing with it afterwards, it's definitely worth a go. Let them choose their favourite colour and even add on a kitchen sink using another shoe box and a silver mixing bowl.
Buy some cheap plastic toy pots and pans from your local supermarket (these ones cost about £2.99 from Sainsbury's) then give the kids raisins, dried pasta and lentils - as long as you know they won't really eat them - and they're ready to cook.
Follow our illustrated step-by-step instructions below on how to make a shoe-box toy kitchen...
What you will need
1 large cardboard shoe box with a folding lid
2 small black paper plates
2 plastic milk bottle lids
Acrylic paint (we used red, black and gold)
Paint brush
White card
Black felt pen
Scissors
Strong glue stick or PVA glue
Step 1
Shoe-box toy kitchen craft equipment...
Find a flat surface to work on and gather together all the craft materials you need to make a shoe-box toy kitchen.

Step 2
Turn the shoe box upside down. Fold the shoe box lid back on itself and glue it to the side of the box, then paint the whole box using three layers of paint.

Step 3
Paint the two milk bottle tops using black paint.

Step 4
Glue on the paper plates (we painted ours gold) for the cooker's hot plates and the milk bottle tops for the cooker's knobs.

Step 5
How to decorate the shoe-box toy kitchen...
Cut a small rectangle of card and draw on the digital clock's details using the black felt pen, then stick it on the back part of the cooker.

Design created by Jennifer Shepherd for goodtoknow.co.uk.

For crafts materials such as paint and paper plates etc. visit Baker Ross (opens in new tab), a family run craft business who are the leading suppliers of arts and crafts to schools and other organisations across the UK and abroad, based in Walthamstow, London.

Where to next?