How to turn a t-shirt into a tote bag
No sewing required!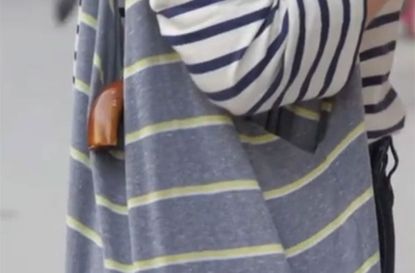 GoodTo newsletter
Sign up to the GoodTo Newsletter. You can unsubscribe at any time. For more information about how to do this, and how we hold your data, please see our privacy policy
Thank you for signing up to . You will receive a verification email shortly.
There was a problem. Please refresh the page and try again.
We all know the feeling - you've got hundreds of old clothes lying around at home, that either the kids have grown out of or they look so worn you feel ashamed to let them leave the house in them.
Instead of throwing them out, upcycle your old t-shirts and turn them into a new jersey tote bag - a crafty solution to not only get rid of the excess piles of t-shirts but to turn them into something you'll actually use as well. Double win.
Ever since the 5p bag charge came into effect we've learnt it's best to keep a spare carrier in our handbag at all times (just for that emergency dash to Tesco before dinner), and these environmentally-friendly tote bags would be perfect for just that.
Even better, the transformation requires absolutely no sewing skills and is ready in under five minutes - no excuses here.
The crafty tutorial video was created by the My Little Kid Time channel and posted to their 76,000 Facebook fans.
The channel is designed to provide easy crafts that are suitable for both adults and children, so you can even get the little ones involved (but make sure they have adult supervision for the scissors).
Step 1
All you need to do is take a round-neck jersey cotton t-shirt (in a pattern that you like – we really like the Breton stripe version) and start by cutting off the collar.
You're trying to turn the neck into a large scoop shape. Once that is done then cut off the sleeves so that you are left with a tank top.
Step 2
Once you have your tank top then turn the bag inside out and cut the bottom into individual strips along the width of the tshirt.
Knot these strips of material together so that the bottom of the tshirt is effectively 'sealed' and will hold things within in.
Step 3
Then for even more strength re-tie the strands to their 'neighbouring' strand.
Turn the t-shirt back the right way again and you'll notice that the knots are handily concealed within the bag - leaving a clean edge along the base.
The video has been viewed almost 19 million times so we're guessing it's been a craft success!
https://www.facebook.com/1556916581226765/videos/1656745114577244/
Commenters Barbara Crawford said; 'Took 5 minutes! My daughter LOVES IT. GREAT activity for girl scouts.'
Another fan, Ponda Brick, said; 'My daughter made 12 of these and filled them with essentials for my granddaughter to give to the homeless when we visited Chicago!'
We're definitely going to give this one a try!