Kids Kitchen: Homemade kids thank you cards
These have got to be the cutest homemade kids thank you cards! So easy and fun to make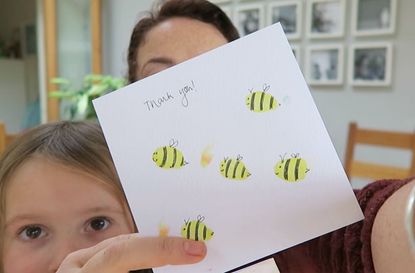 Whether they're for Christmas or after a birthday, homemade thank you cards are a lovely personal touch that even the kids can help out making!
You can really let them get creative and make pretty designs to give to family and friends, with a little note to say thank you inside.
Mummy vlogger Sarah and her twins Harriet and George get stuck in after the Christmas festivities to make some very colourful and pretty homemade cards to send out.
"They're a really fun and a nice crafty activity to keep the kids busy between Christmas and New Year", Sarah tells us and although the kids might get a bit messy making them, the ink washes off easily, so there are are no excuses for not giving it a go!
To make them, you will need:
- Blank cards


- An ink pad stamp


- A fine line pen

All the kids need to do, is dip their fingers in the ink pad and then press down on the paper. With the different colours, they can create different pictures. For example, Harriet and George made the yellow fingerprints into bumble bees, the red ones into flowers and also ladybirds!
The kids might need a little helping hand with some of the details, but you can let them really get stuck in and use their imaginations.

They're a really pretty and thoughtful way to teach the kids the importance of saying thank you, plus, they're a fab way to keep them entertained for an afternoon!
Get the kids to express their creativity with these lovely little thank you notes that friends and family will really appreciate.
Get them to help write the notes inside too, or at least sign their names and then pop them in the post. We love this super simple and really colourful idea!