22 kids' party decorating hacks every parent needs to know about
Frozen fans will go INSANE for #11.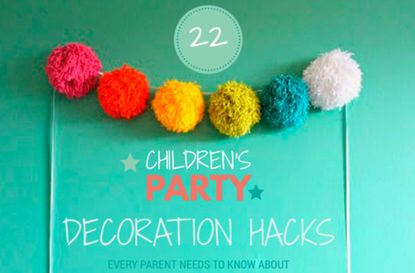 Throwing a kids' party is no easy task! From the invitations (opens in new tab) and the cake (opens in new tab) to filling all those party bags (opens in new tab), there's so much to be done before you've even thought about dressing up the venue – and these days, a few limp balloons and a bag of party poppers just ain't gonna cut it.
Feeling the pressure? Then check out these absolutely genius hacks from around the web, all of which you can make at home with stuff you've probably already got in the cupboard. Some of the DIYs might look tricky, but they're surprisingly simple – we promise! And once you've made them, you can sit back and bask in the compliments from all the other super-impressed parents who don't know all of your crafty secrets.
Here are 22 incredibly clever ways to make your next kids' party the best one yet...
1. Blow up balloons using baking soda and vinegar
https://www.facebook.com/Momto2PoshLilDivas/photos/a.228752960517961/1441118422614736/?type=3&theater
Finally, a way to inflate balloons that won't leave you out of puff (or have you running to the shops for an emergency pump)!
2. Put confetti in clear balloons for a fairytale feel
These would be perfect for a princess party (opens in new tab)! Choose colours that match your theme.
3. Or dip them in glitter to really bedazzle your guests
Glitter + glue + a bog-standard balloon = the twinkly decor of your dreams.
4. If you're feeling really creative, you could even make balloon animals – with a twist
https://www.facebook.com/partypieces/posts/10154223810171006?__tn__=-R
Just the thing for a zoo or farmyard-themed party!
5. Or balloon flowers, if you're that way inclined
WHY DIDN'T WE THINK OF THIS SOONER?!
6. Don't forget the wall decs – try this pretty DIY bow garland
It looks tricky, but thanks to the step-by-step guide, even novice crafters could have a go at this.
7. String colourful cupcake cases together to make an adorable baking-themed garland
A rather attractive way to use up those ones that get slightly squished in the tub, don't you think?
8. These easy peasy pompoms only require a ball of yarn and some string
https://www.facebook.com/SoSatsuma/posts/1782286461827055
Essentially, all you have to do is snip up a ball of yarn - but doesn't it look impressive?
9. And this bunting is made from Ikea straws!
Bless you, home of flat pack furniture, legendary meatballs and the very best party hack materials around.
10. Upgrade your standard fairy lights with colourful cups
So easy, but SO effective.
11. Two words: FROZEN PARTY
https://www.facebook.com/chicpartychick/posts/180426672608767
Just imagine the look on your little Elsa or Anna's face!
12. If you're serving a sit-down meal, make this lolly stick table runner
You could even turn the paint spattering into a party activity...
13. Or how about a tablecloth they can decorate themselves?
Add a few starter squiggles, leave out the (washable) felt tips and let them go wild.
14. Every party needs a piñata
This one's perfect for a summer garden party.
15. Want to satisfy a sweet tooth without the sugar high? You need these giant lollipops...
Balloons and cardboard are inexpensive when you buy them separately, but make stunning party props when you team them together.
16. ...and these pretty pastel ice cream cones too
So sweet, we've practically got toothache. Styrofoam balls never looked so cute!
17. This crepe paper rainbow will add a whimsical feel to any bash
https://www.facebook.com/getcreativejuice/photos/a.232775863452670/701525766577675/?type=3
Remember to add an authentic bowl of gold (chocolate) coins at the end!
18. These chalk shapes are great for outdoor celebrations
And yes, they do wash off the pavement afterwards...
19. Don't forget to capture all of the fun with your very own homemade photobooth
You can use a cheap plastic tablecloth or shower curtain as a backdrop. We won't tell if you don't...
20. Or a cut-out board to fit the theme of the party
https://www.facebook.com/photo.php?fbid=10212463560320336&set=basw.AbrC4Q7zgnbwAUyZ5SnXq0pYO9AKo8H5K5bnvQJzTgQLxVd0D1fn77bd0tCr1I70el9luFdZtbxINEDT1z974HvflDsrVzG_AeY7ZxZTXYRRIPVg9laBvHrGl_zs8R_EDCHqxHPML9gRrSI-7987tNspEsyAgnChW3-tHmtqeasdQw.1854726974619334.348428755500358.654627997905719.10153350830756683.688869384509661.629526807068169.258657277931545.479374032074231.10212463560320336&type=1&opaqueCursor=Abq-Pd-CUzd82bcVOXjpZVgnj4uVoxIiSuBzUrChXSyNG7ivSiq07CkidFzx6E4pITKg3BxkuipfPiKCYqFMiHfmhgetQ7JN3n_cTFKvwpcHcqY7dqSujJoQPorReXXIwIKA9YCBdp7dQI_2wo3PBUa1Tnoa0gQtB37OEQptv-vcd3W8yTUr3Be60-c1L_WWMuJsdtBXSrIK6s05uVnK-3GjZnSNVGHwHLWPd1l505gQWb2EM1wbEgRu378nso8pSxnfVXj9O9sNQFPBpG0luySKu1FHJSTC_HWJWMQS7Tw1L5GakJYiyoZ25VwrMWdmyVq531jqIwX_Gr-JHYsMFiM8VGxO_-cjPbDIwplzE2l5bne1NOPIAswGIITg5WJSQU1wHsbyBU1tm9ozbtybQB_YbtlDEkKHzCO6ACySijfwzMfxe-BCFHnaT8rnyIkSkwms2JA1g_8zkjTzj1TAY57brgnFUdri2EbWeVtq05_kwkoVE7t6nrdAaBkSTxCxEAer-c6xCDWGr3tHEktwMBD1gDijyrMc_UxPQl8MLxnsg4imGw-FIxawzMlW-imQInN_y3lveBB73w6MYf2Pn89oPpU3-frFTkN5FJKYlSessA&theater
Make life easier by making yours out of cardboard instead of wood!
21. Giant numbers are practically a requirement if you're celebrating a milestone birthday
Fill them with treats for a fun surprise!
22. This homemade tassel decoration will liven up any cake
https://www.facebook.com/designdazzle.toni/photos/a.10150099758765931/10154780021820931/?type=3
Pop on some colour coordinating sweets and you're good to go!
And if you've done all of that, and you're still not DIY'd out?
https://www.facebook.com/phyllis.bianchi/posts/10156667192803964
We present to you the cardboard box maze. Guaranteed to make you the coolest mum in the history of party throwing mums.
You're welcome.
Trusted, informative, and empathetic – GoodTo is the ultimate online destination for mums. Established in 2007, our 15-year-strong archive of content includes more than 18,000 articles, 1,500 how-to videos, and 7,000 recipes.