Princess party ideas
From suitably sparkly decorations to themed banquets - here's what you need to know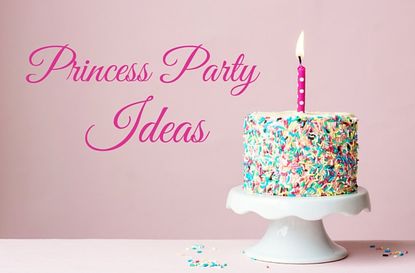 If you've got a little girl who loves all things pink, glittery and, well, princessy, then we've got the perfect party theme for her - a princess party!
From creating authentic royal invites (opens in new tab), to making glittering tiaras (opens in new tab) and baking or buying fairytale-worthy castle-shaped cakes (opens in new tab), follow our easy-to-use guide to throwing your little one a princess party they won't forget.
A princess party is a great theme for all children, and don't think that it's limited to girls only, all princesses need their Prince Charming and knights in shining armour, so it's perfect for boys to get involved in too.
This type of party involves pretty pink invites, regal decorations, tasty food and lots of dressing up. It's perfect for children of any age and can be done lavishly or on a budget.
Look through our princess party sections below to get more advice on how to throw the perfect princess party, for your little princes and princesses at home. Don't miss our FREE princess party invites, which will get all the kids excited about the big day. Plus our FREE tiara template, which will complete any little princess's outfit, and the kids can decorate and colour it in themselves as a fun party activity.
Princess party ideas
FREE princess party invites Princess party food recipes Princess party decorations Fun princess party games Princess party crafts Princess party costumes Princess party bags What you can hire for a princess party
FREE princess party invites
Making your own party invitations is a great way of getting the kids involved creatively and there's almost no end to the type of Princess party invitations you can make. If time is tight then use our FREE ready-made downloadable Princess party invites (opens in new tab) (just click and print) and the kids can help fill them out.
If you've got more time then you can get creative with some of our other ideas to make sure you've got the best and most unique invitations around.
Scroll invitations Create scroll invites so you can summon your guests in style. Use some brown-coloured paper, ribbon and some candle wax. You can either hand write the invites or print them out on the computer then roll them up and fasten with the ribbon. If you want them to look really fancy, you can seal them with a few drops of candle wax. Castle invitations Using a square piece of card, cut out square turrets along the top. The girls can paint their ones pink and decorate with sequins, while boys could use grey paint and a brown pencil to create bricks.
Glass slipper invitations These are perfect to make with girls as there is lots of pink and glitter involved. Cut out the shape of a typical Cinderella-style slipper and let the kids decorate them how they wish. Pink and silver glitter would make the best decorations as they would give the look of glass.
Crown or tiara invitations These are great for both boys and girls and can be decorated however they want. For best results, draw the outline on gold coloured paper or card and cut out, then you can use sequins, glitter, coloured pens, pasta shapes or plastic jewels to decorate.
Whatever invites you make, don't forget to include the name of the child you're inviting, the date, start and end time, and location of the Princess party, plus any additional fancy dress or props information. And to save money and time, take the invites with you on the school run and give them out to mums as and when you see them, instead of posting them.
Princess party food recipes
From sandwiches and crisps, to chocolate and sweets and of course, the all important birthday cake (opens in new tab), there's generally not a lot of party food left at the end of the day! We've got loads of fun, tasty and easy-to-make recipes guaranteed to fill the tummies of everyone at the party. Party food (opens in new tab) can consist of almost anything you want in bite-size pieces but generally you can keep it nice and simple with small, easy-to-make snacks and treats perfect for kids to pick at when they're hungry.
Birthday cakes
> Depending on how much time, money and patience you have, you could have a go at making a Princess and the Pea cake (opens in new tab) or a Barbie inspired princess cake (opens in new tab).
If you fancy making cupcakes instead of a big cake and want to get the kids involved you can either use our 10 fairy cakes to make with the kids (opens in new tab) or follow our simple steps to make perfectly pink princess cupcake toppers (opens in new tab).
For boys we have a great soldier and castle birthday cake (opens in new tab) recipe or you can always decorate a cake or cupcakes with blue or green icing with small figures or items, such as flags, on top.
Party food - savoury
Rolls - turkey filled 'frogs' (opens in new tab) or multi-coloured (opens in new tab) - the options are endless Pizza (opens in new tab) - it's nearly always a winner but keep the toppings simple for any fussy eaters Annabel Karmel's chicken dippers (opens in new tab) - follow this simple recipe for a tasty snack kids will love Potato wedges (opens in new tab) - these are great for kids and can be served with or without spice
Party food - sweet
Marshmallow swizzle sticks (opens in new tab) - the kids will love these tasty treats with spinkles on top Buttery moo biscuits (opens in new tab) - you can change the iced decoration on them to suit the theme of the party Milk strawberry sticks (opens in new tab) - a healthy and tasty treat - what's not to love? Peppermint creams (opens in new tab) - these make fun additions to a party spread Lemon squares (opens in new tab) - with fresh fruit juice, these lemon squares will be a big hit at the party
Princess party decorations
Decorating your house, garden or hired space for a prince & princess party is both very fun and very creative.
You can set the mood with decorations such as a balloon archway and a red carpet entrance to welcome the children to the party. Fabric stores would be a great place to pick up the 'carpet' or just red cloth cheaply.
You could give each child a crown or tiara to wear when they come in to the party, or get them to create one during the day. We've got a great, easy-to-make Princess tiara you can download here (opens in new tab) and let the kids decorate however they wish (think felt tips, feathers, glitter, and stick on gems).
You can also set a royal colour theme for the party, whether you want to use the traditional red, blue and white or variations of pinks and blues for boys and girls. These can be draped on walls and tables. You can also have matching coloured balloons and streamers.
Image: Elizabeth Kartchner (opens in new tab) If you're feeling particularly crafty you could go all out with pom poms, garlands and glitter accessories. These pretty pastel bows would be perfect for a girly girl's party. Learn how with our 22 party decorating hacks for parents (opens in new tab).
Thrones are brilliant royal decorations for the birthday girl or boy to sit on. Cover a chair in the house with gold material and a large cushion for them to sit on.
If you're really ambitions you could create cardboard castle cut-outs to go around the doorways or a fort-like play area made from chairs, cushions and throws for the boys and girls to play in.
Fun princess party games
Prince and Princess games can either be adapted from classics, such as pin the tail on the donkey and musical chairs, or you can make up your own unique princess party games. Here's some ideas to get you started.
Locate the king and queen's treasure You can hide gold and silver chocolate coins throughout the party area and arrange the children in teams. Tell them that their treasure has been scattered about the land and that they have 30 seconds to one minute each to try and retrieve as many as possible and return them to gold treasure chests - these can be small cardboard boxed sprayed with gold paint.
Will the princess find her prince? This is a fun take on the pin the tail on the donkey and played in exactly the same way just with different props. First you'll need a large cut-out or simple picture of a toad or a frog on a piece of paper, cardboard or noticeboard, then draw and cut out several pairs of red lips from cardboard. On the day of the party, add blue tac to one side and write each girl's name at the party on the back of the individual lips, then get them to wear a blindfold and try and stick the lips closest to the toad or frog's mouth, the girl who gets closest wins.
Musical Thrones This is the same as musical chairs just with a grand title and lavishly decorated chairs to make them seem like thrones. For this you can be as creative as you like, adorning the chairs with satin, ribbon, silk and large cushions, then play with music as you would normally with one less chair than the number of people. Upon hearing the music stop, the children scramble to sit on a throne, with the person who is left standing leaving the game. The person who sits in the last remaining seat wins.
Piñatas Kids love piñatas and these can be made really fun at a prince and princess party. Fill the prince & princess party piñatas with small toys, plastic jeweled rings and sweets. Piñatas also make wonderful decorations. They can be bought from most party shops or you could make your own with our easy guide for how to make a Piñata (opens in new tab). We've made a fish but you can make it any shape you like to suit your princess' wishes!
The queen/king/prince/princess says... Played just like Simon Says until you catch all of the children out with fun tasks.
Princess party crafts
Crafts are a great way of getting the kids to be creative during a party, plus they'll have something they can take home and show their parents at the end of the day - here are some prince and princess party-inspired crafts for your guests to do...
Decorate your own crown/tiara We've got a fantastic princess party tiara design that you can print out at home, cut-out and let the kids decorate however they want. Download our FREE princess tiara template here (opens in new tab).
Make a wand (opens in new tab) The pretty play dough wands (opens in new tab) pictured above are super simple to make and kids will love the chance to get a bit messy. Plenty of sequins and glitter should make these go down a treat. If you do attempt this make at your little one's party we highly recommend a plastic table cloth!
Variation - if you have boys at the party they can make royal shields with cardboard, stick on jewels and gel pens. Be sure you have plenty of hands to help.
Make a prince or princess picture frame This is great if you have a Polaroid or digital camera and printer on hand. Use cardboard to make the picture frames. Provide stickers, stick on jewels and gel pens to use for decorating the frame. Take an instant photo or print one out of the girls and boys at the party and place it in the frame.
Make paper flowers No princess should be without a beautiful bouquet of flowers from her Prince Charming. The kids will love making these pretty little paper flowers (opens in new tab), plus they can take them home and give them to their mums!
Princess party costumes
Girls and boys will love getting dressed up for their prince & princess party, and you'll probably have most of the things they can wear for it. For princesses There are loads of beautiful and great value princess costumes available on the high street and online.
If you don't want to hire or buy a full-prince or princess costume then girls will need a ballet tutu, frilly skirt or plain pink skirt, with a pink sequin top or shimmery top. You'll also need a tiara and some child friendly high-heels or glittery slippers.
For princes You'll need some smart trousers, a white shirt, a dramatic hat (if following Disney princes) plus a sword and a shield. If you don't have these lying around the house they can easily be made from cardboard tubes and cardboard or foam sheets that have been decorated with royal colours.
For some fancy dress inspiration, take a look at pictures of your kids in fancy dress as well as celebrity kids in fancy dress.
Face painting
This pretty sparkling face paint (opens in new tab) will complete any fairytale look. We've made it easy to create from home in just a few easy steps.
Princess party bags
Party bags aren't essential, but they do make nice little treats for each child to take home at the end of the day, and they can be made on a budget.
You can either buy prince and princess party themed bags or you can buy plain ones from most supermarkets. What you fill them with is up to you, but generally they include small toys, such as yo-yos, bouncy balls, hair accessories, badges, colouring books, bubbles and balloons (these may vary slightly depending on the age of the party guests). Gold coins and plastic rings or jewels would make a great princess party bag.
You can also fill them with small sweets, chocolate bars, lollipops, sherbet sticks or chewy sweets as well as a piece of the birthday cake.
Whatever you choose to pop in them prepare all the party bags, minus the cake, before the party starts, this way when it comes time for the children to leave, all you have to do is stick a slice of birthday cake into the bags and give one to each child.
What you can hire for a princess party
If you don't want to have the party at your house or in your garden there are a number of options out there. One idea is to hire out a venue, these vary in price depending on size and number of people you want to have in it.
Local village hall This is generally the favoured option as hire prices tend to be lower than other venues. Village halls also tend to be the nearest option and have kitchen and toilet facilities plus a dance floor/hall for the kids to play in.
Local sports club These are great options as they are generally a good size and are close to a field or play park for the kids to run around outside or just get some fresh air. There's generally a lot of parking if other adults want to be there, plus most of them have a bar for people to buy any additional drinks and snacks. They are also usually away from houses so the noise of the party wouldn't be an issue.
Soft play and party areas These tend to vary according to where you live, but most towns have indoor play areas with ball-pools, slides, swings and soft blocks for children to play in, and when they've tired themselves out inside most offer food packages for afterwards. Some examples are Kidzplay, Little Rascals, and The Play Providers Association.
Local restaurant There are several restaurants that accomodate children's birthday parties. The type of packs available vary from place-to-place depending on what you want to eat, how many children there are and their ages. Some examples of party-friendly restaurants are Pizza Hut, T.G.I Friday's, Chiquitos, Harvester and Toby Carvery restaurants, as well as McDonald's, Burger King and KFC.
Rosie is an experienced food and drinks journalist who has spent over a decade writing about restaurants, cookery, and foodie products. Previously Content Editor at Goodto.com and Digital Food Editor on Woman&Home, Rosie is well used to covering everything from food news through to taste tests. Now, as well as heading up the team at SquareMeal - the UK's leading guide to restaurants and bars - she also runs a wedding floristry business in Scotland called Lavender and Rose.