Reindeer food: How to make magic reindeer dust with the kids
A cute tradition to start with the little ones...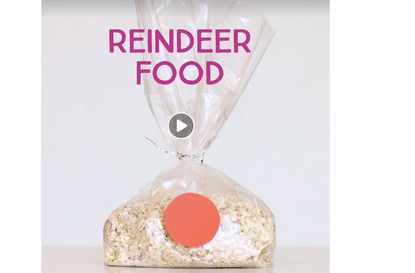 GoodTo newsletter
Sign up to the GoodTo Newsletter. You can unsubscribe at any time. For more information about how to do this, and how we hold your data, please see our privacy policy
Thank you for signing up to . You will receive a verification email shortly.
There was a problem. Please refresh the page and try again.
Reindeer food is a cute Christmas tradition you can start with your kids - here's how to do it...
When the festive period comes around, there's nothing like getting together as a family and do fun activities to get into the spirit of the season.
From a reverse advent calendar (opens in new tab) (or a non-chocolate one (opens in new tab)) to buying matching family pyjamas (opens in new tab) the whole family can wear on Christmas Eve, there's quite a few adorable Christmas traditions (opens in new tab) you can start to follow with your little ones and make this season even more fun for them.
Another tradition that has become more and more popular recently is reindeer food - a mix meant to light the path to Santa's reindeer, so he can deliver presents safely to the right address.
You can buy it from some supermarkets, but trust us - it's so easy to make and such a fun activity for the little ones!
So if you want to start this cute tradition, here's everything you need to know...
https://www.facebook.com/goodtoknow.co.uk/videos/10157963432375581/
What you'll need to make reindeer food
Oats
Coloured sugar
Edible glitter
How to make reindeer food
Making reindeer food with the kids couldn't be easier. After you've gathered all the ingredients, all you have to do is mix them in a bowl, which the kids can easily do with your supervision.
As the food won't be baked or cooked, you don't need to measure exact quantities - just use a dash of each ingredient.
After all the ingredients are well mixed, you can store your magical reindeer food in a plastic bag - preferably decorated with a red nose in honour of our pal Rudolph.
Once Christmas Eve comes round, get your little ones to help you sprinkle the reindeer food by your front door, to light Rudolph's way into your home, so Santa knows where to drop off their presents!
Note: If you want to sprinkle your reindeer food in the lawn, the RSPCA advises (opens in new tab) opting for bird seeds with a bit of chilli flakes instead of sugar and glitter, as this could be harmful for garden wildlife.
Will you be making reindeer food with your little ones this year? What other traditions do you follow in your family? Head over to our Facebook page and let us know your thoughts!