25 of the best matching family Christmas pyjamas for 2021
Will you be twinning with your little ones this Christmas?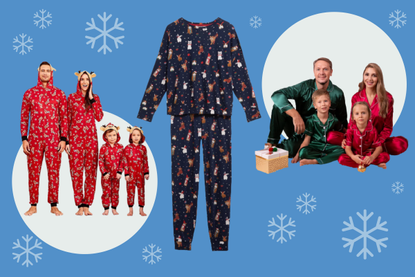 GoodTo newsletter
Sign up to the GoodTo Newsletter. You can unsubscribe at any time. For more information about how to do this, and how we hold your data, please see our privacy policy
Thank you for signing up to . You will receive a verification email shortly.
There was a problem. Please refresh the page and try again.
These matching family Christmas pyjamas for 2021 are the perfect outfit for that seasonal family selfie.
The new modern Christmas tradition of donning matchy-matchy pjs has increased in popularity over the years. And we're well and truly behind it, with the sleepwear not only looking great but being something you can include in your little one's Christmas Eve box (opens in new tab) too.
Much like those Christmas Jumpers for kids (opens in new tab) and ever popular Christmas jumpers for women (opens in new tab), our matching family Christmas pyjamas edit features a few that are pure Christmas novelty and others that include an option to personalise. Plus we've included favourites from Amazon, Next, George and more, so there's bound to be a style that fits the whole family.
20 of the best matching family Christmas pyjamas for 2021:
1. Santa Paws Family Pyjama Set
Marks and Spencer have pulled out all the stops for Christmas 2021 and given us these fantastic matching family Christmas pyjamas. This wacky design features cute cartoon animals modelling a festive hat or two - bound to go down a treat with kids and adults alike. The design has proven so popular that M&S have even added it to their Christmas bedding (opens in new tab) collection. Just in case you're interested in co-ordinating further. Pick up the women's Santa Paws set (opens in new tab) and kid's Santa Paws pyjamas (opens in new tab) and find the link for the men's below.
VIEW AT M&S | £19.50 (opens in new tab)
2. Personalised Penguin Family Pyjamas
These perfect penguin pyjamas (trying saying that after a festive sherry) are ideal to wear across winter and not just for the big day. For mum, dad and the little ones – you can even personalise these with your names or initials to make them extra special.
VIEW AT NOTHS | £40 (opens in new tab)
3. Fairisle Family Christmas Pyjamas
A super stylish set of matching Christmas pyjamas for the whole family. In festive red and navy colours, these jammies feature the classic Fairisle pattern (a stranded colour work knitting design that famously originates from the small Scottish isle). They're also made from 100% cotton - making them super comfortable. And we reckon the elasticated waistband will come in handy when overindulging during your Christmas breakfast (opens in new tab).
VIEW AT GEORGE | £7 - £12.50 (opens in new tab)
4. Personalised 'Christmas at the Smith's' Matching Family Pyjamas
Christmas is all about family - so why not shout about it in some personalised surname pj's? This cute red-and-white sleepwear from Etsy let's you customise the top to include both your first and last name. One satisfied reviewer said: "Ordered these pjs for my grandchildren, arrived today, absolutely love them, great quality, worth every penny. Will absolutely use this shop again - first class service."
VIEW AT ETSY | £13.50 - £30 (opens in new tab)
5. Christmas London Buses Matching Family Pyjamas
We adore these cute Christmas-y London scene pyjamas for Next with his and her options for adults and sizes for kids and teens too. Each one has a different hue too. There's navy for the men's Christmas London Buses pjs and green for mum, plus pink Christmas London Buses pjs (opens in new tab) and baby blue Christmas London Buses pjs (opens in new tab) for kids to take their pick.
VIEW AT NEXT | £27 (opens in new tab)
6. White Reindeer Matching Family Christmas Pyjamas
The whole family is bound to love these reindeer pjs. Do you know who else will love them? Your pet dog - once you make them a true member of the family with a matching checked bandana. For babies, children, males and females – you'll want to get these ahead of Christmas to wear them as much as you can on the build-up.
VIEW AT AMAZON | £6.29 - £24.99 (opens in new tab)
7. Personalised Family Portrait Christmas Pyjamas
The whole brood will adore wearing these personalised portrait pj's come Christmas morning. Simply input their names and select the appropriate face shape, hair and skin colour - plus any additional facial accessories - and Sparks and Daughters will generate the perfect cartoon for you. This particular set also boasts 4.7 out of 5 stars on Not on the High Street, with customers praising both the quality and "amazing service".
VIEW AT NOTHS | £30 (opens in new tab)
8. GorillaRex Christmas Elf Family Christmas Shirts
These personalised elf T-shirts will be a fun addition to all the family's nighttime looks. Whether you go for 'brother elf' or name the whole family (just like the Snow White and The Seven Dwarfs) with 'cute', 'cheeky' or even 'bossy' elf. Have fun designing styles for the whole family and be prepared for all the selfies.
VIEW AT ETSY | £14.97 - £30.53 (opens in new tab)
9. Personalised Family Christmas Pyjamas by Mimi Lunn
For a subtle take on Christmas pyjamas, opt for this sleek red style with white piping detail. The best part about these is that you'll be able to wear them for December, and beyond. Get the mum, dad and child matching set at Not on the High Street, now. Want even more good news? You can personalise them all with initials. Plus the kiddies one includes a sweet embroidered letter to Father Christmas too.
VIEW AT NOTHS | £80 (opens in new tab)
10. Red and Green Silk Family Pyjamas
Another sleek sleepwear set to invest in for Christmas 2021. These collared pjs in the traditional Christmas colours are available in both kid and adults sizes. Plus you can opt to have your individual family names printed on the front or back too - whatever suits. One Etsy reviewer said: "This seller is amazing. She helped me with my 100 questions and shipped the items immediately. They were in my hands within days!"
VIEW AT ETSY | £21.04 - £34.77 (opens in new tab)
11. Their Nib Matching Mum and Kids Pyjamas
Matching pjs don't get much cuter (or comfier) than these stunning cotton ones designed by Their Nib. Kids will look chic in the dark blue robin print pyjamas (opens in new tab), whilst mum can co-ordinate in the duck egg blue reindeer ones. Perfect for those wanting to avoid novelty matching family Christmas pyjamas.
VIEW AT JOHN LEWIS | £22-32 (opens in new tab)
12. Next 'Snow Cute' Matching Family Christmas Pyjamas
Pyjamas for Christmas don't have to be novelty, these 'snow funny', 'snow cute' and 'snow perfect' pun pairs are equal party fun and chic. Now you just have to choose who gets to wear each style!
VIEW AT NEXT | £25 (opens in new tab)
13. Personalised Family Hanukkah Pyjamas
Any family who celebrates Hanukkah needs these personalised pj's for the occasion. This festive blue sleepwear features a sweet snowflake pattern plus the all important menorah or hanukkiah candelabra. Take it one step further and add some extra name customisation too.
VIEW AT ETSY | £19.99 - £32.99 (opens in new tab)
14. Luxury Our First Family Christmas Pyjamas
Christmas 2021 might just be that extra bit special - with the last year seeing a new family member join the coop. Celebrate in style with these customised 'Our First Family Christmas' pj's from Etsy. Not only will they make for a great family photo, but comfort is guaranteed too thanks to their 100% cotton material.
VIEW AT ETSY | £14.99 - £28.99 (opens in new tab)
15. Matching Family Pyjamas With Birth Year
Another novel way to toast to your family Christmas are these fetching tartan pj's. Emblazoned with your date of birth, we love the idea of investing in a new pair every time a new arrival joins the festivities.
VIEW AT NOTHS | £45.99 (opens in new tab)
16. Harry Potter Family Pyjama Set
There's only one kind of pyjama for a family of wizards this Christmas. Marks and Spencer have unveiled a fabulous matching Hogwarts pyjama collection to fit mum, dad and little ones too. We love the smart tartan checked trousers and of course the use of the four Hogwart house colours - Gryffindor red, Hufflepuff yellow, Ravenclaw blue and Slytherin green. Pick up the Hogwarts men pyjamas (opens in new tab) and Hogwarts women pyjamas (opens in new tab) - and find the kiddie options linked below.
VIEW AT M&S | £27.50 (opens in new tab)
17. Personalised Polar Bear Christmas PJs
How adorable are these Polar Bear pj's from Amy Lucy designs at Etsy? Add your name, select your size and choose between the red or blue design scarf. We reckon the jersey style also qualifies these as pyjamas-come-tracksuit. So you could definitely get your money's worth and spend the whole day lounging around in them.
VIEW AT ETSY | £16.97 - £34.97 (opens in new tab)
18. LWYOU 'Baby it's cold outside' Matching Family Pyjamas
Another fabulous polar bear design the whole family will love this Christmas. These pj's are available in sizes suitable for daddy bear, mummy bear and littler bears too. And we're certainly sure they'll have you singing that classic Christmas song repeatedly too...
VIEW AT AMAZON | £19.98 - £99.99 (opens in new tab)
19. 'Ho Ho Ho' Dinosaur Design Family Christmas Pyjamas
Make festive pyjamas a family tradition with these amazing matching dinosaur Christmas pjs from Pat Pat. Perfect for dino lovers both big and small. In baby, kids, women and men sizes, there will be one to fit the whole family. The check PJ bottoms will also see you through winter nights, too.
VIEW AT PAT PAT | £12.41 (opens in new tab)
20. Yaffi Reindeer Family Christmas Onesies
Reindeer printed onesies with an antler hood? These are novelty matching family Christmas pyjamas at their finest! And it seems customers on Amazon agree too, with this product boasting a 4.4 out of 5 star rating. One commented: "Very comfy and love the soft fabric."
VIEW AT AMAZON | £14.99 - £21.99 (opens in new tab)
21. Veryvoga Deer Plaid Cartoon Family Matching Christmas Pyjamas
Another reindeer sleepwear offering, but this time just Rudolph is here to brighten up your pyjama collection. The long sleeve style is perfect for getting cosy on a wintery night by the fire. We predict you'll want to wear these long after the big day, too.
VIEW AT VERYVOGA | £12.24 (opens in new tab)
22. The Grinch Family Matching Pyjamas
A whole family of Grinches? Fans of the best-selling Dr Seuss book and movie will adore these matching jammies - new for 2021. The top includes the familiar and mischievious looking Grinch character, alongside slogans like 'naughty and nice' and 'behave for the holidays'. Plus 'never naughty' which is obviously designed for mum...
VIEW AT ETSY | £20 - £25 (opens in new tab)
23. Santa Slogan Matching Family Christmas Pyjamas
This fun and colourful sleepwear collection from Studio is one the whole family will want to wake up in on Christmas morning. We think mum will especially enjoy the 'Dear Santa, just bring wine' design and the accompanying dad version: 'It's the most wonderful time for a beer'. Made from 100% cotton, they're also sure to be super comfortable too.
VIEW AT STUDIO | £7 - £12 (opens in new tab)
24. Matching Christmas tree family pyjamas
Dance around your lounge and embrace the festivities in these slogan pyjamas with navy tree print trousers. Get them for 3 months to 9 year olds and in sizes small to extra large for adults too.
VIEW AT PATPAT | £11.68 (opens in new tab)
25. Primark Matching Simpson Christmas pyjamas
Pay tribute to another kind of family this Christmas - everyone's favourite cartoons The Simpsons. Mum and Dad can choose between Marge and Homer, whilst little ones have their choice of Bart and Lisa. The adult pyjamas will set you back £13 each, whilst The Simpsons Christmas Kids Pyjama Set cost £10. Which means a full set of matching family Christmas pyjamas for under £50. We'll race you to stores.
VIEW IN STORE AT PRIMARK
And once you've sorted out the nightwear, be sure to check out our list of top Christmas toys 2021 (opens in new tab) for more festive inspiration.
Happy shopping!
Emily Stedman is the News Features Editor for GoodTo covering all things royal, entertainment, lifestyle, health and wellbeing. Boasting an encyclopaedic knowledge on all things celebrity and royal, career highlights include working at HELLO! Magazine and as a royal researcher to Diana biographer Andrew Morton on his book Meghan: A Hollywood Princess. In her spare time, Emily can be found eating her way around London, swimming at her local Lido or curled up on the sofa binging the next best Netflix show.