22 of the best toys for 10 year olds in 2022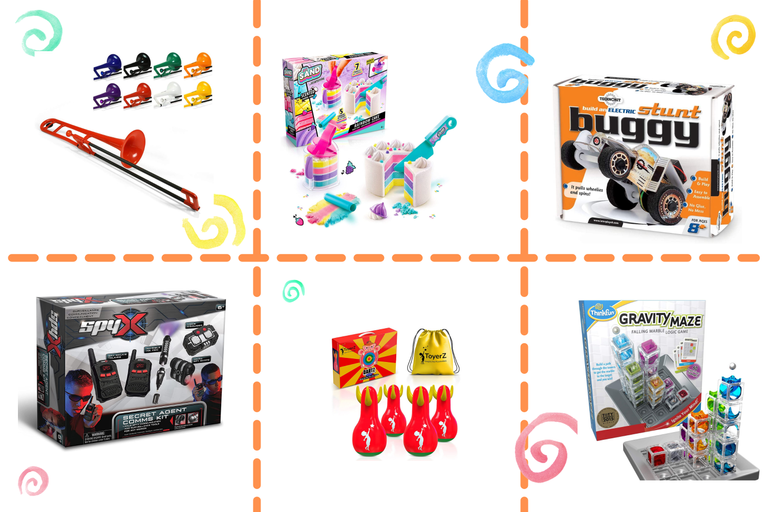 When choosing the best toys for 10 year olds remember they'll most likely have a clear idea of what they like to play with - especially as they get closer to becoming a teenager.
Some of the best gifts and top Christmas toys (opens in new tab) for 10 year olds will provide opportunities for the child to play and interact with friends and family. Whether that be a board or card game, practicing a sport together in the garden, playing a video game, or going out for a family bike ride.
'Unlike 9 year olds, 10 year olds are more likely to be enthusiastic about spending time as a family,' Catherine Lynch, senior manager at PlanBee (opens in new tab) and a qualified Play Therapist explains.
Hannah Corne, a mum of two and an expert who works with primary aged girls (7-11) through her company Mini Mermaid Running Club UK (opens in new tab), says that the best toys for 10 year olds will help to develop their creativity and letting their skills for 'imagination, invention and adaption' grow.
While computer games and toys that involve screen-time can do this, she also encourages families to find a balance. 'Online games can help children problem solve and code, but should be included alongside more creative play. This can include physical games (tag, rounders etc.) and imaginative play (dressing up, putting on plays, painting etc.)
Best toys for 10 year olds
1. LEGO Harry Potter Hogwarts Express Train Toy
Age suitability: 10+ | Batteries: No
By the age of 10 most kids have been playing with Lego for years. This means they'll now be ready to take on more challenging and intricate sets that require more concentration, precision and time to build. The Harry Potter Hogwarts Express Train Toy is the perfect choice for Harry Potter fans. For more ideas, see our round-up of the best Harry Potter Lego sets (opens in new tab), the best Star Wars Lego sets (opens in new tab) and the Black Friday LEGO deals (opens in new tab) 2021.
VIEW AT AMAZON | £75 (opens in new tab)
2. Nintendo Switch Lite
Age suitability: 3+ | Batteries: No
When it comes to the best toys for 10 year olds, The Nintendo Switch Lite is one of the best in its field. While it's a game with a screen, it's also a toy that most 10 year olds will really want. It's easy to play, has fantastic graphics and has great compatible games to boot. Battery life on this model is reasonable and kids can enjoy up to 5 hours of play on a single 3 hour charge. Kids can also sync their Lite console together with up to 8 other Nintendo Switch or Lite users, which will work well if their friends also have the console. 'While we don't allow our kids to play with their tablets that often, a little 'Golden time' here and there doesn't seem to hurt and keeps them happy,' says Emily, mum to William and Bethany.
VIEW AT ARGOS | £199.99 (opens in new tab)
3. Instax Mini 11 Instant Camera
Age suitability: 7+ | Batteries: Yes
Thanks to the proliferation of iPhones, a 10 year old probably knows more about snapping selfies, applying filters and documenting daily life than you do. While they might be familiar with a phone camera, giving them the gift of an instant camera allows them to take photos and immediately see the results. The instant pictures make perfect project material for kids who like to create collages, scrap books or journals. We love the Instax Mini 11 that comes in 5 subtle tones and uses credit-card size instant camera film.
VIEW AT ARGOS | £70 (opens in new tab)
4. Osmo Coding Starter Kit for iPad
Age suitability: 5+ | Batteries: No
Kids these days start to learn coding at a young age both at home and at school. By the age of 10 they can master more complicated coding puzzles and challenges. Combine their coding skills with something else they love – like cars, robots, computers or superheroes – for the perfect gift. Try Osmo the coding starter kit for iPad, which features tangible coding blocks and is designed to be used alongside a tablet. Also look up the coding game Gravitrax (opens in new tab), which is much like a puzzle in that you have to 'code' the physical pieces together to start the ball-bearing on its journey.
VIEW AT AMAZON | £99.99 (opens in new tab)
5. Brainstorm Toys Light Up 2-in-1 Globe Earth & Constellations
Age suitability: 8+ | Batteries: Yes
This Light Up 2-in-1 Globe looks simply magical in the dark. Kids can use it by day to discover famous landmarks, countries and continents during the day, and learn about the stars and constellations by night. The built-in light sensor will automatically turn the globe to the night feature when it gets dark, so it looks particularly attractive in the dark.
VIEW AT AMAZON | £34 (opens in new tab)
6. Studio Creator Video Maker Top-Down Kit
Age suitability: 8+ | Batteries: No
For any child interested in photography and filming, this Studio Creator Video will make for a popular gift. Kids can shoot professional-style videos of them cooking, painting, drawing or any other hobby they love hands free while using this clever bit of kit. They will need to use a smartphone to shoot the video, but with the weighted arm they can create videos from above as well as straight on. The LED ring light provides the perfect setting to create that professional-looking finish too.
VIEW AT AMAZON | £28.99 (opens in new tab)
7. Word Fever
Age suitability: 7+ | Batteries: No
While kids love playing in a team, they also love competing against each other at this age too. Both are social ways to play and at this age the sillier - and less serious the competition - the better. Word Fever is a fast-paced game 10 year olds will love. The game has a virtual game master that asks the questions and kids have 12 seconds to answer them. It will even keep the score so there's no need for a pen and paper.
VIEW AT AMAZON | £20 (opens in new tab)
8. So Sand DIY Rainbow Cake
Age suitability: 6+ | Batteries: No
There's something so satisfying about cutting through this sand cake kit and kids will love it. The 'magic sands' are scented and come in a range of rainbow colors so kids can get creative building and moulding the sane to their hearts content. There are two molds, 5 scented color sands and 7 tools included in the kit in total. 'This is really nice sensory play for my kids,' says Gemma, mum to Sienna and Oliver. 'Alongside Play Doh and slime kits this magic sand is a favorite that we always get out on a rainy day.'
VIEW AT AMAZON | £15.99 (opens in new tab)
9. SpyX Secret Comms Kit
Age suitability: 5+ | Batteries: No
This 4-piece compendium spy gadget set will keep 10 year olds entertained for hours. It includes walkie talkies, an invisible ink spy pen, a micro spy scope and micro voice disguiser so they can skulk in and around the house pretending to be a secret agent. The invisible ink pen will let them write and read secret messages and using the ultra violet light will reveal what they've written. Meanwhile the micro voice disguiser will record your voice and distort it – slowing up or speeding the recording. Lots of fun for ages 5 and up.
VIEW AT AMAZON | £28 (opens in new tab)
10. The Stunt Buggy
Age suitability: 8+ | Batteries: Yes
It's important to encourage kids to keep exploring and learning at this age, so giving them a construction project that challenges their building ability and skills is a good idea. The Stunt Buggy has everything in the kit for kids to build a speedy electric buggy that can perform stunt wheelies. They don't need glue or scissors to make the buggy, but simply interlock the pieces of card and add the electrical components. 'My kids enjoyed making this stunt buggy, but I did have to help them a little when following the color-coded instructions,' says Karleen, mum of 6. 'We've also got our eye on the KidzLabs Robotic hand or the Science Matters Spider Robot construction kits too.'
VIEW AT AMAZON | £10 (opens in new tab)
11. Micro Sprite Scooter Folding
If a 10 year old doesn't have a skateboard, scooter or bike already, then it's only a matter of time before they'll be asking for one. They are all ideal for playing alone or with friends and encouraging physical activity and letting kids explore the limits. Many kids love nothing better than a trip down to the skate park to practise their skills or a brisk bike ride in the local park. Skatehut, Halfords and Amazon all sell a great range of skateboards, scooters and bikes and are great places to start your search for the ideal set of wheels. Names such as Micro Scooter, Frog Bikes and Enuff are just some of the great brand names to look out for.
VIEW AT AMAZON | £110 (opens in new tab)
12. 3D Colouring Painting Puzzle
Age suitability: 3+ | Batteries: No | Price: £13.99
Creativity is still key for children of this age. With their developed skills, focus and attention to detail they'll be able to take on art and craft projects that are a lot more complicated and perhaps take a few days or weeks to complete. The sense of achievement they'll get when they finally have the finished project will be just as rewarding and enjoyable as doing the project itself. 'What's great about this 3d Puzzle Set from Amazon is that not only can kids assemble it themselves but they can color it in too,' says Emily, mum to Bethany and William. 'If these kits are of particular interest you may like to try the Mini Builds range (opens in new tab), which my kids also love.'
VIEW AT AMAZON | £13.99 (opens in new tab)
13. Rainbow High
Age suitability: 3+ | Batteries: No
Rainbow High fashion dolls also very popular at the moment and the talk of the playground, so are sure to be a hit with a 10 year old. Whether they're cute and cuddly or armoured and ready for battle, collectable toys are big with kids of this age. What they want to collect will probably depend on what their friends are into and what their interests are. But the most important thing is that they can play and trade them with friends and also have the option to invest their carefully saved pocket money in growing their collection. Current popular collectibles also include Hatchimals (opens in new tab), L.O.L Surprise dolls (opens in new tab) and Littlest Pet Shop creatures (opens in new tab).
VIEW AT AMAZON | £29 (opens in new tab)
14. ToyerZ Inflatable Lawn Darts
Age suitability: 4+ | Batteries: No
Kids of this age still have bags of energy to burn off every day so garden games are ideal. Buying them toys that they can play with in the garden is great for getting them outdoors and exercising too. Team games they can play with siblings and friends are particularly suitable. We love classic garden game Swingball, (opens in new tab) as well as more novelty games such as these toyerZ Inflatable Lawn darts. (opens in new tab) Kids of this age love collaborative games they can play with their friends, so anything that require them to work in a team to play will often be a winner. Check out the glow in the dark Capture the Flag game (opens in new tab), which is a bestseller on Amazon.
VIEW AT AMAZON | £23 (opens in new tab)
15. The Magic Oven Baking Board Game
Age suitability: 7+ | Batteries: No
Board games will always go down a treat, especially at Christmas. The Magic Oven Baking Board Game is a latest launch from Drummond Park. To be played with up to 4 players, the aim of the game is to spin the spinner, move around the board and make a pie. As you move around the board you get more of the pie until you have to put it in the oven to bake. If will either come out smelling of apples, but if burnt you have to start that pie again. 'This is a great game for kids of all ages and is simple enough to pick up easily,' says Jenny, mum to Logan and Becky. 'My kids love a board game and they are always going back to this one as it has so many fun layers to it.'
VIEW AT AMAZON | £20 (opens in new tab)
16. PBONE Trombone
Age suitability: 3+ | Batteries: No | Price: £125
Music teachers and professionals generally recommend that children start learning to play an instrument between the ages of 8-10 years old. This is not only because they have the concentration and ability to focus for long enough to master the basics, but they also have the lung capacity and dexterity in their fingers to learn wind and string instruments properly. Buying them their first musical instrument – and lessons with a professional to help them learn – is a gift that will last for years to come. These trombones by award-winning British manufacturer PBone are approved by music teachers and are REACH safety compliant.
VIEW AT AMAZON | £125 (opens in new tab)
17. Ravensburger Disney Villainous Game - Which Villain Are You?
Age suitability: 10+ | Batteries: No
We think 10 year olds we love the Disney Villainous Game by Ravensburger, which can be played with up to 6 players. By the age of 10, children can play adult board games that involve multistep, strategic decisions and longer periods of focus. They will now be able to play games that can go on for an hour or two, which is great for long afternoons with friends and a rainy weekend in with family. Classic games such as chess, backgammon, Scrabble and Monopoly are all worth pursuing, but you can also find a range of new games that give the old favorites a run for their money.
VIEW AT AMAZON | £38 (opens in new tab)
18. Thinkfun Gravity Maze
Age suitability: 8+ | Batteries: No
Puzzles doesn't have to mean conventional, traditional ones as there are so many modern, quirky and unique puzzle games out there for kids at the moment. We love this Falling Marble Logic Maze Puzzle, which is a logic and marble game in one. On board there are up to comes with 60 beginner to expert challenges, which all become more and more difficult as you play. 'My kids have their eye on this Gravity Maze as they love all things marble related,' says Gemma, mum to Oliver and Sienna.
VIEW AT AMAZON | £40 (opens in new tab)
19. Rubie's Disney Star Wars Costume
Age suitability: 3+ | Batteries: No
Imaginary games are often deemed as something for 'little kids' but this is just a stereotype. It's still really important to encourage their imaginations to run wild and let them dress up, play imaginary games or play with 'small world' sets. All these help kids process the things they are seeing and hearing in the world. We love the dress up outfits from Rubie's. The Disney Star Wars Force Awakens kids costume is perfect for any fans of the Star Wars films, for example.
VIEW AT AMAZON | £20 (opens in new tab)
20. Air Hogs Jump Fury
Age suitability: 3+ | Batteries: Yes
Remote control cars are a timeless toys have been entertaining kids for decades and they're still going. These days remote control cars are more sophisticated, so you can get models that are controlled by lasers, can be coded on a computer and will even drive up walls. Soft wheels and a lightweight design on the Air Hogs Jump Fury means it can jump up to 55cm in the air, which is really rather impressive.
VIEW AT AMAZON | £33 (opens in new tab)
21. Harry Potter Wand
Age suitability: n/a | Batteries: No
For any 10 year old in the midst of reading the Harry Potter books, watching the films or revisiting them for a 2nd or 3rd time, a gift from the Harry Potter Shop would go down a treat. We love the Harry Potter Wooden Wand collectible replica from the Harry Potter Wand Shop. The wands come in a gift box and the Harry Potter version is made from sustainably sourced wood. The Harry Potter Shop has a wide selection of wands in its portfolio from every character in the books. Harry Potter fans may also like the Harry Potter Wizarding Quiz (opens in new tab), which is the latest Harry Potter-themed game to hit the shelves.