11 best toys for 10 year olds 2023 - tested by kids
These are the best toys for 10 year olds according to our team of young toy testers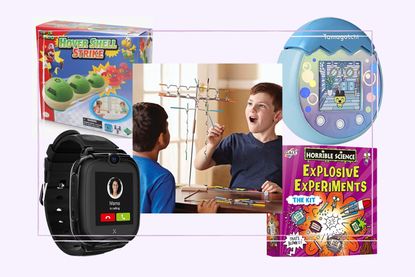 (Image credit: Future)
Ten-year-olds can seem like a tricky age group to buy for. They're getting ever closer to the tricky teenage years, and are likely becoming more interested in technology than ever. But that doesn't mean they won't still love traditional games full of family fun.
Some of the best gifts and top Christmas toys for 10 year olds provide opportunities for the child to play and interact with friends and family, whether that be a board or card game, practicing a sport together in the garden, playing a video game, or going out for a family bike ride.
'Unlike 9 year olds, 10 year olds are more likely to be enthusiastic about spending time as a family,' Catherine Lynch (opens in new tab), senior manager at PlanBee and a qualified Play Therapist explains.
Hannah Corne (opens in new tab), a mum of two and an expert who works with primary-aged girls (7-11) through her company Mini Mermaid Running Club UK, says that the best toys for 10 year olds help to develop their creativity and let their skills for 'imagination, invention and adaption' grow.
While computer games and toys that involve screen time can do this, she also encourages families to find a balance. 'Online games can help children problem solve and code but should be included alongside more creative play. This can include physical games (tag, rounders, etc.) and imaginative play (dressing up, putting on plays, painting, etc.)
Best toys for 10 year olds top picks - as reviewed by kids
All the products in our roundup of the best toys for 10 year olds impressed our savvy team of young testers, but one of the standout toy was Melissa & Doug Suspend (opens in new tab), the hanging balance game that's fun for kids and adults alike. Our tester said: "Everyone enjoyed playing it, with the whole family getting involved, no matter what their age!"
Another favourite toy with our 10 year old testers was the Go Genius History (opens in new tab) board game, which was fun enough to not only intrigue our tester, but also her parents and even her teenage brother. According to our tester, "you don't realise you are learning while playing" this game which is why it got such a big thumbs up.
If your 10 year old is creative and crafty, then we'd highly recommend the EUGY 3D Panda Model (opens in new tab), which challenges kids to build their own unique craft collectible from the eco-friendly card. Our tester was "thrilled" by the kit, and is saving up to buy another with her pocket money.
We enlisted a panel of 10 year old testers to put all the toys in this roundup to the test, rating them on everything from how easy they were to use to whether they'd spend their own pocket money on them.
Best toys for 10 year olds 2023
We went on the hunt for the best toys money can buy for 10-year-olds. We included a range of toys across all budgets, with some focusing on independent play, some on physical activity and some on group family fun.
The toys we included are affordable, age-appropriate, safe and fun, so whether you're looking for a mega box of magic tricks, a family-friendly balance game or a smartwatch to encourage independence, you'll find it here in our roundup.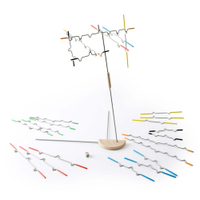 (opens in new tab)
Melissa & Doug Suspend, £18.17 | Amazon (opens in new tab)
Best for: Family Fun
Age suitability: 8+
Batteries required: No
For a challenge, the whole family can get stuck into, try Suspend from Melissa and Doug. The hanging balance game comes with 24 notched, rubber-tipped wire pieces to hang from a tabletop stand, and while it may sound simple at first, you'll soon find the balance shifting each time you add another bar. For up to four players, it's a game that's exciting, fun and challenging for kids and adults alike.
"We all thought that Suspend was a brilliant family game," says Katherine, mum to Teddy. "It took a tiny bit of practice, so don't give up if you struggle at first but everyone enjoyed playing it, with the whole family getting involved, no matter what their age. Teddy would recommend it for ages eight plus.
"It's great fun and we all got very loud and over-excited as one bad move left the game pieces hanging at hilarious angles, threatening to topple the game. We also liked that there were three different game levels from easy to expert. We've not quite got to expert yet! Highly recommended."
---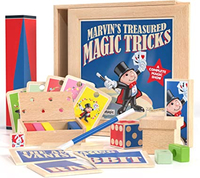 (opens in new tab)
Marvin's Magic Ultimate 365 Magic Tricks & Illusions, £33.98 | Amazon (opens in new tab)

Best for: Budding magicians
Age suitability: 8+
Batteries required: No
If your child is a budding magician, let their imagination run wild with this epic magic set from Marvin's Magic. The mega set includes 365 tricks, one for each day of the year, with child-friendly props designed specifically for kids even if they have no prior magic experience and an informative booklet to help them get started. Some of the best tricks include the Amazing Magician's Magic Cards, Magic Cups and Balls, Astounding Mind Reading Canisters, Houdini Chains and more.
"This is a really special magic set for any budding Harry Potter or Hermione Granger," said Katherine, mum to Teddy. "There is so much to do (how can there be 365 tricks in just one box!) that we found it was best just to dive in and try something. There are some fun tricks to learn and Ted quickly mastered the Magic Cups and Balls trick and a few of the sleight of hand tricks.
"There's a clever Marvin's Magic app which offers detailed video instructions which is really helpful and a booklet with lots of details. We'll certainly be learning more magic over the summer holidays, ready to impress the grandparents when they are over visiting."
---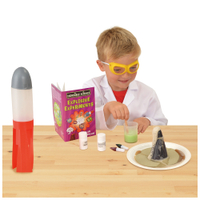 (opens in new tab)
Galt Toys Explosive Experiments, £18.99 | Amazon (opens in new tab)
Best for: Adventurous wannabe scientists
Age suitability: 8+
Batteries required: No
Which kid doesn't want to perform hair-raising experiments from the comfort of their own home? This Explosive Experiments science kit from Galt Toys will appeal to adventurous kids. It allows children to do everything from creating and launching a rocket to making a lava lamp, while introducing them to the fun side of science.
"What could be more fun for a ten-year-old boy than a game that has a 'Messy Warning'?!" Katherine, mum to Teddy, told us. "There was much hilarity setting up some of these experiments – and there are plenty to do so it'll keep you busy. Our favourites were the Exploding Volcano and firing up the Plastic Rocket.
"We didn't always get them exactly right the first time round but that actually added to the fun and we always got there in the end. There's plenty in the Horrible Science set to keep the children happy but it's worth mentioning that you'll need to set some time aside as adult supervision is a definite requirement!"
---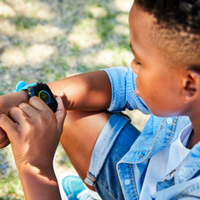 (opens in new tab)
Xplora XGO2 Smartwatch, £119.99 | Amazon (opens in new tab)
Best for: Encouraging safe independence
Age suitability: 5 - 12
Batteries required: 1 Lithium Ion batteries required (included)
Children aged 10 will no doubt already be obsessed with technology, but if you're worried it's too early to buy them their own phone, the Xplora XGO2 Smartwatch is a great compromise. The smartwatch has impressive tech specs, with a touch colour LCD screen, a 0.3-megapixel camera and 4GB storage.
To put parents' mind at ease, there are plenty of safety features too. For example, when wearing and using the device, children can make and receive voice calls from pre-saved numbers only, and the watch doesn't have access to social media. There's also a School Mode to avoid distractions in class, with only the watch clock showing but calls and messages disabled.
"Alisha has been after a phone for a while, but I was concerned about the safeguarding aspect of it as she is only ten, so this watch was a good compromise," said Alia, mum to Alisha. "The design is very stylish and it is comfortable to wear. It gets the balance right in terms of not too babyish but not too grown up either. It is easy to use and the main screen is easy for children to navigate with lots of features that children will enjoy such as the camera, which is great for selfies and school trips, the step counter and games.
"She also loved that she could download music. Another added bonus was it encouraged Alisha to learn to tell the time. As a parent, I was very impressed with the safety features such as the GPS feature (which will be handy when she starts walking home herself) and the fact that they cannot receive unsolicited calls which is very reassuring. Although the product is aimed at the age five to 11 age group, I think a lot of children would be happy to carry on using it when they are above that age range because it looks good and has most of the features they would need."
---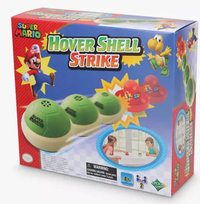 (opens in new tab)
Super Mario Hover Shell Strike Air Hockey, £15. John Lewis (opens in new tab)
Best for: Bringing the arcade home
Age suitability: 4+
Batteries required: Yes
Bring the fun of an arcade to your home with this Super Mario Air Hockey game. Suitable for up to four players, the tabletop game is addictive, fun and challenging, with the puck gliding on a cushion of air.
"My son really loves this air hockey game – it was much bigger than he expected and has already provided several hours of entertainment," said Kate, mum to Peter, who reviewed a slightly different version of this game for us, which is currently out of stock. "The game is quite straightforward to play, and it's fast, furious, and lots of fun! We particularly like that there are a few different game options.
"As well as being suitable for two players there is also a one-player game if you're on your own – where you can knock over Mario character tokens, which my son really enjoys. The pieces are all brightly coloured, and we like that there are several different shaped pucks which fly around the table in different ways, which make it more challenging to defend your goal from."
---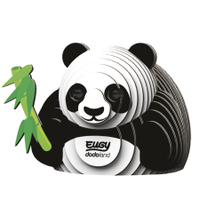 (opens in new tab)
EUGY 3D Panda Model, £8| Amazon (opens in new tab)
Best for: Encouraging creativity
Age suitability: 3+
Batteries required: No
For a creative challenge that will leave your child with a beautiful keepsake, try one of EUGY's build-your-own 3D models. Made from eco-friendly card, children will be challenged to assemble their own unique craft collectible, with educational fun facts included too, and lots of animals to choose from, from pandas and gorillas to corgis and chameleons.
"Kitty loves pandas, so was thrilled when she saw the kit," said Lucy, mum to Kitty. "She was easily able to construct the model independently. The finished model was declared super-cute and she definitely enjoyed the making process as she's expressed an interest in buying another animal with her pocket money. It would make a great gift for an eight to an 11 year old."
---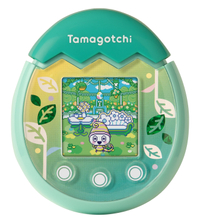 (opens in new tab)
Tamagotchi Pix, £59.99 | Amazon (opens in new tab)
Age suitability: 6+
Batteries required: 2 x AAA
If you had a Tamagotchi as a child, you'll remember the hours of fun they provided - so why not give your child the same experience? The Tamagotchi Pix is packed with features, including an interactive colour screen, a built-in camera and loads of games to make raising your virtual pet bags of fun.
"I love this toy!" Felix, our 10-year-old tester, told us. "It's cool how every day at the arcade there's a new theme. I love the fact that when you press 'explore', it accesses the inbuilt camera and shows your Tamagotchi in real life. I also really like that when you go on 'cook' you take photographs of real food and make your Tamagotchi a meal. It's really clever how at night your Tamagotchi goes to bed. Overall I think it's a really good toy."
---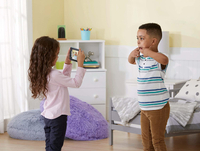 (opens in new tab)
V-Tech KidiCom Advance 3.0, £139.99 | Amazon (opens in new tab)
Best for: An age-appropriate smartphone
Age suitability: 4 - 11 years
Batteries required: Yes
The V-Tech KidiCom Advance 3.0 is a perfect gift for technology-obsessed kids who want a child-friendly smartphone. The device is packed with features, including built-in games, photo filters and the capability to watch shows and listen to music. Kids can even use the device to message family and friends and safely browse the internet. The gadget also has enhanced screen time controls for parents to set restrictions.
"The KidiCom Advance 3.0 is a good toy for children who are too young to have their own mobile phone," Felix, our 10-year-old tester, told us. "You can text and chat with your family on KidiCom Chat, which is like WhatsApp. It comes with a number of games - my favourites are Meo Run where you're a cat collecting fish and Scoot the Robot which is fun but challenging. The device takes videos, photos and voice recordings too."
---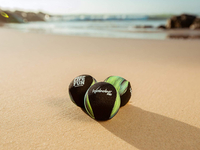 (opens in new tab)
Waboba Pro Water Bouncing Ball, £8.99 | Amazon (opens in new tab)
Age suitability: 10+
Batteries required: No
Active kids will love getting to grips with the Waboba Pro Water Bouncing Ball, which bounces super-fast, super-high, super-far - and even bounces on water. Fitting in your pocket, it's super portable, making it ideal to take on holidays or weekends away. The fact it can float as well as bounce on water makes it an excellent choice for water-based ball games, too.
"Any ball is a hit with my 10-year-old son, but he was particularly excited about the Waboba, which claims it can bounce on water," said Kate, mum to Peter. "As soon as it arrived he tried it out in our paddling pool to see if it was true to its word.
"We re-watched the videos of the ball action and there does seem to be a certain knack when it comes to throwing it, which enables it to do the impossible. We're very excited to see how it works when we hit the beach in the summer holidays, when I suspect it will be played with – a lot!"
---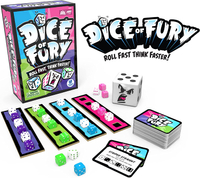 (opens in new tab)
Dice of Fury Game, £23.50 | Amazon (opens in new tab)
Best for: Improving maths fluency in a fun way
Age suitability: 7+
Batteries required: No
For a past-faced family game that's ideal for building mental maths fluency and encouraging numeracy and mental agility, go for the Dice of Fury Game. With two levels of difficulty, and the capability to play with two to four players, this is a game the whole family will enjoy.
"We are big fans of Yahtzee!, so Dice of Fury was immediately appealing," Lucy, mum of tester Kitty, told us. "The game comprises 80 challenge cards (featuring instructions such as 'Five Fours and Two Twos' or 'Coloured Dice Threes, White Dice Ones'), four sets of six dice with four dice holders in different colours, and a large Furious dice. The aim is usually to roll what's on the card in the fastest time and pick up the large dice, but there are also less pacy addition challenges. The first person to collect ten challenge cards is the winner. A fun, fast-paced game perfect for ten-year-olds – my 13-year-old son also enjoyed it, as did I!"

---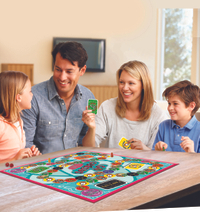 (opens in new tab)
Go Genius History, £19.99 | Amazon (opens in new tab)
Best for: Educational family fun
Age suitability: 7+
Batteries required: No
If you want your kids to get stuck into a board game that's as fun as it is educational, one of the subject-themed Go Genius collection is a fantastic idea. This history-based game asks questions on everything from the Ancient Greeks and Romans to the Vikings and World War II, while also supporting Key Stage 1 and 2 teaching to help kids improve their knowledge of history.
"Alisha liked how colourful the game was and it was very easy to set up and get started," said Alia, mum to tester Alisha. "Though it says 7+, it is definitely a game aimed at all the family and when we started playing, Alisha's 15-year-old brother wanted to join in. Imagine getting a teenage boy off his phone and playing a board game? It's a rare enough occurrence to warrant a TikTok video. The questions were multiple choice (so it felt like the quiz show The Chase) and you don't realise you are learning while playing. On the whole, it was great, and I'd be likely to buy this game as a present for friends' children and other games from the range for Alisha."

---

Toys that can inspire creativity, stimulate imaginative play and encourage problem-solving, communication and confidence-building will be a huge hit with kids and parents alike, with the right games allowing kids to grow closer to their peers or siblings while encouraging creativity and imagination.
Related features:
Deborah Cicurel is a London-based freelance journalist specialising in parenting, reviews, lifestyle, travel, interiors and more.