Best toys for 9 year olds in 2023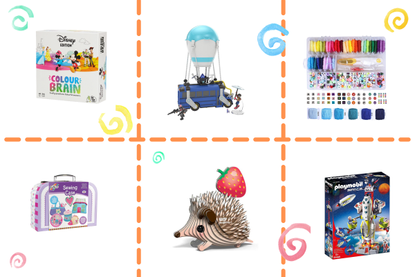 We've made choosing the best toys for 9 year olds easy with our selection of fun and age-appropriate finds.
When it comes to choosing the best gifts and top Christmas toys (opens in new tab) for 9 year olds, you usually can't go wrong with Playmobil, Lego and Harry Potter toys. In our round-up, we've also included books, science sets and craft kits to cover every personality and budget.
Research Psychologist Dr Amanda Gummer told to us that because of a child's development at this age, the type of toys they like to play with also changes as their skills develop and their understanding of the world evolves.
She laid out three major changes you might see in children of this age:
A child of this age moves from trial and error to making predictions, reasoning and more abstract thought. The best toys for 9 year olds based on this are: construction toys, science kits, board games and card games.
A child's understanding of morality is also changing from 'rule-based' to 'empathy'. Small world play can help them better understand social situations. So think of toys such a Playmobil, Lego, or other play sets that reflect real-world locations and scenarios.
Logic and strategy games can be fun for children as they are able to deal with more abstract scenarios and hypothetical situations at this age.
The best toys for 9 year olds in 2023
Why you can trust GoodTo Our expert reviewers spend hours testing and comparing products and services so you can choose the best for you. Find out more about how we test.
1. My First Cook Book by David Atherton
Age suitability: 5+
By age 9 kids will be keen to get cooking and baking on their own and perhaps even prepare a meal for the whole family, with a little assistance. You can help your child develop a sense of increased responsibility by taking the lead and setting them tasks as you cook together. There are a number of cookbook for kids you can buy online, but we particularly like My First Cook Book: Bake, Make and Learn to Cook, which will help them become mini Masterchefs. Written by the 2019 winner of The Great British Bake Off this book comes filled with delicious recipes both sweet and savory. Kids can choose from savory recipes such as 'Veggie rolls', to sweet ones including 'Golden Crumble Pots'.
VIEW AT AMAZON | £11 (opens in new tab)
2. Disney Colourbrain Board Game for Kids
Age suitability: From 3+ | Batteries required: No
9 year olds have the focus and ability to concentrate for longer periods. By they most probably have the ability to play more strategy-based board games that require planning and a little less luck to win. Big Potato sells a host of board games including The Disney Colourbrain Trivia Edition. Suitable for 2 or more players there are 298 cards in the game and a scorebook. And the clue to the game is in the title as kids need to answer colour-related Disney questions such as 'What colour was the poisoned apple in Snow White?'
VIEW AT AMAZON | £20 (opens in new tab)
3. Dominic Sandbrook history books
Age suitability: 8+
By age 9 children may be reading more independently and not have the same 'book before bed' night-time routine with their parents every night, but it's important to encourage them to read every day. Buying them books that will captivate their interest and draw them into the story will help encourage reading by making it fun and effortless.
The recently launched collection from Penguin is definitely worth looking up. Adventures in Time by Dominic Sandbrook includes books on The Second World War, The Six Wives of Henry VIII, The First World War and Alexander the Great. These series of books have been written to teach kids the history of the 21st century in an engaging and age-appropriate way. It's a series that will work well for fans of Horrible Histories but who are ready for a more in-depth read.
VIEW AT AMAZON | FROM £11 (opens in new tab)
4. Playmobil Space 9488 Mars Mission Rocket
Age suitability: 6+ | Batteries required: No |
Playmobil is so much more than just the figures with the u-shaped hands these days, with sets spanning everything from horse farms to hidden temples bursting with wild critters. The perfect imaginative play tool, there's nothing better for encouraging that 'small world' play and imaginary play the experts recommend. We particularly like the look of the Space 9488 Mars Mission Rocket with launch site, for children ages 6 and up.
VIEW AT AMAZON | £40 (opens in new tab)
5. Galt Toys Sewing kit
Age suitability: 7+
With their motor skills honed and ability to be more precise getting better all the time, 9 year olds can tackle more complicated crafts such as sewing that also require longer periods of focus and concentration. They may be taking a bit more of an interest in fashion and want to get creative. In design technology they may also be covering things such as sewing and other home crafts.
For the ultimate beginner, try a simple step-by-step sewing set, but for learners with a bit more of a knack for it you can try more complicated kits or even a beginners sewing machine. We like the Galt Toys Sewing Kit that includes everything you need to make a cottage cushion, puppy handbag, bunting, cupcake box, hedgehog pincushion and lavender heart.
VIEW AT AMAZON | £18 (opens in new tab)
6. Purse pets
Age suitability: 5+ | Batteries required: No
Just when you thought you'd seen it all, in comes Purse Pets. These interactive pet stroke purses come in a range of characters including this 'Glamicorn Unicorn', pictured above. There are a range of purse pets to choose from that each come in their own fun colorway and provide 25 sounds and reactions.
The purse pet responds to touch and even blinks and interacts by purring, blowing kisses and 'playing fashion' show music. 9 year olds can use it as a fashion accessory, but also look after it just as they would a pet – perhaps without the feeding. And if your child has been nagging you to buy a cat or dog and you're not keen, then this may just be the distraction you need.
VIEW AT AMAZON | £25 (opens in new tab)
7. Levelled up Art Supplies
Age suitability: 5+
By age 9 kids normally have an arts and crafts kit of some sort at home, but their ability and skills will have developed beyond just sticking and colouring. Buying them paints or supplies that can be used on multiple materials - think plastic, glass, clay - and not just paper will come in handy when the inevitable school projects start rolling in. It also enables a 9 year old to expand their crafting horizons to design and create things from scratch.
VIEW AT AMAZON | £9 (opens in new tab)
8. Lakeland Kids Ultimate Baking Set
Age suitability: 3+
Gone are the days when your child would have been content to just play with wooden or fabric cakes and cookies in their toy kitchen. Children of this age feel empowered to do things that are more adult and are keen to try things for themselves. That's why baking is such a great skill to nurture.
Buy them baking accessories to make baking a fun and engaging activity that goes beyond just mixing the ingredients together. Think fun cookie cutters, dough stamps, icing kits and edible decorations. We like this Kids Ultimate Baking Set from Lakeland, which features the tools to make cake pops, cookies and more.
VIEW AT LAKELAND | £30 (opens in new tab)
9. EUGY Make Your Own kits
Age suitability: 8+
Build your own kits require logic and focus, which is why they are great for 9-year-olds. Construction toys for 9 year olds tend to need a greater level of attention to detail than sets aimed at younger kids too.
We love sustainable arts and crafts range from EUGY, which features 40 different 3D models to collect and create. Not only are they environmentally friendly, but they are educational too and are sure to be a big craze in 2022. They take about 30 minutes to put together and have step-by-step instructions to assemble in sequence. Kids can choose to build a range of animals including a polar bear to a hedgehog.
VIEW EUGY AT AMAZON | £10 (opens in new tab)
10. Designer Box friendship bracelet kit
Age suitability: 3+
The great thing about these friendship bracelet kits is that 9 year olds can play with it alongside their playmates. They love to share so it ticks all the boxes and will keep them entertained for hours. Look online and you'll find a host of friendship bracelet kits including this 1900 piece set from Amazon. When choosing the ideal set do consider how fiddly the pieces, however. The more complex the set the more an adult will have to get involved helping make the kits, which almost defeats the purpose.
VIEW AT AMAZON | £14 (opens in new tab)
11. Science Mad Chemistry Lab
Age suitability: 10+ | Batteries required: No
Kids at this age love getting stuck in. Science kits will really feed their curiosity and desire to make things and make a mess! Great for learning through play, science kits provide all the tools kids need to explore and experiment. If you're looking for a good science set to buy try the Science Mad Chemistry Lab, £29.99, which has 10 chemicals in the box, a spirit burner, glass test tubes, vessels, apparatus, safety glasses and an instruction manual.
It's worth bearing in mind that you'll need a few household items to carry out the experiments including vinegar, salt and turmeric. If you're giving this box set as a gift you may want to include those items too. Please note that the box says its suitable for 10+, but we think a 9 year old would love this kit too provided they are playing with it under careful supervision from an adult. That's why we have included it in our round up of the best toys for 9 year olds in 2021.
VIEW AT SMYTHS TOYS | £30 (opens in new tab)
12. Battle Royale Collection Bus by Fortnite
Age suitability: 8+| Batteries required: No
Love it or hate it, your child will probably have been introduced to Fortnite by the age of 9 and they may well be completely mesmerised with the computer game. Limiting screen time is still important, so buying toys that can be played with off-screen, but still feed their interest in the game, is a good alternative. 9 year olds will love the Battle Royale Collection Bus. The 13-inch tall Fortnight battle bus lets kids store their characters inside and is a great starting piece for kids to grow their collection of Fortnite-themed toys.
VIEW AT AMAZON | £24.99 (opens in new tab)
13. Paleontologist Play Set from JoJo Maman Bebé
Age suitability: 3+
Whether they love playing doctors, superheroes, horse riders or astronauts, give your 9 year old the tools and accessories to further their imaginative play games. Why not try something such as this adorable Paleontologist Play Set from from Jojo Maman Bebé. Ideal for any under 10 with a love for fossil hunting and dinosaurs, it comes with an assortment of tools including a pick axe, kaleidoscope, compass, chalk board, fossils and dinosaur puzzles.
'My kids love this set, which ones in a neat carry case, and have spent many occasions pretending to be paleontologists,' says Gemma, mum to Oliver and Sienna. 'JoJo Maman Bebé has a great range of wooden toys (opens in new tab) that really last and age well and we also have the vet set too, which they equally love.
VIEW AT JOJO MAMAN BEBÉ | £34 (opens in new tab)
14. The Den Kit Company's Original Den Building Kit
Age suitability: 8+
9 year olds will love the chance to create a space that is entirely their own or to play inside with friends. An outdoor den provides the perfect place for them to enjoy a little me-time and feel like they are independent. If they are fans of all things outdoorsy and forest school, they will love The Den Kit Company's Original Den Building Kit.
Inside the bag they will find a cotton khaki haversack bag, a camouflage tarpaulin made from tough, waterproof polyethylene and a green groundsheet. There's also a mug, face paint for camouflaging in the woods and some jute rope. To finish the kit they'll find 8 steel tent pegs in a drawstring tent peg bag. 'My kids are always building dens around the house and this den kit would be ideal in the summer months when they can use it in the garden,' says Jenny, mum to Logan and Becky. 'It's something a little different and the kit makes the whole process of building a den that bit more special.'
VIEW AT AMAZON | £45 (opens in new tab)
15. Micro Scooters Stunt Scooter
Age suitability: 5-10 years | Batteries required: No
If your child doesn't have these already, then they're probably asking for at least one of them. Great for playing alone or with friends, encouraging physical activity and letting kids explore the limit of their own bravery at this age, many kids love nothing better than a trip down to the skate park with a scooter.
The latest addition to the Micro Scooter range includes the rather wonderful Chilli Pro Base scooter in a rainbow neochrome finish. It's great for any adventurous kid that wants a chance to try out their first stunt scooter as it provides the ideal support and balancing frame. Ideal for ages 5-10 years, it has a handlebar height of up to 760mm and is suited for a child up to 170cm.
VIEW AT MICRO SCOOTER | £120 (opens in new tab)
16. Geosmart Flip Bot
Age suitability: 5+ | Batteries required: Yes
Any child that has loved playing with magnets in their younger years will love the Geosmart Flip Bot toy. It comes with 30 pieces in the box including squares, diamonds, wheels and connectors so kids can creat their own Flip Bot! and use the remote to control it.
This motorised magnetic racing toy will zoom around, spin and flip. Using Geosmarts colorful magnetic shapes the flip bot can be constructed in a number of ways to keep young minds engaged each time they play with it. 'My little boy was already a fan of Geosmart's multicolored construction magnetics so this Flip Bot felt like the next level,' says Gemma, mum to Oliver. 'He's already got his eye on Geosmart's Lunar Rover toy for his next birthday.'
VIEW AT AMAZON | £45 (opens in new tab)
17. Artie Max the Coding Drawing Robot
Age suitability: 8+ | Batteries required: Yes
Construction toys continue a child's education into how things work and these days many of these toys will include elements of coding or electronics. This not only makes the finished product more exciting for children, but also sets them up with some important skills for the future.
We think Artie Max the Coding Drawing Robot makes for a great toy for 9 year olds. Kids can learn up to five coding languages using Artie Max. It comes with pre-programmed codes including Blockly, Snap!, JavaScript, Python and C++. Kids will need access to a tablet or computer to create code, which in turn will make Artie draw on paper using the 3 color coded pens. We think coding toys are always worth considering for kids, which is why the Artie Max has made it onto our list of best toys for 9 year olds in 2021.
VIEW AT AMAZON | £66 (opens in new tab)
18. Pictionary Air Harry Potter Family Drawing Game
Age suitability: 8+ | Batteries required: No
Young Harry Potter fans may like to try this Pictionary Air game, which is a twist on the classic drawing game and is sure to bring a lot of laughs to all the family. Each player needs to be assigned to a Harry Potter house and you will need access to a screen be able to uncover the clues. Each player has to then take it turns to draw in the air using the Harry Potter wand, which can be seen on screen.
If Harry Potter is a particular favorite for your 9 year old, you could also consider buying the Harry Potter Brainbox card game. This is equally fun to play with a group of friends and family.
VIEW AT AMAZON | £17 (opens in new tab)
19. Fiesta Craft Discover the World Game
Age suitability: 3+
For a toy that helps kids swot up on their geography, you can't go wrong with this Discover the World game. Players need to 'race around the world' to be the first to reach their destination by moving across countries. It's a great game to get kids to learn about countries, different cultures and continents as they play as there are 50 fact cards included inside. To ensure the design is as engaging as possible, there is a large 84 x 52cm colorful world map image inside and each card is enticingly illustrated with pictures as well as facts.
'This is a nice game to play with the kids and a great conversation starter about our next holiday abroad,' says Jenny, mum to Logan and Becky. 'I like how the board is boldly illustrated with a map of the world so the kids can see the locations of every country and continent too.'
VIEW AT AMAZON | £30 (opens in new tab)
How do you entertain a 9 year old?
Even if you've got the best toys for 9 year olds at home, it can be difficult to know how to entertain them, as they can appear disinterested in everything.
Catherine Lynch, senior manager at PlanBee (opens in new tab) and a qualified Play Therapist, explains that this is normal for children of this age:
'9 year olds tend to be concrete and logical. They are often self-determined, self-motivated and can appear detached and disinterested in their parents/caregivers, preferring to do things in their own way and own time, often working slowly and methodically.'
Catherine suggests that one of the best ways to entertain 9 year olds is to allow them to play with their peers when possible and give them room to play independently if they want to:
'Parents and caregivers of 9 year olds can support children by providing opportunities for them to be independent and have social interactions with friends. Try not to take it personally or feel rejected when the child wants to have their own space and privacy.'
Emily Peck is a lifestyle journalist with over 20 years' experience writing for magazines, newspapers and websites. Emily writes in-depth reviews and features for Goodto covering the latest must-have products for the home, lifestyle, garden, parent and child. She has previously worked as in-house writer for BBC Good Homes and 25 Beautiful Homes and features editors at Ideal Home.