The best Frozen toys for kids of all ages
Some magical treats to enjoy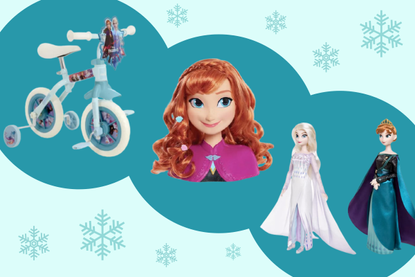 Frozen toys have been flying off the shelves since the first film hit cinemas over nine years ago...
You'll be hard-pressed to find any kid's toybox that doesn't feature Disney Frozen toys. From bikes to costumes, to Elsa and Anna toy dolls and even keyboards - 'Frozen Fever' has gripped the globe and the children's toy market since the mid 2010s - even taking the crown as one of the best-selling toys (opens in new tab) of 2014. With Frozen 2 on Disney Plus, alongside a new Frozen documentary series (opens in new tab), new generations of kids are getting in on the action, meaning demand for merchandise based on this beloved movie has again peaked in popularity.
With this in mind, we've rounded up some of the best Frozen toys (which pay tribute to both the first and second films) in the hopes it will save you hours browsing online. Taking into account budgets, ages and much-loved characters like Anna, Olaf the snowman and Elsa from Frozen, our guide covers all bases and will help you find some of the top toys for Christmas (opens in new tab) and all year round...
Best Frozen Toys: Elsa Toys
Why you can trust GoodTo Our expert reviewers spend hours testing and comparing products and services so you can choose the best for you. Find out more about how we test.
1. Disney Frozen 2 Musical Adventure Elsa Singing Doll
Age suitability: 3+ | Batteries required: No (included in set)
This singing Elsa doll will enchant young Frozen fans with her rendition of 'Show Yourself' from Frozen 2. Reviewers on Amazon have given this a 4.8 out of 5 star rating and hailed it as 'great value for money', so you're know you're getting a good deal with this one.
2. Frozen 2 Magic Ice Sleeve
Age suitability: 3+ | Batteries required: None
What kid doesn't want to recreate Elsa's magical powers at home? This Frozen 2 Magic Ice Sleeve from Amazon comes complete with a snow can and water can, which will shoot out of their sleeve on activation. Reviewers note that whilst the bottle of silly string (snow) runs out quite fast, the water bottle is refillable, enabling your princess to soak enemies for endless play.
3. Disney Store Elsa Animator Doll
Age suitability: 3+ | Batteries required: None
One of the newest Frozen toys on the market and exclusive to the Disney Store. This mini Elsa doll is inspired by character designer Bill Schwab's original sketches. She comes complete with a mini Olaf cuddly toy and is the perfect dolly for kids to carry around and play parent to.
4. Disney Store Elsa Cape
Age suitability: 3+ | Batteries required: None
The Disney Store unveiled this new Elsa cape for 2022. It showcases her signature ice blue colours with printed silver snowflakes all over and has a comfortable fur lined hood that'll keep them warm during colder weather. Made from 100% polyester, the good news is it doesn't have to be washed - simply wipe clean. A perfect present for those wanting to dress up as the Ice Queen.
5. LEGO Disney Frozen 2 Elsa's Winter Throne Polybag Set 30553
Age suitability: 5+ | Batteries required: None
The cheapest Frozen toy in our guide is a pocket sized LEGO Elsa figure. The 42 piece set includes the famous Ice Queen plus her throne and a tasty-looking banquet table. Though it's worth noting that due to the small nature of these pieces, this Frozen Toy is not suitable for anyone under 5.
6. Disney Store Elsa Styling Head
Age suitability: 3+ | Batteries required: None
Budding young hairdressers can try out a number of styles on this Elsa from Frozen hair-styling toy. The 21 piece set includes a brush, clips, hairbands and earrings, allowing your little ones to get creative with a number of looks. This Elsa Toy is so popular that its sold out at the Disney Store UK but luckily you can still pick it up cheapest from Argos.
7. Disney Store Elsa The Snow Queen Soft Plush Toy Doll
Age suitability: Suitable from birth | Batteries required: None
This Elsa plush doll is cheaper than a number of other Elsa dolls available. Soft and cuddly, this Elsa toy makes a great bed companian for kids. And we love the fact that you can personalise it for an extra £2.95, by adding your child's name to the bottom of her dress.
8. LEGO Duplo Elsa and Olaf's Ice Party Set
Age suitability: 3+ | Batteries required: None
Another great Elsa toy under the £20 category is this LEGO Duplo Ice Party Set. Frozen favourite Olaf joins Elsa for a spread of cake and hot chocolate in this sweet set. One of the best educational toys for 1-5 year olds (opens in new tab), the manufacturers state this Frozen toy will help your pre-schooler develop key motor, imagination and emotional skills.
Best Frozen Toys: Anna Toys
9. Disney Store Frozen 2 Queen Anna Soft Toy Doll
Age suitability: 1+ | Batteries required: None
Any child obsessed with Frozen needs a character cuddly toy and this Anna soft toy ticks all the boxes. Though only available to buy at the Disney Store UK, it does boast a lovely personalisation feature - allowing you to add your kid's name to Anna's cape for an additional £2.95.
10. Disney Frozen 2 Anna Styling Head
Age suitability: 3+ | Batteries required: None
Like the Elsa toy, kids can makeover sister Anna with this toy that will keep kids entertained for hours. With hair clips, brushes and ties, children can recreate Anna's famous looks from the films or use their imaginations to create their own hairstyles. Argos reviewers were suitably impressed with this purchase, with 100% of those who bought it recommending it to others.
11. Disney Store Queen Anna Classic Doll
Age suitability: 3+ | Batteries required: None
Fans can pick up an Anna doll decked out in her famous Frozen 2 signature outfit - her coronation dress. The new release comes with a gold brush to tend to the doll's tresses. A great toy for acting out their our inspired Frozen adventures.
12. Disney Frozen Anna and Kristoff Fashion Dolls 2 pack
Age suitability: 3+ | Batteries required: None
We think these Anna and Kristoff fashion dolls are one of the best toys for six-year-olds (opens in new tab), with those enraptured by their romance on screen able to re-enact their magic with these dolls at home. You can find this 2 pack cheapest at Amazon for £24.
13. Lego Disney Frozen 2 Anna's Canoe Expedition
Age suitability: 4+ | Batteries required: None
Help your littles build this brilliant Frozen Toy and stage their own adventures with Anna and Olaf along the Enchanted Forest's river. Brilliant for developing fine motor and creative thinking skills.
14. RUBIE'S Disney Frozen 2 Anna Light Up Jelly Shoes
Age suitability: 3+ | Batteries required: None
These Frozen jelly shoes are the perfect addition to a children's dressing up box. Not only are they glittery but the soles also light up, for an extra magical touch.
Best Frozen Toys: Elsa and Anna Toys
15. Disney Frozen 2 Folding Inline Scooter
Age suitability: 5+ | Batteries required: None
There's been a lot of search around Frozen scooters online. And the good news is you can pick one up for less than £20 in 2022. This Frozen 2 scooter certainly looks the part showcasing their favourite characters and a nice icy design. Plus it's practical too thanks to it's rear brake, adjustable height setting and fold down feature - which makes it easy to carry and transport around when not in use.
16. Disney Store Frozen Bath Toy Set
Age suitability: 2+ | Batteries required: None
Transport the Frozen fun into bathtimes too with this sweet Frozen bath toy set. The five-piece set includes Elsa, Anna, Kristoff, Olaf and Sven as waterproof pint-sized figures. And to ensure longevity, they come with a perforated top and spout to allow water to drain out after use.
17. Disney Store Queen Anna and Elsa the Snow Queen Dolls
Age suitability: 3+ | Batteries required: None
These adorable Frozen Anna and Elsa dolls available in the UK are perfect for playtimes. Their satin dresses come with removable shoes and their arms, legs and heads can be placed into different poses. It's worth noting that purchasing this 2-set is much better value for money than buying the figures separately. All in all - this Frozen toys set is a winner.
18. Disney Frozen 2 Petite Anna & Elsa Dolls with Surprise Trolls Gift Set
Age suitability: 3+ | Batteries required: None
Any die-hard Frozen fan will want to collect both Elsa and Anna toys. This Frozen 2 set gives them just that, with the addition of two funny trolls that appear in both the first and second films. Both Elsa and Anna feature long 'hair' which little fingers can style as they wish. Whilst the clothes are also detachable - should they want to swap the outfits up a bit.
19. Disney Frozen 2 Deluxe Figurine Playset
Age suitability: 3+ | Batteries required: None
This great investment set enables kids to get their hands on 10 detailed figurines from the hit Disney Frozen films. The pack includes Elsa and Anna (in both their travel and ceremony outfits), Mattias, Honeymaron, Sven, Kristoff, Nokk and Olaf. Many Amazon reviewers have also shared how these figurines make for great toppers on kid's birthday cakes too.
21. Frozen 2 2-in-1 Training Bike - 10" Wheel
Age suitability: 2+ | Batteries required: None
This Disney Frozen bike truly goes the distance as the 2-in-1 product converts easily from a training to a balance bike in a matter of minutes. Both the saddle and handlebars (adorned with Elsa, Anna and co) are adjustable in height, so they can be adapted to match children as they grow and gain more confidence. Plus there's added perks like stabilisers and puncture proof foam tyres included in the price. It's all these nifty and thoughtful details that make this Frozen 2 bike one of the best balance bikes for kids (opens in new tab).
22. Disney Frozen 2 Fold and Go Arendelle Castle
Age suitability: 3+ | Batteries required: None
We've done our research and this is the cheapest Frozen castle toy set on the market - rivalling replicas that retail for an eye-watering £150 or over. Affordable and foldable (making it a great on-the-go toy) this playset pays homage to Arendelle Castle from the films, with two different levels to play with. It also comes with accessories to decorate the rooms, including two chairs, two cups, a bread accessory and a water jar.
23. Ravensburger Disney Frozen 2 - 4 in Box Jigsaw Puzzles for Kids
Age suitability: 3+ | Batteries required: None
There's not much to not like about this Frozen toy. Available for £5, the set gives you 4 easy puzzles for little hands to construct. And features favourite characters like Anna, Elsa, Olaf and Sven the reindeer (there are a few great reindeer Christmas jokes (opens in new tab) to be had playing with Sven). A great activity that promotes key motor and concentration skills.
Video of the Week:
Emily Stedman is the Features Editor for GoodTo covering all things TV, entertainment, royal, lifestyle, health and wellbeing. Boasting an encyclopaedic knowledge on all things TV, celebrity and royals, career highlights include working at HELLO! Magazine and as a royal researcher to Diana biographer Andrew Morton on his book Meghan: A Hollywood Princess. In her spare time, Emily can be found eating her way around London, swimming at her local Lido or curled up on the sofa binging the next best Netflix show.