Tracy Beaker star Dani Harmer reveals 'devastation' after undergoing emergency caesarean
It's the first child for Dani and her partner Simon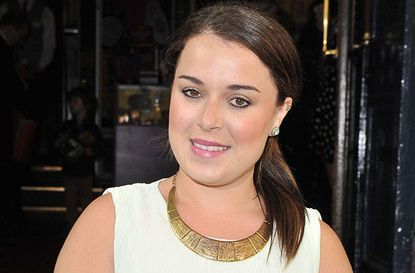 TV star Dani Harmer has opened up about her traumatic birth experience, after welcoming her first child last month.
Dani, who rose to fame in her role as Tracy Beaker in the hit children's TV series, gave birth to her daughter Avarie-Belle Betsy Brough in June, but has since revealed her 'devastation' at having to undergo an emergency caesarean (opens in new tab).
Speaking to Hello! magazine, Dani said she was exhausted after being in labour for three days.
'I was devastated. I cried a lot,' she explained. 'My birth plan was literally, "birthing pool, whale music, no drugs, let's just try and be really hippy about it and do some breathing".
'But it just turned into the complete opposite.'
The 27-year-old new mum added: 'Once she'd come out, I started to regain feeling so I could feel literally everything they were doing.'
Luckily, Dani and her partner Simon are now able to enjoy being first-time parents. 'I just feel the most happy I've ever felt in my entire life. We're in a complete little love bubble.'
Dani's mum, Jill Harmer, originally confirmed news of the birth to HELLO! magazine, revealing that the little one arrived at 5pm on Tuesday 28th June, weighing in at 6lbs 9oz, and that the new parents had named their daughter Avarie-Belle Betsy Brough.
'Mother and baby are doing well - the baby is beautiful like her mother!' Jill told the magazine.
This is the first child for Dani and her partner Simon, who've been together for almost a year. As well as sharing lots of snaps ahead of her baby's arrival on Instagram, Dani had spoken about just how excited they were to become parents.
Revealing her happy pregnancy news to HELLO!, the star said she was 'over the moon' at the prospect of becoming a mum. 'I still wake up every morning and go, "I'm pregnant".
'It was amazing seeing the scan. I find the whole thing absolutely fascinating. What an amazing, clever thing to be going on inside my body,' she said.
'I absolutely can't wait. I'm also really nervous. But I guess I just have to take each day as it comes. I've always wanted to be a mum.'
Dani, who appeared in the 2012 series of Strictly Come Dancing, has also admitted that she can't quite believe she's grown up enough to be a parent. 'People still see me as a teenager,' she said.
'I did the Rocky Horror Show a couple of years ago and some people were like, "Hang on... Tracy Beaker's going to be in her underwear on stage?"'
Simon revealed that the couple have no plans to marry just yet, and that they'd like to wait until their daughter is old enough to take part in the wedding ceremony.
Awww, congratulations guys!