Love Island's Tyla Carr has welcomed her first child with boyfriend Ross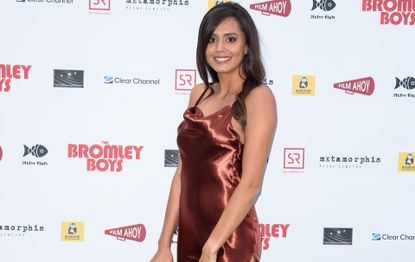 (Image credit: Getty Images)
Love Island's Tyla Carr has welcomed her first child with boyfriend Ross.
A representative for the 25-year-old confirmed the happy news to OK! Online, although further details such as name and gender were not provided.
The announcement comes only one day after the reality star took to social media to open up about how she felt about becoming a mum.
Accompanying a sweet photo of her with boyfriend, known only as Ross, she wrote: Mummy & Daddy! Wow - Still doesn't feel like there will be a baby here soon! I look at my belly and I know there is a baby in there, but I can't seem to imagine a real life mini us?! When does that feeling sink in?
'Anyway, I just have to give this man @rossco188 some credit,' gushed the then mum-to-be.
'He has been amazing, completely there for me the whole time, even if it's to tell me to stop being such a worrier or to tell me off for doing too much cleaning... (He will laugh at that because he cleans more than me) but I can't tell you how excited I am to see him be a father.
'We both came from broken families,' she acknowledged, 'and it makes us so much more determined to try and give our baby the best possible start in life.
She finished by expressing her excitement, writing: 'We already love this baby so much and can't wait to meet s/he'.
The mum-of-one announced her pregnancy back in July in an interview with OK! Magazine.
After just a week of living with her boyfriend, who at the time she had been with for nine months, Tyla found out that she was pregnant, admitting that she confirmed the news in a Nando's (opens in new tab) toilet!
'We stopped for lunch after I bought the test and I couldn't wait until I got home,' she said. 'When I saw it was positive, I ran back to tell Ross – it felt like the longest journey of my life!
'I was over the moon but part of me was worried too,' added Tyla. 'We haven't been together very long and we'd only just moved in together. I started to panic that we had rushed.'
Congratulations Tyla and Ross on your new arrival!