Nando's is bringing this Christmas dinner favourite to their menu this December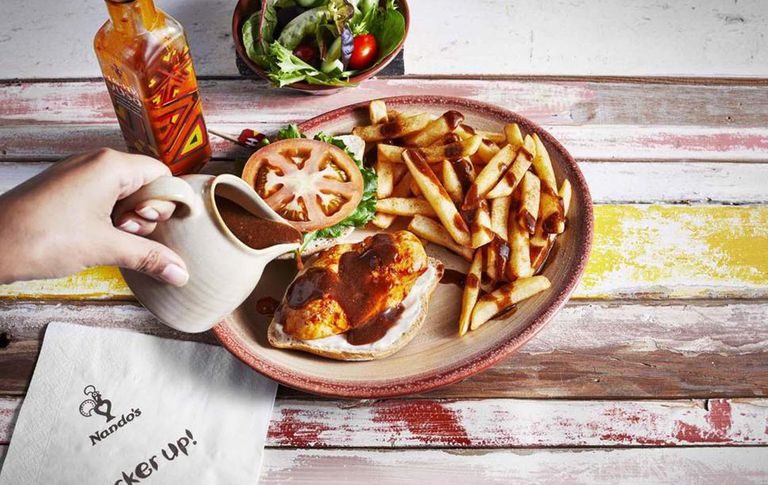 (Image credit: Nando's)
We all like a 'cheeky Nando's' now and then, and Christmas time is no exception.
Secretly, most people would happily swap dry turkey breast for a grilled Peri-Peri half chicken (opens in new tab).
And this year everybody's favourite chicken joint is getting into the Christmas spirit with their Christmas menu, featuring a must-have seasonal eat.
Instead of opting for a festive twist on their signature chicken (though we doubt anyone would complain about Peri-Peri pigs in blankets), the Portuguese-style restaurant is zeroing in on the Christmas dinner addition that brings the whole meal together: the gravy.
For the first time ever, the fast-food eatery is offering their own gravy to complement your chicken, chips and spicy rice.
As you'd expect from Nando's, their signature gravy is made using chicken and is packed with fiery herbs and spices to give it a Peri-Peri (opens in new tab) style twist so that it's not just any old chicken gravy.
It's rich enough to tingle the tastebuds and pours out in a thick drizzle so that you can taste it with every bite. Plus it comes in at only £1.25, which is pretty good value per bite.
But if you want to try it out, you'll have to be quick as it won't be around for long.
Like all utterly delicious and moreish Christmas foods, unfortunately it only lasts until Big Ben rings us into a new year, as it will be available from 4th December until 31st December.
So after this it'll be bye-bye chips and gravy and back to Garlic & Herb and creamy PERinaise (opens in new tab) (who's complaining?)
This isn't the first time that the cult chicken restaurant has excited its many adoring fans with a new and surprising addition to their menu.
Earlier this year it capitalised on the nation's obsession with halloumi by adding halloumi fries to the Starters menu.
The Cypriot cheese, which is served with chilli jam on their menu, is cut into chunky chip-like shapes so they can be easily dunked into the sweet sticky sauce.
Who's getting cheeky this Christmas?
Aleesha Badkar is a lifestyle writer who specialises in health, beauty - and the royals. After completing her MA in Magazine Journalism at the City, the University of London in 2017, she interned at Women's Health, Stylist, and Harper's Bazaar, creating features and news pieces on health, beauty, and fitness, wellbeing, and food. She loves to practice what she preaches in her everyday life with copious amounts of herbal tea, Pilates, and hyaluronic acid.