Vanessa Feltz becomes a grandmother for the second time
Congratulations Vanessa!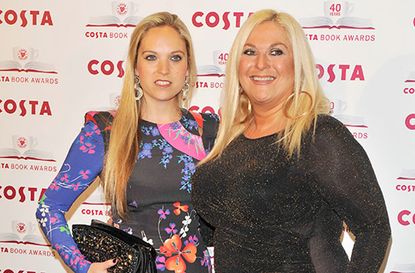 Vanessa Feltz has had some exciting baby news, becoming a grandmother for the second time after her daughter Allegra Benitah gave birth to a baby girl.
Allegra, from Vanessa's marriage to surgeon Michael Kurer between 1983 and 2000, has spoken exclusively to OK! magazine about her growing family.
The family welcomed a daughter, Neroli, at 9.20am on 8th October by caesarean section.
The 53-year-old broadcaster has been a grandmother since 2014 to 23-month-old Zeke, who she described as her 'super fan'.
Speaking about Neroli's birth, Allegra said; 'We were actually very calm because we knew what would happen. The night before I was able to have a bath and wash my hair.
'It's a funny feeling going to sleep knowing you're going to meet your baby the next day.'
The BBC Radio 2 presenter, who has since announced she is leaving radio (opens in new tab), was also at the 'incredibly quick' birth, which took only half an hour and was 'an enjoyable experience' for Allegra.
Vanessa with her daughter Allegra and 'super fan' grandson, Zeke
Vanessa has previously spoken about her expanding brood; 'I absolutely love being a grandma. Zeke and I do everything you can imagine.
'Zeke is my best friend and I'd rather hang out with him than anyone else.'
For his first birthday, Vanessa organised a radio shout-out for her grandson, then went to Covent Garden for lunch and a visit to the London Transport museum because; 'Zeke loves red London buses!'
However, the presenter hasn't always been so certain about her relationship with the toddler, especially as a newborn; 'I must admit, I thought I was keen, but when he was born I felt relieved to not be called upon very much.'
Vanessa has also been making her own plans for her family in 2016, finally arranging her wedding to fiancé Ben Ofoedu, a singer, who proposed in December 2006.
Referring to her partner of nine years, Vanessa said; 'We will get married one day, but I think we'll nip off and do it quietly. We're still checking out whether we like each other or not... '