Victoria Beckham proves she's a typical mum in her latest embarrassing post of son Brooklyn
Several fans have commented on the funny caption...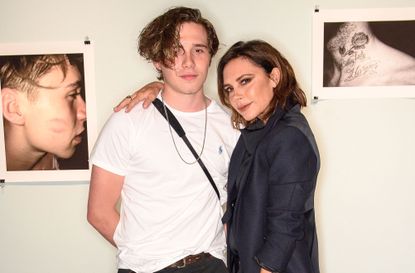 Mum-of-four Victoria Beckham has posted a sweet picture of her eldest son and her but with the most hilarious embarrassing mum caption ever!
Victoria often posts about her family life and is clearly very proud of her children. Whenever she or David are away for work she posts about missing them and the whole family use social media to keep in touch.
The Beckham's eldest son, 19-year-old Brooklyn, appears to be back home for few days and Victoria took the opportunity to take a sweet snap.
Regardless of how sweet the picture is, Brooklyn might be a little embarrassed by what his mum wrote in the caption.
Victoria said: 'Is that a mustache u r trying to grow @brooklynbeckham 😂😂 x kisses from us both x VB.'
With over 2.5 million followers on Instagram, Victoria clearly isn't afraid to have a joke with her children and tease them a little like many parents do.
The post has over 800,000 likes and more than 3,000 comments, many of which are laughing at Victoria's humour!
One person wrote: 'Oh Lord now mama is instagram roasting him. 😂😂😂'.
Another said: 'Aww the caption 😂😭❤'.
A third joked: 'Tell him to shave it off'.
All jokes aside, lots of Victoria's followers could not believe how youthful the mum-of-four looked!
Victoria recently revealed the £12.50 moisturiser (opens in new tab) she uses to keep her skin feeling soft and hydrated – perhaps that's the secret?
One fan exclaimed: 'Mom and son? You are look so young!!!'
Another said: 'You Look Amazing Victoria'.
Victoria's beauty habits were not the only topic of discussion as many people were also distracted by Brooklyn's fingernails.
No, they weren't rocking a bright shade of nail polish – in fact they were hardly there! Many could not believe how bitten the aspiring photographer's nails were.
One person wrote: 'Oh my gosh...His fingernails are bitten to the quick😧'. Another said: 'He has bad fingernails'.
Do you ever post embarrassing pictures of your children on social media? Head over to our Facebook page and join the conversation!
Jessica currently works as a Senior Food Writer at Future. She writes food and drink-related news stories and features, curates product pages, tests, and reviews equipment, and also develops recipes that she styles on food shoots. An enthusiastic, self-taught cook Jess adores eating out and sharing great food and drink with friends and family. She has completed the Level 1 Associate course at the Academy of Cheese and is continually building on her knowledge of beers, wines, and spirits.