14 reasons Violet Crawley was the TRUE heroine of Downton Abbey
Move over, Lady Mary, your grandmother's out-sassing you again.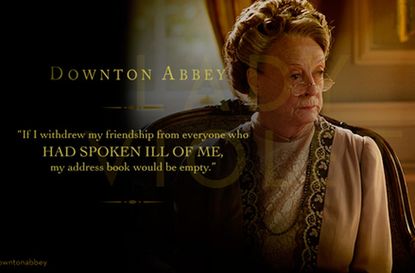 We told ourselves the day would never come, but alas, it has - Downton Abbey is coming to an end and our favourite super-privileged family will never grace our television screens again (well, except for the Christmas special).
The final episode airs on 8th November, and there's just so much we'll miss, from the totally true love of Anna and Bates to tiny George and Sybbie, Branson's down-to-earth charm to Mrs Patmore's incredible feasts. There's no more fabulous dresses, no more Isis the dog (or spoiler alert: her replacement puppy), and saddest of all - no more Violet Crawley.
The Dowager Countess might seem like a secondary character to most, but true fans know that she's absolutely the star of the show. She embodies what every woman should aspire to be (get your notepad out, Mary) - smart, sassy and the first person anyone turns to in a crisis, she's always there for her family, but won't stand for any of their nonsense.
She's provided some of the series' best one-liners and dramatic moments, and for us, she's the greatest loss.
Here are 14 reasons why Violet Crawley has been the true heroine of Downton Abbey from the start:
1. She loves her food
http://giphy.com/gifs/wsD9kbXpYqsXS
2. And the odd tipple
http://giphy.com/gifs/AqEQciUDZECbe
3. She has everyone at her beck and call
http://giphy.com/gifs/qSx4ddPU2VL2M
4. She doesn't take sass from anyone
http://giphy.com/gifs/12CdpLBVtr9WLK
5. And she's not the most patient of women
http://giphy.com/gifs/sY4Hsy41CnLUI
6. But she knows how to get results
http://giphy.com/gifs/jGoh0ii35C4nu
7. She's very busy and important
http://giphy.com/gifs/aqi7V5dGOBdm0
8. But always available to give great fashion advice...
http://giphy.com/gifs/13LVSePR8xscEM
9. ... or boost morale...
http://giphy.com/gifs/eU5ecu53DwWUU
10. ... and if you're having man troubles, she's your gal
http://giphy.com/gifs/zdSlMwWmO6tVe
http://giphy.com/gifs/k04w0PxY7b3aM
11. She struggles to get to grips with modern technology every now and then
http://giphy.com/gifs/77KnzQW8Q2oow
http://giphy.com/gifs/14b82z4O9QQs6s
12. But mostly, she's got an answer for just about everything
http://giphy.com/gifs/12cYw7Z5MIUYX6
13. (… except how to spend your leisure time)
http://giphy.com/gifs/pUQwlZxJT11mw
14. And she always gets the final word.
http://giphy.com/gifs/9fMxzujK3Xi5G
Trusted, informative, and empathetic – GoodTo is the ultimate online destination for mums. Established in 2007, our 15-year-strong archive of content includes more than 18,000 articles, 1,500 how-to videos, and 7,000 recipes.